Pakistani female politician and leader of PML (N).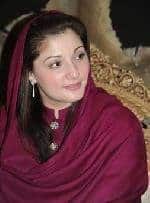 Maryam Nawaz Sharif born 28 October 1973) is a Pakistani female politician and a leader of PML (N). She belongs to the Sharif Family of Pakistan. She is the grand-daughter of Mian Muhammad Sharif, a prominent industrialist and philanthropist. She is the daughter of former Prime Minister Mian Muhammad Nawaz Sharif,the niece of Chief Minister Mian Muhammad Shahbaz Sharif and wife of Captain (R) Muhammad Safdar , all three men holding prominent positions in the political circles of Pakistan.
In the April 2012 article in Newsweek Pakistan , Maryam Nawaz was described as the new face of the PML-N political party. Fluent in four languages, the Newsweek article portrays her as a progressive heir apparent of Pakistan's mainstream right-to-center PML-N party.
Life and education
She completed her early education from Convent of Jesus and Mary school, Lahore. She proceeded to graduate in Masters in English Literature from the Punjab University. She is now pursuing PhD in Politics.
Social Entrepreneurship
Maryam Nawaz is the chairperson of the Sharif Medical Trust , founded by her grandfather Mian Muhammad Sharif. Sharif Medical City was established in 1997, includes 300 bed tertiary care center, 12 operation theaters and a 24 Hours Emergency & Trauma Service. More than 700 successful kidney transplants, both adult and children have been performed so far.
The Rebirth of Maryam Nawaz Sharif
Our exclusive profile of the new face of Pakistan's (currently) second largest political party, the former prime minister's daughter
Maryam Nawaz Sharif doesn't like to admit it, but she's her father's favorite. When she speaks about him, she turns girly. "His legacy is beautiful," says the 38-year-old. "Who would not want to step into those shoes?" Finally stepping into politics some months ago, it is Maryam Sharif, not her cousin Hamza or either of her brothers (who live abroad), who is now the presumed future leader of her father's party, Pakistan Muslim League (Nawaz), the second largest bloc in the National Assembly and which governs the Punjab.

"He gives us all equal attention," she says about her father, Nawaz Sharif, and the former prime minister's relationships with his three children. "But I suppose I am the closest to him." Maryam Sharif has been preparing for a political role all her life. She's completing her Ph.D. on post-9/11 radicalization in Pakistan, she's fluent in four languages (including Arabic), chairs the family's charity organizations, and devours post-colonial lit from the likes of Achebe and the revolutionary verse of Faiz. On her bedside table, the selected works of Francis Bacon ("my sagacious counsel") and a couple of Cosmo magazines.

As part of her political rollout, Maryam Sharif has been touring schools and colleges—giving speeches on education and women's rights that she writes herself. Her back story is familiar, and fascinating. A year after her father's government was ousted by Gen. Pervez Musharraf on Oct. 12, 1999, Sharif and 22 members of her family went into exile in Saudi Arabia. The exile would last seven years. Musharraf wrote in his autobiography, In the Line of Fire, that the military courts spared Nawaz Sharif's life because of pressure from the Saudi monarch.

"It was a tough time," says Maryam Sharif. "I found some solace when I visited holy places, but the yearning for the homeland never abated." She says she did not allow exile to embitter her and used the time to pick up strength from adversity. "Only the sufferer knows what the suffering means," she says. "All these experiences have shaped a new Maryam, I call it my rebirth." Sharif takes some pleasure in the fact that Musharraf has been unable to end his own four-year-long self-exile from Pakistan, cancelling his January arrival after the Army refused him support in managing parties (the PMLN, judiciary, media) looking to settle scores with him. "What goes around comes around," she says. "The man who once said Nawaz Sharif and his party were history, and would never be allowed to return, himself had to leave the country. Let's call it divine retribution."

Musharraf's coup had thrust Maryam Sharif and especially her mother, Kalsoom, into the spotlight. With almost all the Sharif men in jail, the former first lady took over the reins of the PMLN, leading defiant, lonely protests against the Musharraf regime. Soon enough, both mother and daughter were placed under house arrest. When they gained their freedom four months later, they were running from prison to prison, hearing haplessly the charges of corruption, terrorism and tax evasion against Nawaz Sharif. "She dauntlessly challenged the usurper when a lot of men backed out," says Maryam Sharif of her mother. "She's contributed famously to my father's life and to democracy in Pakistan."

The PMLN came back as a political force in the 2008 elections and has been roundly criticized for appearing to be soft on terrorists and sectarian groups and for failing to revive the Punjab economy. But Maryam Sharif champions minorities' rights, disapproves of politicians fraternizing with banned militant organizations ("I do not endorse this at all"), and she wants any organization that violates the law to be "strictly dealt with." She says: "There is no place for extremism and militancy in Islam."

Like her father, Maryam Sharif speaks passionately about the sins of military dictators. And she resents President Asif Ali Zardari's criticism that Sharif the Elder is a legatee of Gen. Zia-ul-Haq. "If someone aspiring to venture into politics waited for despotic rules to be over, he would have never made it," she says, alluding to Zulfikar Ali Bhutto. "Every politician was at one time or the other a protégé of those who have been calling the shots in Pakistan." The PMLN is no establishment party, she says. "We not only learnt our lesson the hard way but paid a very heavy price for it."

She is also angry with Musharraf for drafting Pakistan in the U.S.-led war on terror. "Since General Musharraf enjoyed no legitimacy at home and no credibility abroad, he was desperate to make up for these shortcomings by handing over the country to the Americans," she says. "In the process he gained a lot, but where did it leave the country? Thousands of Pakistanis have lost their lives, entire villages have been laid to waste, and the scourge of militancy and terrorism are deeply afflicting the country." Sharif states emphatically that the war on terror is not Pakistan's war. She is also skeptical about some U.S. claims: "Do you think Osama bin Laden is dead? I am not so sure."
Maryam Nawaz Sharif Pictures
| | | | |
| --- | --- | --- | --- |
| | Maryam Nawaz Sharif … | | |
Maryam Nawaz Sharif Videos