Bastman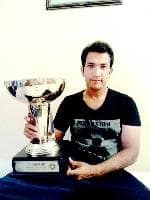 It has been number three position in batting line in all three formats. The team needs a specialist one-down batsman . As Pakistan are now all set to tour Zimbabwe for a relatively low-profile series, young talent can be deployed and tested at the position. That is why instead of keep flogging a dead horse, the team has given a chance Sohaib Maqsood this time around, selecting him in the T20 squad.
In a light chat on the sidelines of Ramazan cricket tournament in Karachi, Sohaib, who was born in Multan this is a 26 year old, said that representing the national team is like a dream come true and he is determined to justify his selection if given chance in the playing eleven. Sohaib has been domestic season and he is hope to continue in the international cricket.
Avoid making tall claims, Sohaib dreams of not only scoring a century against India in international cricket, but also becoming man of the series. However, he said being on the crease with Misbah-ul-Haq would be a bigger moment than watching Kallis play. For that, he has to wait a little longer even if he would be given a chance to play, because he has been selected only in the T twenty squad, which lacks Misbah.
Sohaib Maqsood Pictures
Sohaib Maqsood Videos