World's Best off Spinner Saqlain Mushtaq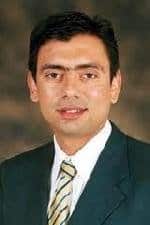 Saqlain Mushtaq was born on December 29th, 1976 in Lahore, Punjab. He is a Pakistani cricketer, regarded as one of the finest off spin bowlers of all time. He is best known for pioneering the "doosra", which he employed to great effect during his career. Saqlain has not been active in international cricket since 2004.
Career
Saqlain made his international debut in September 1995 playing against Sri Lanka at Peshawar. He picked up four wickets at an average of 26.75 in the first test of the series. The highlight of his Test career came in the away series against India in January/February 1999, where he achieved his first ten wicket haul in a test match. In the first test, with India needing only 17 runs to win, Saqlain effectively sealed Pakistan's win by taking the wicket of Sachin Tendulkar who had scored 136. He ended the series with excellent figures, taking twenty wickets at an average of 20.15, which earned him the Man of the Series award.
Domestic career
Saqlain represented Surrey for eight successive seasons, from 1997 to 2004. However, his time there was interrupted and his international career with Pakistan effectively ended when he suffered a serious knee injury in 2004.
In August 2005, he played his first match after recovering from injury against Bangladesh A, and took 4-87 from 35 overs bowled over two innings. However that same week, in his return to the County Championship, he conceded 110 off 28 overs against Gloucestershire, taking just one wicket.
In February 2006, he signed for Ireland for the C&G Trophy, along with fellow team mate Abdul Razzaq.
Later in February 2007, Sussex announced that Saqlain had signed a two-year contract with them. His initial requirement was to cover for fellow Pakistanis, Mushtaq Ahmed and Rana Naved-ul-Hasan who were part of Pakistan's World Cup campaign. On 26 September 2007, Saqlain was released by the county on his request. On 8 October 2007 Saqlain was re-signed by Surrey.
On 28 October, according to Cricinfo, he was released by Surrey.
In April 2009 he joined Old Whigiftians CC to play in the Surrey Championship. He took 64 wickets in a very destructive first season, including five 5WH to earn Whits promotion to the first division. He was also heavily involved in the youth setup. In 2010, after relocating to Leicestershire, he joined Syston Town Cricket Club, playing in the Everards County League.
Playing style
Saqlain is credited with the invention of the "doosra", an off-spinner's delivery which is bowled with an action very similar to that of an off-break. However, it spins in the opposite direction (i.e. from the leg side to the off side), easily confusing batsmen, making it a very effective weapon. Saqlain became well-known for this variation ball, which was integral to his success, although he received criticism for overusing it.
His other variation was the arm-ball, which again uses a similar action to the off-break, but causes the ball to go straight on without turning.
During his time at Surrey, Saqlain worked on developing new deliveries which he calls the "teesra" and the "chotha". However little else is known about these deliveries.
Records and achievements
* Saqlain was selected as a Wisden Cricketer of the Year for 2000.
* A statistcal analysis conducted by Wisden in 2003 revealed Saqlain as the all-time greatest ODI spinner, and sixth greatest of all ODI bowlers.
* Was the fastest to reach the milestones of 100, 150, 200 and 250 wickets in ODIs.
* He is the only spinner to have taken a hat-trick in an ODI, and one of only three bowlers to have taken two ODI hat tricks (Wasim Akram and Chaminda Vaas being the others), the second of which was only the second hat-trick in a World Cup match.
Personal life
Saqlain spent almost three years out of cricket, actively promoting the religion of Islam in local communities.
After marrying a British citizen, Saqlain gained a British passport, which made him eligible to play for England after a four-year qualification period that ended in April 2008.
Interview
The inventor of the doosra talks spin, Twenty20 and county cricket. Sitting comfortably in a fold-up chair in the Players' Dining Room outside the Surrey dressing room after the first day of the game against Kent at The Oval, arms moving about as he simulates bowling actions and shots batsmen have attempted against him, Saqlain Mushtaq looks every bit the seasoned cricketer. Add on the flowing beard and Islamic skull cap and he resembles something of a sage. Listen to sport and religion blend together in his conversation and you're taken in by his boyish simplicity. Place it all in perspective of where he's been the last few years, and you have a man relishing another chance to play cricket.
Saqlain started as a teenage wonder, making his Test debut at 19, and became the quickest to 100 one-day-international wickets, flummoxing batsmen with the magic delivery that went the other way. He helped Surrey to the English County Championship title three times in four years, had his career damaged by injury, and made an unsuccessful attempt in 2004 to force his way back into Pakistan's Test side, against India in Multan – a game where he was made to look like a nets bowler by Virender Sehwag, who made an epic 309.
A year ago, ravaged by the second of two serious knee injuries, Saqlain looked a shadow of the bowler he had been in his international pomp. It appeared his career was over. "It was hard. Injuries played their part, and there were some selection issues. It's in the past," he says, his eyes fleetingly turning away behind us, where fastened on the white wall are dozen of framed photographs of Surrey's last glory years, of which he was a starring part with 384 wickets at 20.79 in 80 matches.
The group stage of the Twenty20 Cup has just wrapped up and it's back to four-day cricket, where Saqlain has always been a star at his adopted home, The Oval. "I thrive on cricket. It don't matter what the format, I just want to bowl," he says.
The art of the other one
I'd heard he was reticent and uncommunicative, that you had to prod, and you'd be lucky to receive monosyllabic answers. But I found a friendly individual, who within seconds of hearing I spoke Urdu, grabbed my hand and led me into the Surrey dressing room, proceeding to parade me before Abdul Razzaq, Usman Afzaal and Scott Newman. A barrier, one that perhaps existed in the words of others, had been broken.
I suggest that perhaps an overdose of playing one-day cricket affected his bowling in Tests, but he brushes that aside. "Never. Alhamdulillah, I was fortunate to be able to adjust to conditions and pressure early in my career and as I progressed. Test cricket, one-day cricket, Twenty20, all of these I picked up easily. I figured out each format early."
The doosra, he says with pride, is a weapon he honed during his youth, playing at home on the terrace. "We used to play as boys using a table-tennis ball; that's where I picked it up. I then bowled it in professional cricket later. Later I played with the taped ball, which is big in Pakistan. It worked there too."
There has been criticism that Saqlain used the doosra too much, particularly early in his career, but the man himself is quick to defend his methods. He talks about observing the way a batsman stands at the crease, what his preferred shots are, his style. "If a batsman is playing straight, not cutting or playing much to the off side, or is playing more off his legs, then I bowl where he's uncomfortable, making him play. Often to the non-Asian batsmen, who I feel are susceptible, I used to bowl the doosra first to give them a jhatka [shock]. The Asian players – Indians, Pakistanis, Sri Lankans – their footwork is better and they have a better understanding of how to play spin, using their wrists, so I had to be more observant and not try too much too soon."
"Allah gave me a talent and variety in my bowling, and after that whatever I learned was from Twenty20 cricket
Wasim Akram Saqlain regularly used within the first 15 overs of the ODI, as well as in death – in many cases even more than before the last. "He was just thinking that I had to get the batsmen out," Saqlain said with a laugh attack. "The ball hard at the start and soft end but I never thought about such matters I had one thing in my mind, which was obtained wicket if you stray here and there and not to think about what is important – line and length – and then the negatives can creep into your head supported Wasim Bhai me and I just had to deliver. "
Oh to be in England
Saqlain is only 31 but has assumed the role of senior statesman in the Surrey dressing room. The move to English county cricket, he says, was crucial. "Those were great years. You develop your game, you learn. I want to work hard and bring back those years to Surrey."
A veteran on the county circuit, having gone from Surrey to Ireland to Sussex and now back to Surrey, Saqlain says the moves were not purely for financial reasons but targeted at gaining exposure. "You definitely need to play in different conditions, on different tracks, against different batsmen. You learn a lot that way. And I took what I learned playing in England back to the international level. If you play in one place or against one type of player, you won't go anywhere. "
There was speculation over his future after he left Sussex halfway through a two-year deal. Saqlain had not featured much that summer and made only four Championship appearances taking 14 wickets. "I went to Sussex because I had no other option at the time. They looked after me very well, they kept in mind my expectations and gave me a deal which matched my requirements," he says matter-of-factly. "But I came back here to London mainly because there are better education options for my three children. I'm conservative and wanted my kids to get a proper Islamic education. That wasn't there for me up in Sussex. I've been settled in London since 1998 and my family and relatives and friends are all here. Commuting and looking after the kids' education became tough. The kids have a good school here. Thankfully, Surrey approached me with a deal, it worked out well, and I here I am."
And what of the rigorous county schedule? "We play a lot of cricket in England and it is demanding, but that's your job and you learn to adjust. I enjoy it, keeps me busy."
He only smiles and nods when asked if his readiness to play for England – he's qualified for a British passport through marriage – still stands, but is eager to point out that apart from Monty Panesar, the spin scene in England is weak. And he should know. "Until now, Monty's [Panesar] the only quality spinner I've seen. Spin has never been England's strength. I've not seen anyone extraordinary on the circuit. There are good bowlers, definitely, but no one really stands out. Shaun [Udal] was good but he's aged; [Graeme] Swann is playing for England in one-day cricket, but he's not extraordinary – he's good for one-day cricket but that's it. Monty's the real deal. Adil Rashid bowls well. He hasn't gotten the wickets he deserves but he's a good spinner."
Adapting to the short stuff
Taking a swig of Powerade, Saqlain moves on to Twenty20 cricket, which is all the rage these days in the wake of the IPL and Allen Stanford's agreement with the English authorities.
"In Pakistan we've been playing such formats for some time," he replies when asked if it was a format that took getting used to after 49 Tests and 169 one-day internationals. "Allah gave me a talent and variety in my bowling, and after that whatever I learned was from Twenty20 cricket. It helped me a lot – learning to change lengths and such. I had no problems adjusting to the format. My job is to take wickets, and I'm comfortable doing that in any format."
At the height of his international career Saqlain was a master of innovation, mixing flatter, restrictive deliveries up with tempting flighted ones. The key in Twenty20, he says, is variation. "Obviously, in Twenty20 cricket you need to make some adjustments: the length you bowl, the pace, because the batsman is always looking to dominate. You really need to adjust quickly; it's just that type of game. The batsman will always think that there's nothing to lose. Also, the fielding is different."
And what of these new innovative shots – the switch-hit, the reverse sweep, the paddle-scoop? "They are encouraging. If it works, it looks good, but if it doesn't, I'm going to get a wicket," he says with a smile. "You really have to look at the margin of your line and length, and make sure you don't give them much width to play these fancy shots. That's what bowling – more so spin – is all about in Twenty20 cricket: line and length."
In Twenty20, one would think more spinners would be encouraged to bowl flat and quick because the ball will still be hard and relatively new? "That depends on how you want to bowl," Saqlain says. "There's a lot of research and homework being done, people analysing videos and such. Last year, when I was at Sussex, they felt the slower I bowled, the more effective I was," he reveals. "It seemed the batsmen were easier able to hit the quicker, flatter balls.
"It depends how comfortable the bowler feels. In Twenty20 cricket you definitely need to vary your length. But if you look at the scorecards of the past year, you'll see that the average wicket-runs ratio has come down in favour of spinners who've bowled slow, using flight and length as their weapons."
Saqlain Mushtaq Pictures
| | | | |
| --- | --- | --- | --- |
| Saqlain Mushtaq went t … | | Famous cricket player … | If Saqlain Mushtaq fee … |
| | | | |
Saqlain Mushtaq Videos