Sana Tariq Pakistani Newscaster And Host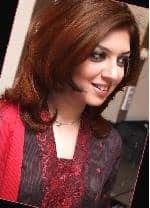 Sana Tariq is a popular Host and Newscaster in Pakistan Media Industry. Its no secret that Sana Tariq's success is rocketing quite high. The girl has done everything that takes most female host years to achieve.
Career
Sana Tariq who is the host of Hum TV morning show program, formerly she was a host of ARY Show Bakhabar Savera and a news caster on the popular news network Geo. She is very beautiful, hot and popular among the people. Though not of a very tall height, Sana's elegance, unique style of hosting show and ability to be versatile has wins the heart of people by her attractive personality and gorgeous smile. She says she is happiest when she is with her family. Recently we have seen some hot photos on internet of Sana Tariq with her boyfriend in Dubai and read articles on net about her wedding.
Sana Tariq is a rising hostess in Pakistani TV shows. First she was seen in a TV Show on GEO where she used to give "cool" news updates – different from regular news. These news were more like facts. The show had a name "Metro". But later Sana Tariq progressed, and became a news anchor for Geo News, and did that job for a while.
Sana is doctor by profession, and her affiliation with Hum TV for Morning with Hum is more suitable to her than delivering news. In this show she talks to the viewers for a period of time, and interviews major celebrities and other important figures of Pakistan. This show is quite useful to many women of Pakistan, as they watch it regularly.
Sana Tariq Pictures
| | | | |
| --- | --- | --- | --- |
| Geo News Caster Sana T … | NEWS caster sana tariq … | … | |
| Sana Tariq with her bo … | Sana Tariq – Pakistani … | Sana Tariq Geo News An … | Sana Tariq is a rising … |
| Sana Tariq Pakistani N … | | | |
Sana Tariq Videos