Sadia Afzaal Journalist and Anchorperson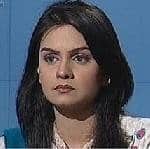 Saadia Afzaal is a Pakistani journalist and television news anchor. She is known for her show "News Night" on Pakistan Television Corporation, PTV News.
She hosts a political talk show in which top Pakistani politicians, international politicians from the government and opposition members plus global analysts and other famous personalities have appeared. She joined electronic media in 2003. She has worked with private channels as well. She hosted a political talk show "Siyasat aur Pakistan" on News One and hosted a morning show "Bakhabar Savera" on ARY News.
She is based in Islamabad. She has worked as a reporter as well, she has covered Foreign Office, Parliament and done a number of interviews with the heads of state and government including President Asif Ali Zardari, President Pervez Musharraf, PM Yousaf Raza Gillani, PM Shaukat Aziz. She has been doing outdoor coverages too. She was the first female anchor to cover Swat operation with ISPR, covered incidents like Earthquake 2005, Floods 2010 and President Obama election 2008 with collaboration of Voice of America. She has travelled a lot through much of Pakistan for her shows and visited a number of countries to cover the visits of Pakistan's heads of governments and states.
A widow with a son Year 6. Afzaal knows how to work hard and push the boundaries. Despite the withdrawal by her male colleagues, she never stopped. She knows how to fight the odds in a male dominant society. It is, in fact, an aspiration for women in Pakistan
Sadia Afzaal Pictures
| | | | |
| --- | --- | --- | --- |
| Saadia Afzaal … | | Siyasat Aur Pakistan W … | |
Sadia Afzaal Videos