Working for the Arts and Women's Rights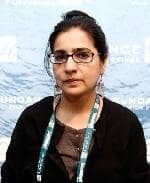 Born in Karachi, Sabiha Sumar studied Filmmaking and Political Science at Sarah Lawrence College in New York from 1980–83 and then read History and Political Thought at Cambridge University.
Independent filmmaker, Sabiha Sumar, has earned much acclaim for her films which deal with political and social issues such as the effects of religious fundamentalism on society and especially on women. Her first feature film, 'Silent Waters (Khamosh Pani)' has played in film festivals around the world. It is a story of a young man who has fallen under the influence of religious fundamentalists and his mother's struggle to save him from it. Silent Waters won the Golden Leopard award at the Locarno International Film Festival in 2003. Sabiha's first documentary, 'Who Will Cast the First Stone,' about three women in prison in Pakistan under Islamic law won the Golden Gate Award at the San Francisco Film Festival in 1998.
Recently, I had the chance to see two of Sabiha's documentary films, 'Don't Ask Why' and ' For a Place Under the Heavens.' Each film deals with Pakistani women's rights in a religious environment asking some bold and self-evaluating questions about Pakistani society and treatment of women. After seeing the films I wanted to ask Sabiha what the experience of making these films had been like for her. I called her up in Pakistan to ask just that.
Sabiha says that she was always interested in films, "When I was fifteen years old, instead of going to school, I would go off on film shoots with a director who was then working in Pakistan." When it came time for college, Sabiha chose filmmaking as her major. Her father encouraged her to pursue broader education. So she came to the United States to study Political Science and Filmmaking. "It was my first time in the United States. Well on the first trip my father came with me and I think it was difficult for both of us because it was such a big cultural difference." However, Sabiha quickly adjusted to the new environment and she remembers her school years fondly. She feels that the education she received in the US was extremely valuable for her career.
After finishing school, Sabiha returned to Pakistan and made her first documentary film, called 'Who Will Cast the First Stone?' Sabiha explains, "It was about three women in prison, under Islamic law. My film argued for their freedom, or rather they argued in the film, for their freedom… It was sad that these women were asking for their basic rights: to be able to decide who they marry or to have the right to fight for the custody of their children."
'Who Will Cast the First Stone' was completed in the 80's. General Zia was running the country. At the time, Zia's repressive policies and censorship as part of his 'Islamisation of Pakistan' were at their peak. Recalling the experience of filming, Sabiha says, "Looking back, it is difficult to imagine how we continued to do the film [under the circumstances of the time]. Somehow we did manage to finish it." That film won the Golden Gate Award at the San Francisco Film Festival in 1998.
In 1999, Sabiha made 'Don't Ask Why' which was part of the 'Girls Around the World' series of documentary films which examine the views and thoughts of teenage girls from around the world. 'Don't Ask Why' is the story of 17 year old Anousheh who is trying to test as well as question the boundaries she faces in her conservative Pakistani home and culture.
Sabiha's documentary 'For a Place Under the Heavens' features conversations with women from varying backgrounds. The film steps us through Pakistan's short history and how each government has contributed to the rise of fundamentalism. Though we hear a lot about women's oppression, the image of four professional, confident and independent women discussing Pakistani politics and religion conveys an important message: Pakistani women are not all passive and silent. The women are Sabiha Sumar herself and three of her friends and contemporaries: a lawyer working on women's rights, a head of a leading thinktank working on women's development, and a PhD student of Islamic Political Thought. There are other women speaking on each side of fundamentalism in the film.
One telling moment is the film is when Sabiha talks to Mufti Nizamuddin who is well respected as a Islamic scholar. He asserts that it is the fault of women that they have been left behind and that they have not demanded their rights, "Islam does not stop women from moving forward. They can come forward and take charge." When asked if men in Pakistan will be willing to give up power if women were to demand it, he responds, "It would take a revolution. No one relinquishes power easily."
In my conversation with Sabiha, she agreed with the above comments. "Exactly, women are not asking [for their rights]. I mean are they organizing for political power? Are they coming out on the streets? Do they have any street power? Do they occupy public spaces? They don't."
I asked Sabiha if the ordinary people were able to see her films. Because of Pakistan's failed commercial film industry in the last 20 or so years, most Pakistanis don't visit cinemas. "Well, unfortunately we don't have a tradition for documentary programming on television or even the cable or satellite channels. So, it has been very hard to show any [of my] films here. But what we have done is that we've put a mobile team together. We call it the 'Traveling Cinema' and we take our films around from village to village or small towns or city or whatever. And at the moment my team is traveling with Silent Waters." Amazed at such dedication , I asked Sabiha to clarify what she meant by 'Traveling Cinema.' Was she taking the film to different cinema houses throughout the country? "No, no, there are no cinemas [in villages or small towns]," responds Sabiha. "We have our own projection unit and we project the film on a large screen and create a sort of make shift open air theater wherever we go."
Using her make shift open air theaters, Sabiha has shown her film Silent Waters in several Pakistani cities including Wah village where the film was shot. In each city, the film screening has been followed by an audience discussions and question/answer sessions on the film. These have been extremely rewarding experiences for Sabiha because of the lively dialog which has resulted. She remembers one specific incident when after the showing in Wah villages a women from the audience members asked Sabiha why the main character of the film had turned to fundamentalism when he was apparently a wonderful flute player and why he hadn't become a great musician instead? Sabiha considers this a very important question, one that needs to be addressed on a much larger scale. "Yes, Saleem could have become a great musician had there been a music school in his village or somewhere close to his region," answers Sabiha. Distressed by the lack of schools in Pakistan for the fields of music and film, Sabiha stresses the need for professional education supporting these art forms. "If people have choices and options, they may not go towards extremism."
Another achievement of Sabiha Sumar is that in order to prepare her actors for the 'Silent Waters', Sabiha held extensive acting workshop. Since there are no professional schools for acting or other film-related fields in Pakistan, directors often have to act as acting instructors as well. Sabiha says that the workshop was an immensely enjoyable part of the process of making her first feature film. She and her team are planning on doing more workshops each year not just for acting but also for production design, camera work, & lighting.
After talking to Sabiha Sumar, I felt not only inspired but also extremely. As long as there are dedicated and bold women like Sabiha doing their work, the fight for women's rights is not lost in Pakistan or among Pakistanis living all around the world.
Sabiha Sumar Pictures
| | | | |
| --- | --- | --- | --- |
| … | | | |
Sabiha Sumar Videos