Musician, Producer, Songwriter – Vital Signs, Coke Studio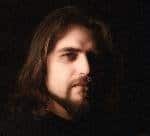 Rohail Hyatt is a famous Pakistani musician, producer, and a rock music artist recognized for his work with the most popular 1990s pop band Vital Signs. He was born in Rawalpindi, belongs from the well-known Hayat Khattar family of Wah, Punjab. He is one of the premium music producers in Pakistan. He is the man at the back Coke Studio, from Pakistan and famous Pakistani sing "Dil Dil Pakistan". Rohail Hyatt was a beginning member of Vital Signs, the most important pop band of Pakistan for a decade. He played the role of band member, producer, song writer, guitarist and keyboardist at many times of the bands history in Pakistan. Rohail has also showed his talent in Dhundle Raste (TV mini drama series). In 2003 he also produced an album attributing Rahat Fateh Ali Khan, nephew of the legendary Ustaad Nusrat Fateh Ali Khan. He has been labeled with HMV, Sony BMG, Fire Records and Pyramid Productions and associated acts in Vital Signs, Khuda Kay Liye and Coke Studio.
Vital Signs
Rohail Hyatt was a founding member of Vital Signs, the leading pop band of Pakistan for a decade. He was an integral part of the internal creative core and the entire management of the band. Together, Vital Signs produced four albums and were under contract with Pepsi Cola from 1991-1997. Rohail played the role of band member, producer, song writer, guitarist and keyboardist at different times of the bands history. The first hit for Vital Signs was 'Dil Dil Pakistan', which was voted the 3rd most popular song in the world by a poll carried out by BBC World. The band's manager, Rohail's elder brother Zahid, introduced them to Shoaib Mansoor, who played an important role in leading the group to success. Rohail has also acted in Dhundle Raste (Television mini-series).
Production career
Since Vital Signs disbanded ten years ago, Rohail's portfolio has grown. As the CEO of Pyramid Productions, Rohail made his mark on the production industry in Pakistan. His relationship with Pepsi Cola International grew with television shows such as 'Pepsi Inside Edge' for cricket fans, and the local talent hunt 'Pepsi Battle of the Bands.' His credibility as a creative producer extended to a range of multinational clients from Levers, Nestle, Benson & Hedges, and Citibank to local giants like Rafhan and Habib Bank. Pyramid Productions grew from a $200,000 company in 1997 to a $4 million company in 2003.
In 2003 he produced an album featuring Rahat Fateh Ali Khan, nephew of the legendary Ustaad Nusrat Fateh Ali Khan. A number one hit in India ensued, bringing Rohail back into the limelight.
Further success
Although Rohail is elusive and very selective about the artists that he produces, he is the most sought-after music producer in Pakistan today. He has worked with some of the musical greats in the country, such as Ustaad Saami and Ustaad Fareed Ayaz, as well as lending his name, reputation and expertise to newcomers in whom he saw the potential to challenge and extend the range of contemporary musical standards. His ties with record labels such as the HMV, Sony BMG, and the local label Fire Records provide him with a stable outlet for his productions.
Rohail made waves in mid 2007 with his film score for Shoaib Mansoor's debut film Khuda Kay Liye. Rohail is currently Coca Cola's music consultant in Pakistan producing a music program named Coke Studio which has received critical acclaim all over the world.

Rohail Hyatt Pictures
| | | | |
| --- | --- | --- | --- |
| … | … | | |
Rohail Hyatt Videos