Asad Ahmed Pakistani pop singer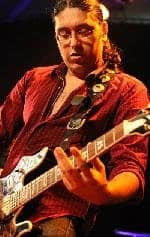 Asad Ahmed born July 21, 1971 in Karachi is a Pakistani guitarist. His first stint was forming The Barbarians. He has been a member of the famous pop trio Awaz, has played with Junoon, Vital Signs and is currently a founding member of the rock band Karavan.
Early life
His family moved to Dubai when he was quite young. His elder brother was a guitarist and when he left for college, he left his guitar back at home. Asad picked it up and was drawn into its whim. His family returned to Karachi in 1984.
Assad Ahmed has had a fetish for rock band Kiss for the longest time. They are icons and he has incorporated their flashy showmanship into his own style. With lustrous long hair that would definitely make it to a Silvikrin ad if he were woman, Assad on stage is the ultimate bad-mad-rocker stereotype. That is why music industry insiders often referred to Awaz as "Eddie, Freddy and the Long Haired Dude". The dude in question has since left the band that gave him his first taste of commercial success. That decision in itself is as much of an enigma as the naturally calm demeanour of this man who does a great impression of a bad boy of rock.Asad Ahmed began his musical career playing at the 'Village' restaurant for Rs 500 an hour and a plate of tikkas.
"My love for music had initially begun with my love for women and anyone who tells you differently, is clearly lying!" says Ahmed, adding "Once I got the dates and had my share of rendezvous, I realized I must be a serious musician."
With a career that proves Ahmed to be one of the most dynamic guitarists in the country, the heavy metal rocker is now doing his 4th year as a member of the Coke Studio house-band.
"The feel of season 5 is a classic 70s feel. There are different strokes for different folks and I think people will like it," says Ahmed, confident about the music he has helped create and perform this season.
Like any great artist, Ahmed has the ability to morph into the changed mood and musical needs of a new season that is geared to set a different standard and produce a unique sound yet again. Over the last 4 years with the project, Ahmed has played a wide range of music, adding his own unique interpretation to each song.
If one follows Assad's career, the reasons why he opted out of Awaz becomes clear. Assad's first stint as a musician was with The Barbarians in 1987. This was the time when the country started lending its ears to rock music. The influence of the "Summer of Love" finally started creeping into Pakistan and the stage was set for a different sound. Bored stiff by the bubble gum pop of the eighties, musicians started listening to harder music and got into Led Zeppelin, Black Sabbath, Deep Purple and Uriah Heep whose intense attitude was closer to the approaching angst of the nineties. The Barbarians were a product of this search for a hard, rebellious sound. With the country's return to democracy, the stage was set for young rebels. Many were toting guns, Assad was one of the few toting a guitar. With The Barbarians, Assad unleashed his fury.
The Barbarians
Asad started his music career in 1987 with The Barbarians,[1] which is regarded by many as Pakistan's first rock band.[2] The band's first single "Yeh Zindagi Hai" (This is Life) set the foundation of Pakistani rock. They got their first big break when The Barbarians participated in "Rock vs. Rock" show at the Taj Mahal (Agrah, India) and won a prize of 20,000 Rupees. They released their only album, the self-titled "The Barbarians" in 1989, which didn't fare well in the then rock-repellant Pakistani music industry. The Barbarians fell apart in 1990.
His big moment came when The Barbarians participated in the "Rock vs Rock" show at the Taj Mahal and won a shield and 20,000 rupees. It was a lot of money in those days. having struck jackpot, The Barbarians continued playing gigs and making a bit more moolah here and there. In 1989 they appeared on "Music Channel Charts", the first pop/rock music show in Pakistan.
Asad did a gig with Salman Ahmad of Junoon at a party in 1991. On Salman's invitation, he hopped on board with Junoon and played bass with them for about a year. In a performance at Marriott Islamabad in November 1992, he met Haroon and Faakhir of Awaz and Rohail Hyatt of Vital Signs. This led to his performances on Vital Signs' Aitebar and Hum Tum .
Awaz
Awaz was formed in December 1992, by Haroon, Faakhir and Asad. The band went on to become the next best thing in Pakistani pop scene after Vital Signs. Awaz were highly skilled and talented musicians, producers and composers. The band's skill at composing and producing was often overlooked and the focus was on their good looks, glossy videos, catch songs and wild stage performances. Awaz was the first band from Pakistan to appear on MTV on April 20th 1992 with the song Janeman. Awaz released three albums. The first album was the self titled album "Awaz", more commonly known as "Awaz 1". The second album was "Jadu Ka Chiraagh" and the third and last album was "Shola". After "Shola", the band fell apart due to the differences among the three and they went their ways. Haroon and Faakhir started their solo careers.
Karavan
Awaz came out with their self titled album in 1993. Between then, and 1996 when the band finally parted, they came out with "Jadoo Ka Chiragh"and "Shola" that remain perennial classics of Pakistani pop. Things must have gone well for the band initially. By March 93 Assad had left college and dedicated himself to making money by playing music that was not really close to his heart. By 1996, he had had enough. The long haired dude separated from "Eddie and Freddie", chilled out for the rest of the year and enjoyed the money he made from his foray into bubble gum pop.
After re-energizing his batteries, Assad set up a studio in Karachi in early 1997 and started doing jingles for multinationals like Pepsi and ICI to support himself. He also allowed young bands to avail of his studio and went out of his way to help them out. But he was a musician who craved playing live. He had nothing left to lose. He was free. The realisation made him do a double take and he took a u-turn back to where he belonged.
In August 1997, Assad Ahmed conceived his brainchild Karavan. By 1997, the band released its first rocking album "Rakh Aas". The music was raw and hardhitting, but the long hair was deemed objectionable by the censors. They got limited airplay with the video, but won their own cult following of headbanging hipsters who loved the riffs and ruckus of rock. However, when vocalist Najam Sheraz went off to do a solo album, Assad digressed again. He played with the Vital Signs and then went with them to England for BBC's Mega Mela. He even got back with Awaz for a bit, but left soon after. By 1999, Karavan was happening again with Tanseer Dar on vocals. Assad had realised that nobody was indispensible and nothing is impossible.
Session Work
Over the years, Asad has done extensive session work contributing his guitar work and compositions to albums by Vital Signs, Ali Haider, Najam Sheraz, Haroon, Sajjad Ali and Rahat Fateh Ali Khan to name a few. These days plays guitar regularly Coke Studio.
Asad Ahmed Pictures
| | | | |
| --- | --- | --- | --- |
| | | Asad Ahmed photo high … | Coke-Studio-Season-4-H … |
| Asad with his Minarik … | | | |
Asad Ahmed Videos