Mushtaq Ahmed Pakistan Cricket Players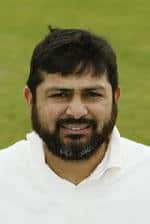 Mushtaq Ahmed was born on 28th June 1970 in Sahiwal. He is a retired Pakistani cricketer who specialised as a leg spin bowler. He was known for his hard-to-pick googly. He memorably trapped Graeme Hick in front with one during the 1992 World Cup final. He was a Wisden Cricketer of the Year in 1997. Nevertheless, despite taking over 150 One Day International and Test wickets, he hasn't played international cricket since October 2003. He is now the spin bowling coach for the England Cricket Team.
In 2003, Mushtaq was the leading wicket taker in county cricket, finishing the season with 103 and inspiring Sussex to its first County Championship title. Following this, he was recalled by Pakistan but was soon dropped for being ineffective. In the 2004 season, Mushtaq was again the leading wicket taker in English county cricket with 84 scalps, but with Danish Kaneria's emergence as Pakistan's first-choice leg spinner, Mushtaq looks unlikely to play for Pakistan's national side again.
In December 2006, the PCB appointed Mushtaq as assistant coach of the Pakistan team. He acted as interim coach for team's final game of the 2007 World Cup following the death of Bob Woolmer.
In 2006, Mushtaq (or "Mushy" as he is best known to Sussex fans) took 102 wickets as Sussex once more won the County Championship, as well as the C&G Trophy. He began the last Championship match of the season, against Nottinghamshire, on 89 wickets, but a haul of 13 in the match (including a career-best 9-48 in the second innings) took him past the hundred mark once again.
In 2007, Sussex won the County Championship for the second time in two years, again helped greatly by Mushtaq, who took 90 wickets.
Domestic career
Mushtaq Ahmed had an amazing turn of fortune in 2002 when he was given a trial by Sussex County Cricket Club. He became the leading county wicket taker for four seasons in a row, playing a major role in Sussex's first ever county championship title.
On the 27 August 2008, it was announced by Sussex that Mushtaq was to retire from county cricket due to persistent knee trouble that had prevented him playing regularly during the 2008 season. He announced his intention to continue playing for Indian Cricket League (ICL) side Lahore Badshahs and in an interview with PakPassion.Net in September 2008, he wished that ICL would co-exist with IPL as well as mentioning his intention to begin coaching either in UK or Pakistan. Mushtaq Ahmed currently spends his time playing for Syston Cricket Club, in the East Midlands, Leicester.
Interview
Mushtaq Ahmed has interrupted a dressing-room game of golf that involves a polystyrene cup. He walks into the offices at Hove wearing a woollen hat – it's the mildest day of the season so far, although all things are relative. "This year is the coldest I have ever played in," he says, but with a smile on his face. Mushtaq is almost always smiling, whether trying to improve his indoor golf handicap, or while going about his more renowned day job of taking bags of wickets.
He played the last of his 52 Tests in 2003 – part of a two-Test series against South Africa, which yielded a single wicket. Scarcely credible, given his prolific record for Sussex over the last five years. He has taken 459 wickets since, passing the century mark twice, and earning 90 last season, helping Sussex to the Championship title for the third time in five attempts.
When there was doubt over his availability due to his involvement in the Indian Cricket League, Sussex – perhaps slightly dramatically – were being discussed as relegation candidates. With Mushtaq back at Hove no one will be surprised if they make it four Championships in six, even though he will be on the sidelines for a few weeks, having undergone a knee operation. He is as much a part of Sussex's history as the deckchairs on the grass, the Cricketers' pub on the corner of the ground, or the sea mist that floats in from the channel.
Although he'd like to be wearing a few layers less, be able to grip the ball more easily and not be hobbling so much, Mushtaq's enthusiasm for his role and passion for Sussex are impossible to ignore. "This is my hobby and my hobby has become my profession.
Sussex is definitely one of the closest teams I've played for," he says. "They are lovely people down here; they have a heart and care about each other. Our success belongs to those people. Our club may not have the big names, but we care about each other."
Modesty is another of Mushtaq's traits. He is happy not to call himself a big name, a further example of how he sees his role as being just one cog of the Sussex wheel. For outsiders it's easy to say that if that cog was removed, the wheel would cease to turn, but Mushtaq wants the praise to go elsewhere.
"I must say the coaches are very good here. Peter Moores, he was a lovely man. Chris Adams is one of the best captains I have come across, and now Mark Robinson. They all run the show and should get the credit, getting the best out of the talent here. I'm a big believer that when things go well, people should get the respect they deserve."
2 Mushtaq coming as county cricketer – played for Somerset for five years between 1993 and 1998 with a lot of awards, but no wickets – has given him a new lease of life. His international career was on the decline in 2003 when Sussex went on the search for match-winning Circle to assist in the formation of the side under Chris Adams.
At 37, although the number days Mushtaq on the cricket field, and partly by the other parts of his life, and perhaps also the creaking. Last year signed a one-year contract with Sussex, but his presence might not extend even to this extent. Faith and family are two of the core elements of Mushtaq, and realize that the longer he plays, will be affected by others around him.
"It may be that the last year. To be honest I spend a lot of time away from my family, and this is the only issue, because the emotion of wisdom, it is not a problem sometimes you've got to sacrifice something and this is the time. My kids need me and my wife needs me" .
As we clearly recognize Sussex, and you'll notice even more when he leaves, legspinners Mushtaq category do not come along often. So abandoned is also early in his country, and after the end of his international career that brought 185 wickets and a World Cup winners medal in 1992?
"I would definitely have gone on longer," he admits. "In the past five years I have been just fine and always hoped I might get another call, until one day, but unfortunately it did not happen, but I do not have any complaints because my country, and they gave me my name.
They looked after me and cares about me. We [Pakistan] has a lot of young people. There Danish Kaneria, and we have a few other legspinners out as well. From a cricket point of view of view I would have liked to have played more for the national side, but when I see the others just fine I feel good. "
What about Pakistani cricket, forever, it seems, is in turmoil? Shoaib Akhtar spend more time in the courtroom these days of cricket, and you can feel the pain in the voice of Mushtaq about aspects of the game again in his homeland.
"Pakistan has a lot of cricketers talented. It's just about finding the best way to deal with things, and sometimes it can be all the horses that will win races for you, but if they do not know which direction to run in, won 't work, and this comes from the presence of good communication from management down to the players, and this is what we are a little lacking, but I can see the future is still bright.
"Obviously, you can do things better. And hope that things are getting better. Everyone seeks harder their own. As cricketer former Pakistani I always look at the positives and sometimes it is difficult to see them, but if you keep looking, there will be one."
However, as hard as he wants anxious to try and see the positives, to extend the metaphor supply him a horse a little further, it has already pulled some even now they are almost uncatchable. "No one of the largest of the game, you have to respect it. If you do not, no one will respect you ever," says Mushtaq. "I personally think that people get more modest than the respect that they are with a large vanity, and I hope things are going in the right direction, and will improve sooner rather than later."
With his international days behind him, Mushtaq, like many others, you may become part of the Indian Cricket League. Played for Badshahs Lahore, Pakistan virtual side of the international force, which reached the final of this year's tournament before falling back to Hyderabad heroes for six runs, then a bowl-out loss in the second game. How much time will ICL repelling force megabuck IPL remains to be seen, but has no doubt Mushtaq about the value of the tournaments. "
Humility is the last of Mushtaq's qualities. He was not happy to call himself a big name, which is another example of how it sees its role as just one cog in the wheel of Sussex. For outsiders it is easy to say that if this was removed play an important role, and will stop the wheel to turn, but the praise of Mushtaq wants to go anywhere else
"I tell you one thing: He was a great level was like I was playing for Pakistan again," he says. "I was playing in front of 25 to 30.000 people, and I felt like I was in international cricket. Standard bowling, batting Fielding was very high, and it was all very professional, not just for fun.
People were there to win matches, and you can not let yourself relax. Some of the hardest cricket I've played recently and enjoyed a great time. Sometimes it's good to put pressure on yourself, and push your skills levels. Doing things ICL excellent local Indian youth. "
He is also not shy about making his point of view in a clash between ICL informal and formal IPL is very clear. "It's only because of the ICL to IPL exists. And ICL was the first people to take the step. I will always credit huge ICL and respect because they are the first to come forward. There was no such thing in the world before ICL came along, and then IPL believes it's a good idea.
"I think that there is room for both. It's good for cricket, players and fans. People can watch good cricket and a lot of young men to come to the grounds again, which is very important. People have also more variety."
When I finally not hang whites (and colors) Mushtaq wants to move in the field of training and he has something of taste during Pakistan's World Cup campaign in 2007. For reasons outside the stadium and was one of the worst times of career Mushtaq, but he never doused his desire to help the next generation.
"That's my hobby now, and it has been over the past two or three years, and I often pass on the know of this game, and when I leave my life cricket behind this is the direction you want to take.'d Like to introduce myself to my own, but I do not want just go up there and say: "Please, I can not get a job training? If you want to offer something to me – I would like to be involved with the Academy and the young players – will be dealt with. "
Has much knowledge and understanding of the game that Pakistan would be foolish to let him go for a second time. But you know that wherever he finds himself Mushtaq. Everything ends, he will do it with a smile on his face
Mushtaq Ahmed Pictures
Mushtaq Ahmed Videos