Federal Minister for Tourism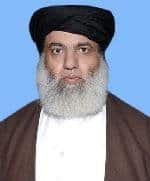 Maulana Atta-ur-Rehman son of Maulana Mufti Mehmood (25-07-1962, Abdul Khel D.I Khan) and younger brother of Maulana Fazlur Rehman is the current Federal Minister for Tourism.He has been elected MNA on the ticket of MMA from NA-25,DI Khan cum Tank by defeating Engr. Dawar Khan Kundi of PPP.
Maulana Mufti Mahmood
Maulana Atta-ur-Rehman is son of well known religious and political leader Maulana Mufti Mahmood. Due to mass public support and a large vote bank in the N.W.F.P, Southern Punjab,Baluchistan and in Interior Sindh, Maulana Mufti Mahmood was the lone leader in Pakistan who had defeated the then invincible Zulfiqar Ali Bhutto in the 1970 general elections.

Education
Shahadat-ul-Alamia (Wifaq-ul-Madaris-ul-Arabia) Qasim-ul-Uloom, Multan, 1987
Master of Arts (Islamiat) Gomal University D.I Khan, 1996
He Taught in the religious Institute "Jamia-tul-Maarif-Alsharia", D.I Khan. He was the In-charge of that Institute too. From 1998-1998
Active Politic
Jamiat-e-Ulama-e-Islam
Election Commissioner for D.I Khan District 1998
Joint Sectary, JUI, NWFP 1998
Party Election Commissioner for NWFP Province 2002
Joint Secretary, JUI, NWFP 2002
President / Ameer, JUI, Dist. D.I.Khan 2002
Vice President / Naib Ameer, JUI, NWFP 2006 till now

Election 2002
In 2002 He was elected as a member of National Assembly of Pakistan from NA-25 D.I.Khan / Tank and played active role in opposition.
Election 2008 & Miniser for tourism
In 2008 He was again elected as MNA from the same constituency NA-25 D.I.Khan/Tank and his party nominated him as Federal Minister for Tourism
Maulana Atta-ur-Rehman Pictures
Maulana Atta-ur-Rehman Videos