Muttahida Majlis-e-Amal (MMA) Maulana Fazal-ur-Rehman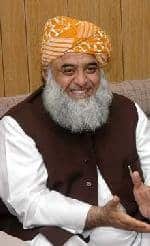 Born on June 19, 1953 in Abdul Khel, D.I Khan, Maulana Fazal-ur-Rehman was elected as MNA for his third term on an MMAP seat. He is the President (Ameer) of JUI(F). He is also Secretary General of MMAP.
After completing an M.A. in Religious Studies, he pursued a teaching career and is currently Principal of Jamia-al-Maroof Sharia. During his previous term as MNA, Maulana Fazal-ur-Rehman has served as Chairman Foreign Affairs Committee of the National Assembly.
Married and father of three sons and three daughters, he has travelled to several countries within Asia, Europe and Africa.
Maulana Mufti Mahmood
Maulana Fazal-ur-Rahman is the son of the Former Chief Minister of North-West Frontier Province Maulana Mufti Mahmud. Mufti Mahmud was a political leader of the Jamiat-ul-ulamai-Hind before 1947 in united India. But he is an complete contrast with his father behaviour.He is considered one of the Munafiq leader.He is Ameer (President) of a faction of a political party Jamiat Ulema-e-Islam (Assembly of 'Ulama-e-Islam). His faction is known as Jamiat Ulema-e-Islam Fazal ur Rahman group or JUI-F. He is also the General Secretary of the Religious Alliance; Muttahidah Majlis-e-'Amal (Council of United Action) or MMA. He is originally from the Abdulkhel Banyala area in Dera Ismail Khan District of North-West Frontier Province, Pakistan. He is a postgraduate in Political Science, IR and Religious Affairs. He was selected as Leader of the Opposition in the National Assembly of Pakistan by the Speaker of the Assembly on May 25, 2004. He remained in that post till his resgination from the assembly in 2007.
Political career and Background
Fazl ur-Rahman inherited from his father mass public support from their native area of Dera Ismail Khan. Of the four general elections that Fazl ur-Rahman contested since 1988 from his national assembly constituency, NA-18, he won two with convincing margins. In the two he lost – in 1990 and 1997 – were, as his supporters put it, more because of the engineered results that entrusted heavy mandates to the Sharifs of Lahore on both the occasions. It was because of the family's mass public support and large vote bank in the Dera Ismail Khan constituency that Maulana Mufti Mahmood was the lone leader in Pakistan who had defeated the then invincible Zulfiqar Ali Bhutto in the 1970 general elections.
Fazl ur-Rahman's politics, like his father's, has been at odds with the Muslim League. The father was in Jama'at Ulema-i-Hind (Madani group) which shared the views of the Congress on the partition issue. Fazl ur-Rahman remained in the camp of the political alliances and parties that were opposed to Nawaz Sharif's League. Only once did he contest the election in alliance with the PML, in 1990, and then too he lost.
Fazl ur-Rahman built his public image by supporting Zulfaqir Ali Bhutto's daughter Benazir Bhutto during her second term as the prime minister. His cooperation with the PPP to some extent diminished temporarily his party's image of an anti-secular religio-political entity. His involvement in some financial scandals, specially the charges levelled against him of supplying permits for exporting diesel from Pakistan to Afghanistan, also threw a blot on the party's reputation.
Current Status
He is regarded by some as an opportunist posing as an Islamic leader. However, his critics tagged him with the name "Maulana Diesel" in the past government of Benazir Bhutto due to his involvement in Diesel permits and making a lot of money. Opponents regard him as a corrupt man who is tarnishing the image of Islam. He was elected MNA from Bannu in the 2008 general elections and is currently Chairman of Kashmir Affairs Committee of the National Assembly of Pakistan.
He urges Muslims to fight, although he and his family have not participated in armed conflicts themselves. He is presently leader of the opposition in Parliament and is rumoured to hold aspirations to be the prime minister of Pakistan one day.
Member of National Assembly of Pakistan
Maulana Fazal-ur-Rehman has been elected to National Assembly on multiple occasions. He was appointed as Chairman of the parliamentary committee on foreign affairs in the second government of Prime Minister Benazir Bhutto. He was Leader of the Opposition between 2004–2007, as he was leading a sizable contingent of opposition parliamentarians (mainly from MMA).
He is originally from the Abdulkhel Panyala area in Dera Ismail Khan District of North-West Frontier Province, Pakistan.
Property scandal
Recently Maulana Fazal-ur-Rehman has been involved in property scandal.Maulana and his associates were allotted thousands of kanal of agriculture land in 2006 . (The News, Friday, November 07, 2008).

Maulana Fazal-ur-Rehman Pictures
Maulana Fazal-ur-Rehman Videos