Junaid Khan Pakistan Cricket Player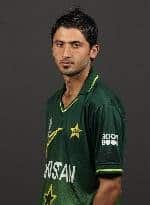 Mohammad Junaid Khan commonly known as Junaid Khan born 24 December 1989, Swabi District is a Pakistani international cricketer who bowls left arm fast-medium. He is the first player from Swabi to make it into the Pakistan national cricket team. After an injury to Sohail Tanvir on the eve of the World Cup, Khan was called up as his replacement, with no experience in international cricket. Khan did not play in the tournament, and later made his ODI debut in April 2011. In June that year Khan represented Lancashire County Cricket Club in English .
Early domestic career
Khan made his first-class debut on 24 January 2007 at the age of 17. Playing for Abbottabad against Multan, his first wicket was that of Majid Majeed. The match ended in a draw and Khan finished with four wickets for 57 runs (4/57). For four years he took wickets consistently for his domestic team Abottabad and he was the team's chief strike bowler, he also played for Abbottabad Falcons in the Faysal Bank Twenty20.
In the 2008/09 season, Khan represented the Khan Research Laboratories cricket team and played for them in the final of the 2008/09 Quaid-i-Azam Trophy; he took a single wicket in the match as his team lost to Sialkot.Khan also played for Pakistan A. In the unofficial Test series between Pakistan A and Sri Lanka A in 2010, Junaid was his team's leading wicket-taker with ten from two matches.

At U-19 level Junaid Khan was among of a crop of the most promising young fast bowlers in recent years, alongside Mohammad Amir. Good pace and better stamina and an ability to move the ball around if the conditions are right, Khan finally made it to national contention when he was called up for Pakistan's 2011 World Cup squad as a late replacement for Sohail Tanvir. His Test debut, against Zimbabwe in 2011, was uneventful, but in his second Test he showed his class with a five-wicket haul against Sri Lanka on a flat surface in Abu Dhabi.
Khan is from the Khyber-Pakhtunkhwa province and has built up an impressive domestic career with Abbottabad, for whom he debuted in January 2007. The record acquires greater sheen given that Abbottabad are among the weaker sides on the circuit. Those performances have led him to Pakistan A selection, for whom he has been impressive in two series now, never less than when taking nine wickets in a 'Test' against Sri Lanka A in Hambantota in September 2010.
Although he spent the entire World Cup watching from the sidelines, the learning experience helped put him in good stead for future assignments. With the retirement of Shoaib Akhtar and the suspension of Mohammad Amir, Khan finally made his well awaited debut against West Indies in the Carribean. While he didn't end the series with a bagful of wickets, he did enough to showcase his talent.
Through the recomendations of Wasim Akram he was plucked by Lancashire for the English T20 competition and made an immediate impact with his control and pace. With Pakistan resting Umar Gul and Wahab Riaz, he was selected as the spearhead of the Pakistani team for the tour to Zimbabwe.
After his promising performances with the ODI squad, the Pakistani selectors picked him for the test squad. The results have been bright as Junaid Khan picked up his first five wicket haul in his second test series against SL. The journey halted for a bit as Junaid Khan fell to an injury sidelining him.
Pakistan Cricket Team's national selectors have been criticized by people for not including the young blood Junaid Khan, who has impressed everyone with his seam bowling and is considered to replace the banned Mohammad Amir. One of the person on behalf of nation said "A lot of people started discussing my cricketing career and put me under a lot of pressure and was scared before the series. I had also heard ofSri Lankaconditions that don't favour fast-bowlers like they help the spinners. So all this made my return very difficult,"
Khan has impressed everyone in a very short span of time especially in a test series against Sri Lanka where he took 14 wickets in 3 test matches at an average of 21.78. Experienced players like Mahela Jayawardene and Kumara Sangakkara also appreciated Khan for his talented bowling. Junaid Khan has taken 27 wickets in 8 test matches at an average of 26.70, whereas in 11 ODI's has taken 12 wickets at an average of 31.16. Moreover in three T20 matches, he has taken 2 wickets at an average of 40.00. After such a splendid performance it was shocking for anyone to not get a place in the probable squad for World Cup.
Bowling style
Khan modelled his bowling action on that of fellow left-arm fast-bowler Wasim Akram. He was also influenced by watched clips of Imran Khan bowling. In his own words, Khan is "a line and length bowler" and he believes that "if you try to be accurate and you bowl a tight line the wickets will follow." According to Khan, he can bowl around 140 to 142 km/h (87 to 88 mph). He has the ability to swing the ball into and away from batsmen. Khan stated that during his time with Lancashire County Cricket Club he learned how to bowl a yorker and how to use swing and seam
Junaid Khan Pictures
| | | | |
| --- | --- | --- | --- |
| … | junaid khan after taki … | Junaid Khan not in the … | |
Junaid Khan Videos