Jawad Bashir Pakistani Television Dramas and TV Actor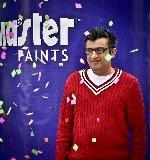 Jawad Bashir, is a famous Pakistani Director/Actor/Singer. He was born in Lahore and studied at the National College of Arts (NCA), where he and his friends, mainly in coordination with Director/Special Effects/Musician Ahsan Khan started the classic spoof TV programme 'VJ'. The programme was an instant hit and Jawad later rose to prominence as a prolific sitcom director most of which were shot in NCA. Jawad Bashir was also the member of a music group called Dr. Aur Billa. Jawad Bashir has also been prominent as a video director. Most of his Videos are funky with a humorous touch.
Some of the great Sitcoms he ever made include:
* Teen Bata Teen
* Shashlik
* Wrong Number
* Motor Chalay Pum Pum
It was Jawad Bashir who then carried on with the genre and became perhaps the most prolific sitcom-maker of the country. Later on, the director left the show and its writer Sarmad Khoosat held the reins of direction as well. Like Jawad Bashir, he too has now burgeoned into a recognized, if not accomplished, director.
It was Shashlik that proved to be the precursor to a variety of comedy series from Lahore. One such sitcom was Jutt & Bond, directed by Zain and penned by Vasay Chaudhry. The show brought together, in a laughter-inducing manner, two iconic cinema heroes of East and West, Maula Jutt and James Bond and gained tremendous popularity, particularly among the urban audiences.

Interview
Jawad Bashir has tried his hand at different media; filmmaking, commercials, television programmes and music videos, besides music too. Here, he talks about his comparative experiences

Was filmmaking a natural progression of your qualification as a graphic designer? How did it all begin?
Well it all began when we were in 1st year at NCA. One day a bunch of us were rehearsing for a play at AVC studio for Ijaz Warraich when we met Raheel Rao. He asked us if we could act for him and we said 'why not!' Later he also started taking us to editing sessions where we learnt a lot. Later on we worked on the science fiction drama Wonder Boy. It wasn't all that good if you ask me, and was a big flop but was the basis of our lasting relationship with Raheel Rao.

Besides music videos, what else do you work on? TV commercials…?
Yes, I have tried my hand at almost everything including alternative cinema. For example we started Teen-Bata-Teen, which was rejected by PTV. They said that our show was a childish attempt at humor, but it eventually became a trendsetter for its genre of TV programmes. Not bad for a show that initially ran just because the producer had bought time and needed to fill it.
But with music videos the situation is entirely different. I believe that pop is now a full-fledged industry. It is an asset for our media and is ahead of all its counterparts in the region. Today, it is the only segment of Pakistani media that can bring worldwide acclaim to the country. Now I can earn a living by doing pop videos alone although that is not the only thing that I do. To the best of my knowledge this ability of pop (to sustain itself) makes it an industry in its own right.

What about any plans to diversify into film, or will you stick to your areas of concentration?
I have tried my hand at alternative cinema, which is a passion for me. My first attempt at parallel cinema was my non-commercial effort Insaan Aur Shaitan. This 50-minute documentary style mini-movie deals with interpretation of a Quranic Ayat. Apparently it is so non-commercial that no channel wants to purchase it. It has been shown twice so far, once at the Kara Film Festival and once during the Indus Tele-movie Festival on Indus Vision. I plan to do more such mini-movies just because it is a passion of mine.

You were also a part of the band, Dr Aur Billa. What happened to that?
That is another interesting story. When VJ was being aired, various producers were making videos for different bands. We thought that since everyone was making songs in praise of love we should do the opposite. We made a song against love called 'No Love'. Once the song was done we thought the band should also have a name. We settled on Dr. Aur Billa because my friends at NCA used to call me Doctor and one of the other two band members was called Billa.
Later on we did music together whenever we had the time. Our second video was 'Jeenay Do', and since then we have done three albums and the fourth is under process. Still it was just a hobby and we were never seriously into making it a career. However, it is still a serious hobby and whenever there is time we work on new music.

Do you also work as a graphic designer?
No, unfortunately not as a professional graphic designer but all my work has relevance to it. All my work requires basic knowledge of computer animation and graphics. I don't think I would ever have been such a successful director if it hadn't been for my graphic arts background. Since almost everything today is done on the computer these days anyone without any computer skills can only dream of coming into the business side of show business.
Do you have any projects in the pipeline?
Among my latest projects (other than the ones on-air) one is a sitcom called Cafe Chill which is going to be different from everyone's idea of similar shows. It will be run on GEO TV shortly and the format will include situations consisting of various types of waiters of a Zouk-like Cafe of the same name as the show.

What are drawbacks or advantages of working in Lahore, as compared to Karachi?
I would not say that there are any specific drawbacks or advantages as a formal comparison is not possible. The scene in Karachi is much too professional for Lahore-based people as we have a very laid back culture. I wouldn't be just sitting here talking with you if we were in Karachi. I have worked there and believe me everyone is very professional and much more efficient. Besides if I can work for clients based in Karachi while sitting right here then it really doesn't matter does it? After all it is just a one-and-half hour journey by plane.
Do you need to go abroad for better facilities ?
Never, actually only those who work on 35 MM (movie cameras) need to go abroad whereas the facilities for TV and music media are at par with those found anywhere else. Even for moviemakers it is just to get the film-reels processed, as the processing done here is not very good. Whoever wants to work can work anywhere. I have never gone abroad for anything. I even did the video of the British-based band Legacy in Lahore. So there, that answers your question.
How do you prioritise your work between videos, TV, and music?
My priorities and preferences are forever changing. At some point the love of my life may be music videos and nothing would feel better while at other points in my professional career TV direction becomes my life and I become a fanatical TV director. Music has, is and always will be, my hobby.

What's your pet project of all the work done ?
My current pet project is a psychological thriller series Tarikiyan. This genre of TV programming is new to our part of the world. We have made an attempt at something new. My series is not going to be about physical horror like say Zee Horror Show or any of its counterparts on our side of the border. It is going to be (Insha Allah) the first true attempt by a local outfit at making psychological thrillers. No monsters, no blood, no senseless slaying – nothing of that sort at all. I believe the audience is educated enough to accept this concept and there is sufficient room for the commercial success of such a project.
Jawad Bashir Pictures
| | | | |
| --- | --- | --- | --- |
| | | Jawad Bashir … | Jawad Bashir 1 … |
| Jawad Bashir – Pakista … | Jawad Bashir with frie … | | |
Jawad Bashir Videos