Pakistani singer, actor, producer, director, script writer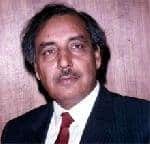 Inayat Hussain Bhatti (1928–1999) was a Pakistani singer, actor, producer, director, script writer, social worker, columnist, religious scholar and a protagonist of the development of Punjabi language and literature.
Descendants
In 1953, Bhatti married Mohtarma Shahida Banoo, the daughter of Ahmed Din Butt, a retired superintendent of the Indian Railways. This was Bhatti's second marriage. Mohtarma Shahida Banoo died on 12 March 1997.
Bhatti's progeny includes three sons, three daughters, thirteen grandsons and six granddaughters. Bhatti's eldest son (from his first marriage) is Asmat Abbas. His son, Nadeem Abbas Bhatti, is a film producer, and played a lead role in the movie Ishq roug (1991) but then shifted his focus to film distribution. His youngest son Waseem Abbas is a film, TV and stage artist. His grandson, Junaid Abbas Bhatti – the son of Asmat Abbas – is a member of the British nobility titled "The Baron of Ballencrieff".
Bhatti's younger brother Kaifi, was an actor and director from the mid 1960s until the late 1990s.
Inayat Hussain Bhatti Pictures
Inayat Hussain Bhatti Videos