Famous Lollywood Actor Nadeem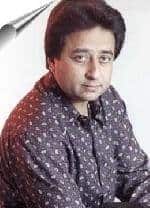 Nadeem born Mirza Nazeer Baig Mughal on July 19, 1941 is a Pakistani actor, who has acted in several films, telefilms, and TV drama serials. He also anchored a quiz show on ARY Digital and has played leading roles in more than 200 films.
Early life
Nadeem was born in Vijaywada, Andhra Pradesh, British India. After the independence in 1947, Nadeem migrated with his family to Pakistan where they settled in Karachi. He graduated from Islamia College, Karachi. At that time, the Islamia Club was considered the centre of great film and radio artists. Different musical competitions were organised to showcase the talent of the college students. Nadeem, along with artists Talat Hussein, M. Zaheer Khan, Aftab Azeem, Saleem Jafry, and TV producer Iqbal Haider, were all discovered at the club. He and his friends, Ameer Ahmed Khan and Qasim Siddiqui, won several music competitions. At one of those musical competitions, he was noticed by the then famous singer Firdousi Begum. She was impressed by his singing talent and encouraged him to try playback singing in Dhaka's film industry. Because of his singing talent, he sang a song for an Urdu film called Sehra, the music of which was composed by Nisar Bazmi. Unfortunately, the film was never released.
Nadeem traveled to Dhaka to cultural trip, organized by the Islamic Club, where he earned a chance to sing a song in Chakori Captain Ehtisham in a new movie. The captain was filming a low budget black and white, because color film former, Sagar, had flopped. At the time of casting, he chose Shabana and heroine and the Middle Pakistani film actor great (Bengali), and the hero. But he refused to work great in the film because it offered him a very small amount of money. So I decided to cast Ehtisham Nadim in his film as a hero, which was contrary to the will of his brother Mustafeez. The film was released on May 19, 1967, in both East and West Pakistan.
Nadeem shuttled between Karachi, Lahore, and Dhaka to act in movies. In 1971, after the fall of Dhaka and formation of Bangladesh, he settled in Lahore. Now he has moved again from Lahore to Karachi.
Career
Nadeem's film career spans over 42 years. In the presence of high-class performers like Santosh Kumar, Muhammad Ali, Waheed Murad, Habib, and Kamal, he won Best Actor's Nigar Award in his first film Chakori. With consecutive super hit movies, namely Chotey sahib and Sangdil, he created a consistent record of success. Nadeem's Diamond Jubilee films include Nadan (1973), Anari, Pechan (1975), Talashi (1976), Aina (1977), Hum Donon (1980), Lajawab, Qurbani (1981), Sangdil (1982), and Dehleez (1983).[clarification needed]
In 1980, an Indian film, Noor Jahan Noor Jahan, was granted special permission for an exhibition in Pakistan which turned into a challenge for Pakistan cinema. Mastermind director Parvez Malik accepted the challenge and produced Hum Donoo, presenting Nadeem in double roles.
In addition to acting, has sung many songs Nadim, and credit for his past and a play back singer. Nadim, in fact, primarily a singer, actor is the first in Pakistan has sung for films. Most of his songs popular in the twentieth Pakistan. In 1967 and had a duet with Begum Firdousi "is Tom Kahan Hain Rahi dhoond Ko Yeh Yeh baharain Saman" in the street super hit song. In 1989, his duet with Queen Noor Jahan tune "MERA Mundia Dupatta Chad" and was also a tremendous success.
Top 10 best Pakistani movies of Lollywood famous actor Nadeem are:
10 …Faisala
9 … Lajawab
8 … Sang dil
7 … Lazawal
6 … Dehleez
5 … Bandish
4 … Dillagi.
3 … Anari
2 … Qurbani
1 … Aaina
Nadeem Baig Pictures
| | | | |
| --- | --- | --- | --- |
| … | … | … | … |
| … | | acting with Nadeem Beg … | Actor-Nadeem-Photo-Exp … |
| Film actor Nadeem with … | | Film actor Nadeem … | |
Nadeem Baig Videos