Iftikhar Thakur Pakistani stage actor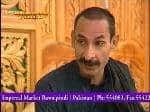 Iftikhar Thakur is a populor Pakistani Stage and Tv actor . He performed in many stage dramas . He is very popular comedians. He worked in Punjabi stage shows in different cities of Punjab .He also performed in TV Serials and tele films also. He is a lanky man and often makes fun of his body in stage dramas. His style of speaking and body language really make a person to laugh. He proved her acting skill in every field of acting .Thakar is recognized as one of the best stage comedians, as by giving his best performances on stage. He is very popular comedian of Lahore theater audience really enjoyed his work and give him a lot of applause when he used to come on stage dramas. .He has a fan base in Pakistan and all over the world .
Iftikhar Thakur is a Pakistani stage actor. He originally hails from Mian Channu. Thakur worked there in a Motor Work Shop. He has starred in many stage dramas/telefilms in different languages such as Urdu, Punjabi, Pothwari/Mirpuri etc. One of his most famous telefilms has been "The Miki Kharo England Series" which very successful amongst the Pothwari & kashmiri community.
In the Miki Kharo England, meaning take me to England, series Iftikhar Thakur acts as a young man "Aftab" who wants to get married to a girl from England and wants to go and stay in England. In Main Julian England, meaning I'm going to England, he gets married and plans coming to stay in England.
Thakur acts best with comedy actors Bobu Bral, Shahzada Ghaffar, Sohail Ahmad, Anwar Ali, Nasir Chinyoti , Tariq Teddi, Naseem Vicky, Amanat Chan, Sakhawat Naz, Nawaz Anjum, Sajan Abbas and Hameed Babar. Thakur is recognised as one of the best stage comedians, as by giving his best performances in stage dramas such as Mohabbat CNG, Chalak Totay.
Early life
Thakur worked in a workshop for cars before the start of his career as a stage actor in 2000. After the beginning of his career on behalf of the reaction cycle of the New York Film Academy. What he had done also in the general education degree from the United States of America. Thakur and rose to fame because of his quick reaction, body language and feel funny. Also realized due attention to his strange costumes to wear on stage. One of his dialogues, "Jhoot Bolda" is very popular among his fans. The Thakur has also been working as a directer. The directorial debut, a Punjabi stage drama called "Roti Cole said Deyo", was the biggest hit of this year. Thakur receiving a lot of applause when he entered the stage.

Pakistan Television dramas
1. Zero Zero Dedh Seven-On Geo Tv
2. Double Sawari-On Ptv
3. Lahori Gate-On Ptv
4. Don No 1
Iftikhar Thakur Pictures
| | | | |
| --- | --- | --- | --- |
| Iftikhar Thakur … | Iftikhar Thakur … | Iftikhar Thakur … | Iftikhar Thakur … |
| Iftikhar Thakur … | Iftikhar Thakur … | Iftikhar Thakur … | Iftikhar Thakur … |
| | | | |
Iftikhar Thakur Videos