Defence Minister Pakistan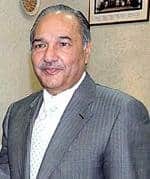 Chaudhry Ahmad Mukhtar born 1946 in Lahore.
Education
Ahmad Mukhtar has done his Operational Management from California, United States and a Diploma in Plastic Technology from West Germany.
Family
Ahmad Saeed (Former Chairman PIA)
His brother Ahmad Saeed served as PIA Managing director (from April 2001) and PIA Chairman (from April 2003, both until April 2005) during the General Pervez Musharraf era.Now, Ahmad Mukhtar himself has taken the role of Chairman PIA from May 2008.
Ijaz Butt chairman PCB
He is also the brother-in-law of Pakistan Cricket Board (PCB)'s current chairman, Ijaz Butt.
Politcal career
He is a businessman who started his political career in 1990 on PPP platform.He is a central leader of the Pakistan Peoples Party from Gujrat District.

NA-105 Gujrat & Chaudhry Shujaat Hussain
He defeated Chaudhry Shujaat Hussain from Gujrat NA-105 in 1993 & 2008, the leader of PML-Q party, who was allied with President Pervez Musharraf, in Pakistan's 2008 elections.
Commerce Minister
He is an industrialist and former Commerce Minister in the 1993-1996 Benazir Bhutto government.
Candidate for prime minister of Pakistan (2008)
He was considered the most likely candidate to be the next Prime Minister of Pakistan, along with Ameen Faheem, Yousaf Raza Gillani and Shah Mehmood Qureshi, but was later denied, when Yousaf Raza Gillani was announced as the new PM on March 22, 2008.

Defence minister
He became the Defence Minister in the coalition government of PPP, PML-N, ANP and JUI-F formed after 2008 elections on 31 March 2008.
Chaudhry Ahmad Mukhtar Pictures
Chaudhry Ahmad Mukhtar Videos