Captain Raja Muhammad Sarwar Shaheed – Nishan-e-Haider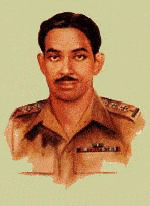 Captain Muhammad Sarwar was born in village Singhori (Rawalpindi) in 1910, and joined the British Army (infantry -Punjab Regiment) in 1944. Upon creation of Pakistan he joined Pakistan Army. In July 1948 with war in Kashmir with India, Captain Sarwar launched an attack causing heavy casualties against a strongly fortified enemy position in the Uri Sector under heavy machine gun, grenade and mortar fire. On 27th July 1948, he volunteered to cut the enemy's barbed wire barrier to pave way for the move forward of his follow up comrades.
During this war Indian forces positioned themselves on a mountain from where they could easily target Pakistani forces, therefore it was essential for Pakistan to take away that mountain from enemy. Sarwar launched an attack on enemy positions in the Uri Sector causing heavy casualties against a strongly equipped enemy. Sarwar's company came under heavy grenade, mortar and machinegun fire when it was within fifty yards of enemy. Sarwar was losing men constantly and by now he was also hit in the shoulder and he was bleeding badly, but he kept moving and got to the barbed wire. Sarwar wanted to cut this wire and launch final strike to capture the mountain. As he was cutting the wire he was hit again, this time in the chest and he fell. That's how Captian Muhammad Sarwar sacrificed his life for the country and his men captured the territory. For his bravery and great leadership, Sarwar was awarded the highest military award, Nishan-e-Haider.
Captain Muhammad Sarwar Pictures
Captain Muhammad Sarwar Videos