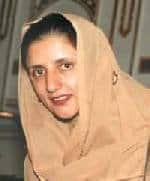 Zubaida Jalal is a politicians and a social worker. She is Member of National Assembly of Pakistan Muslim league on reserved seats for women.
She was born on August 31 , 1959 at Kech. She got a master's degree from the University of Balochistan. She started her career from social work and established a school for girls in her village.
Zubeida Jalal served as Minister of Education of Pakistan in cabinet of General Musharraf. She was elected MNA in general election 2002 on the ticket of Pakistan Muslim league from NA-272 .She held the office of Federal Minister for Social Welfare and Special Education.
Government will not bow to nationalist Baloch leaders
"Zobaida Jalal says government is trying to reach a consensus on the issue"
Staff Report
Zobaida Jalal, federal minister for social welfare and special education, on Thursday opposing military action in Balochistan said that the government would not bow to the unjust demands of nationalist Baloch leaders.She said this while addressing a press conference at her office after a meeting with Chaudhry Shujaat Hussain, Pakistan Muslim League (PML) president in which both leaders discussed the prevailing situation in Balochistan.
"The government is trying to resolve the matter and has reiterated that it will not launch any military offensive in Balochistan," said Ms Jalal.
"A military operation is no solution to any problem. But there is a difference between a military operation and an action against miscreants. Action against miscreants, equipped with modern weapons in Gwadar, was misinterpreted by some Baloch leaders," said Ms Jalal.
These miscreants had set up their camps in Gwadar and were hindering the development of a seaport. "The army was not involved in any of these actions," she added.Ms Jalal, who is also a member of the special committee of the parliament on Balochistan, said that Sui Gas Field installations were important national assets and the government would take all possible measures to ensure their security.
"Any damage to these installations will affect the whole country as much of our economic activities depend upon uninterrupted gas supplies from Sui," she added.
About the establishment of a cantonment in the Sui area, she said only three leaders were opposed to cantonments. She may have been referring to Sardar Attaullah Mengal, Nawab Akbar Bugti, and Sardar Khair Bukhsh Mari.
"These Baloch leaders recruit poor people of their areas for nominal amounts and then use them for their personal interests," she said, adding that there were also Baloch leaders who were ready to donate land for cantonments to develop the area.
Ms Jalal said the government was trying to resolve the problem through dialogue as both parties – the government and Baloch – had some concerns and they had to come forward to reach an understanding on the issue.
Zubaida seeks more US support on education
"Rice promises to help raise Pakistan's education standards"
Education Minister Zubaida Jalal on Wednesday asked the United States for more support for education reforms in Pakistan.She spent a busy day on Wednesday in Washington meeting with various US officials, including Education Secretary Rod Paige and officials from non-government organisations (NGOs). Ms Jalal briefed them about the current process of reforms in Pakistan, especially focusing on education. She also briefed US officials on the increased budget for education.She explained the education in religious seminaries and her government's measures to link religious education with the mainstream in Pakistan.
The officials of a US-based research NGO that had already invested $65 million for uplifting Pakistan's education sector, met with Ms Jalal to discuss about the possibilities of further cooperation in the education sector.National Security Advisor Dr Condoleezza Rice on Wednesday told Ms Jalal during an hour-long meeting that the US would continue to support educational reforms programmes in Pakistan, to spread literacy and improve curricula to stress professional training and skills.
Ms Jalal also met with National Security Director Elizabeth Millard and Secretary for Education Rod Paige. She then held a meeting with the director general of the USAID to discuss projects being completed under USAID sponsorship in Pakistan. She also met with Asia and Pacific Affairs Presidential Advisor James Moriaty. Ms Jalal held an important meeting with Assistant Secretary of State Christina Roca, Aid chief Andrew Natsios and Congressman Marcey Kapter at the White House.
Zubaida Jalal visits Rehabilitation Center
Mrs. Zubaida Jalal, Federal Minister for Special Education and Social Welfare, visited rehabilitation center here in Hyderabad, Hunza on April 12, 2007. Her visit was aimed at to see the progress of the construction site financed by Minsitry and also to see the ground realities of the people with special needs and to meet the local organization KADO that is engaged in imparting rehabilitation services in Hunza.
Representatives of KADO and community gave her warm welcome and escorted to the new and old building. She attended a small but smart ceremony, which was arranged, in the honor of the guest. KADO chairman welcomed and explained the motive behind the volunteer struggle to mainstream and to increase the dignity of special people through skill enhancement, therapy and socialization.
Speaking to the gathering, Mrs Zubaida Jalal appreciated the self-help initiative of KADO to help the challenged people in the society. She said the it reminds me of the volunteer in my own village. She highlighted the importance of civil society and explained the objective of the Ministry of Special Education in constructing the building in Hunza and promised to provide assistance to help the women business group, to provide transportation and daily allowance and to provide drinking water to inhabitant of Hyderabad. She showed her commitment to provide 20-30 scholarships, pick and drop facility and a monthly stipend to the people with challenges.
She also visited 'gems cutting and polishing center' at Karimabad, one of the centers in KADO and was pleased to see the quality work in gems cutting and polishing.
Rehabilitation center is one of the projects of KADO where more than 50 special people are given physiotherapy, skills and enabling environment to socialize and enable them to earn their livelihood from off-farm activities like wool carding, thread making, Sharma carpet weaving and finishing.
Ministry for social welfare and special education, government of Pakistan has financed this project for construction of building which is in progress. According to one of the surveys conducted by KADO with financial support from World Bank there are 1130 special people in whole Hunza valley.
Zubaida Jalal Pictures
| | | | |
| --- | --- | --- | --- |
| Amer Ishaq Soharwardi … | children fastival show … | | |