Waris Baig Pakistani Pop Singer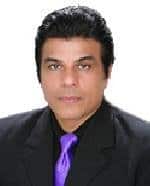 Waris Baig, is a Pakistani singer. He was born in Lahore, Punjab.
Waris Baig started his career as a playback singer from Syed Noor's film Sangam released in 1997. His first song, Aa Pyar Dil Mein Basa for film Sangam, was super-hit.
His Hit songs
* Aa Pyar Dil Mein Basa
* Kal Shab Dekha
* Surmai Badalon Ke Peechhay
* Challa
* Aur Pyar Ho Gaya
* Mujhe Chand Chahiye
* Dilbar Se Aankh Mili
* Bolo Bolo
* Yeh Soni Kurdi (Jo Dar Gaya Woh Mar Gaya Soundtrack)
* Meharaban chalo
* Din guzarta nahi
Interview

Waris Baig heads the new generation of playback singers who have taken over the film industry. And have taken it by a storm. With his baritone voice and a thorough knowledge of music, he has not only carved a niche for himself, but has managed to set trends for others to follow.
Movie Chief Saab was a blockbuster at the box office, and the main reason for its enormous success was its soundtrack! Your voice was a big change from the
Did you know it right from the beginning that the songs of Chief Saab would be as overwhelmingly successful as they were?
Hundred percent! I was sure that the hard work that we were putting into it, the songs would go down well with the public.
Tell us about the journey of Waris Baig from being a novice to now being the highest paid singer in the industry?
It all started during the days of my studies. I sing a lot, and then to play the guitar and I had a home. Everyone and always encouraged me and so I when I got to know that the NTM to organize a concert, I decided to see how good I was actually.
After my performance, presented Mr. Nour, who was there in the audience singing me to do some of his films run for? Then I also got very positive feedback from the public, and I have not looked back since then. Therefore, this is the way that made it to Aris, where it is today.
Was all this difficult?
Oh, absolutely. I did work hard but I feel that from the beginning, God has been on my side and never even once did I had to ask anybody for work. But I have been lucky too and fame came to my doorstep without me ever wanting it. So far, I have sixty movies to my credit, a feat not many can boast of.
How important a role does the soundtrack of a movie play in its success?
Roughly, it could be about sixty percent. If the songs haven't been made keeping the tastes of general audience in mind, then the movie is most likely to flop.
Like one of my most awaited song, Aap Nay Zinda Jagaya Hai Mujhey, whoever I come across, always inquires as to when is it that the movie is being released? Nobody is bothered about the story or the cast, so this shows audience approach. And when we have to admit that most people go to theatres just for the songs.
Do you think that a singer gets a fair share of popularity from the success of a film?
The singer is the very reason why an actor is there in the first place. There is not much that an actor can do if a singer hasn't put in the required emotions in the song. So, actors should thank their stars that on many occasions, it is the singers who save a day for them.
Of your many songs, which one do you like the most and why?
I have many like Nazrun Nay Teri, Suno, Yei Sohni Kohri, Kara Kuchi, but my personal favorite is Main Nay Tujhe kohiya Tu Aisa Laga.
Why this song?
I don't think that I need to disclose that.
It's said that you try to copy Kumar Sanu. Is it intentional?
Not at all. People find our style of singing very familiar because we follow the same school of thought. Like, he sings Kishore Kumar and so do I, so people think that I copy or try to do that.
I entered this field in 89 and still my voice is very much the same. On the other hand, Kumar Sanu began in 92 so there stands a three to four years gap between us.
Different heroes lip lynch to your songs. Who do you think has a personality to match your voice?
Shaan, without any doubt, closely followed by Saleem Sheikh and Javed Sheikh. Whenever I am lip-synching for anyone of them, I try to make my voice somewhat heavier so that it goes with their personalities.
Arshad Mehmood, Amir Ali and Anwar Rafi. Who do you think has a better voice?
Anwar Rafi
Of your female contemporaries, Saira Naseem, Shazia Manzoor, and Humara Channa who do you think has an edge?
Shazia Manzoor
Why have you restricted yourself to being a playback singer only? Do you intend to take up singing on radio and television?
TV people keep calling me all the time, but I do not have enough time for it now. Then simply can not stand it what do you stand in favor of producers from a distance. They do not do me kiss his toes. I do not work that way.
How many albums have you released so far?
Two. One is Junoori while the other is Aur Piyar Ho Giya.
Since you run your business too, what is the reaction of your clients when they find out that you are the Waris Baig?
Though I try not to be in the public eye but whenever people find out my real identity, their reaction is kind of cute. Many, who in the beginning don't have any intention to buy anything from the restaurant and the shop, end up doing just the opposite. That's why I mostly prefer to remain in my office.
Who are favorite singers, musicians, actor and actresses?
Abida Parveen, Bob Marley, Shah Rukh Khan and Sridevi. From the local front, I like Resham, Meera and Shaan.
Are you trained in music? Who was your teacher?
One of my very good friends taught me the very basics of playing guitar.
Any personality in whose shoes, you want to be in?
I was watching a show on Sony TV; I was so touched with the kind of respect that people showed for Lata Mangeshkar. I wish that I became as lucky as she is.
Waris Baig Pictures
Waris Baig Videos