Urooj Nasir can easily be classified as one of our talented young actors. She has featured in many famous serials, hence it came as a surprise when she bid adios to acting three years ago. Urooj was at the peak of her career when she decided to take such a decisive step.
You won't believe the number of offers that started pouring in once I had announced my decision. Not that I wasn't getting offers previously, but I got offers for all sorts of international as well as local ventures. However, I did not want to continue as I was not comfortable with the way things were progressing in showbusiness. I am now hosting and modeling for commercials but I am extremely choosy in the projects I accept, reveals the confident lass.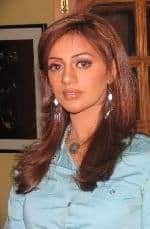 This educated girl is quite a looker and manages to win hearts wherever she goes with her sweet demeanour. Her kind of style is conservative yet elegant. You will never see this girl in revealing outfits. Rather, she believes in garnering respect and fame through her acting and hosting talents. Known for her conservative sense of dressing, we ask Urooj what style is for her.
These talented and glorious Pakistani showbiz celebrities are not only famous with in the country but also at the international level due to their marvelous acting and natural talent.
Today, we are talking about one of the most sought after and demanding Pakistani drama actress Urooj Nasir who brought her name equally at the national and international level.
Urooj Nasir is a young and popular actress of Pakistani media and she is very much famous among Pakistani youth. She can easily be classified as one of our talented actress.
Pakistani drama actress Urooj Nasir featured in many drama serials
Popular projects of Pakistani drama
Pakistani drama actress urooj Nasir appeared in many drama serials and she is the renowned personality of Pakistani media. She has appeared in different drama serials in the start of her acting career. Her popular drama serials include Lunda Bazar, Najanay Kyun. She got different national and international offers to work in a movie but she denied because she was not comfortable with the things progressing in film industry. Urooj Nasir is doing hosting and different TV commercials. She worked for many famous brands and their advertising campaigns.
Pakistani drama actress urooj Nasir is extremely conscious about her projects
Pakistani drama actress Urooj Nasir was at the peak of success three years ago and she was very much selective and choosy about different projects. She is very good looking and she has guts to win hearts of viewers. Her conversation style is very elegant and impressive. She is known for her conversation style and unrevealing outfits.
Pakistani drama actress Urooj Nasir's reverting back to Islam
Many Pakistani actors like Junaid Jamshaid, Sheraz Opal and Ali Haider took the decision to leave the fashion industry and follow the principles of Islam. Pretty and eye catching Pakistani drama actress Urooj Nasir also follow them but she did not leave the industry. She has started wearing Hijab and Abaya after giving a birth to a baby child. She left to wear the dresses which expose the body parts. According to Urooj Nasir style is not about modern or revealing cloths and she loves to wear Shalwar Kameez. Well this is a very good turn and Allah will give rewards to Urooj Nasir for this good deed.
Pakistani drama actress Urooj Nasir has God gifted talent
Urooj Nasir is one of the most sought after and demanding actress of Pakistani showbiz and she gain a lot of fame due to her acting skill, passion and dedication towards her goals. She is famous because of her impressive voice and tall height. The glorious and talented Urooj Nasir is not only famous in Pakistan but at international level. People admire and appreciate her a lot in her talk shows and drama serials. She got a strong position in industry because of her hard work and matchless acting skills.
Urooj Nasir Pictures