Ghazal singer Talat Aziz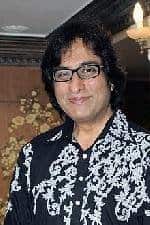 Talat Aziz born 11th Nov, 1956 is a popular ghazal singer from Hyderabad, India
Early life
Born in Hyderabad, India to Abdul Azeem Khan and Sajida Abid, a famous Urdu writer and poet. He went to Hyderabad Public School till the 12th standard when he finished his ISC and then joined The Indian Institute of Management and Commerce for his B'Com(Hons) Course.
His family loved fine arts and used to organize Mehfils in their house, inviting artists and poets like Jagjit Singh Jan Nisaar Akhtar the father of the famous writer Javed Akhtar to name a few. This greatly influenced him and started learning music from an early age. He is Sania Mirza's uncle.
Career
Talat Aziz took his initial training in music from Kirana Gharana. He was trained primarily by Ustad Samad Khan and later by Ustad Fayaz Ahmed who were famous classical music singers.
After the initial training, Talat decided to learn music from music maestro Mehdi Hassan. On many occasions, like on a concert tour of the US and Canada in 1986 he shared the same stage with him on concerts in India and abroad.
His first major performance was in Hyderabad at a place called King Kothi. He sang before a crowd of over 5,000. He sung Kaise Sukoon Paoon and some ghazals by noted shaayars of Hyderabad. Though he was nervous at his first performance in front of audience yet he performed well.
After his graduation he moved to Bombay in 1976 on a suggestion from Jagjit Singh. He also trained under classical music Ustad Samaad Khan and Faiyaz Ahmed Khan. And for his ghazal training he became a disciple of Mehdi Hassan in 1978. With the help of Jagjit he released his first album in 1979, Jagjit Singh Presents Talat Aziz. But for several years he was to struggle for a living. Talat also sang some ghazals in films like Umrao Jaan and Bazaar, which were super-hit.
Talat has also composed music for TV serials and has also acted in several of them. He composed music for teleserials to name a few like Deewar, Baaz, Adhikaar, Ghutan, Sailaab, Aashirwaad and the magnum opus, Noorjehan. His acting was appreciated in serials like Sahil, Manzil,, Dil Apna Aur Preet Parayee and Noorjehan a TV serial written by Nida Fazli. Talat released many albums like Jagjit Singh presents Talat Aziz, Talat Aziz live,Images A team Come True Lehren, Ehsaas, Suroor, Saughaat,Tasavvur, Manzil, Storms, Dhadkan, Shahkaar, Mehboob,Khubsoorat,Irshaad, Khushnuma, to name a few with his latest offering in 2009 Caravan e Ghazal in which Sonu Niigaam also participated in a duet 'Qurbaton mein bhi' a ghazal written by Ahmed Faraaz
The singer was the ghazal artiste to release a ghazal music video of Tasavvur, in 1987 when a video album was not even thought of .He is often seen on the small screen in various roles as a music judge. However, his fans would love to see him on the silver screen too. He worked in a film in 1990. It was Mahesh Bhatt's `Dhun' opposite Sangeeta Bijlani. The film never got released for various reasons but the music was released by HMV in 1991 and was a great hit of that time featuring tracks like ' Main Aatma tu Parmaatma' a bhajan sung as a duet with none another than Mehdi Hassan and Talat and other tracks like 'Yaad aane waale' Laagi prem dhun laagi' which became a rage with the young crowd
The advent of the ghazal as a popular genre began in the late seventies and became a rage in the 80″ when artists like Talat Aziz used to sell out albums in the hundreds of thousands of units.
Begum Akhtar was following her from deer lovers. Singh Jagjit and Chitra spouses, and preachers Ghazal came Mehdi Hassan, Ghulam Ali, who was on an equal footing well known.On this side of the border and live shows and sang in private mehfils. During that time I discovered Sanjeev Kohli, Madan Mohan, singer called Talat Aziz, who was young, good looking, and all the softness, and he had a good voice. Jagjit Singh had already heard Talat sing at the Mehfil Hotel in Hyderabad, and approved it is to compose for the first time album.In 1979 his first album titled "Jagjit Singh presents Talat Aziz" came out which gave so phenomenal success of his starting point for his meteoric rise. The classical Ghazal 'jab Zindagi Bhi Terry bazm Maine "by Umrao Jaan tents and Ghazal from Bazaar' duet with any one other than Mangeshkar Lata legend and nazm iconic 'Veer Sheedy Rat baat phoolon to Aaina mujh Meri itself" from the film father Mahesh Bhatt .
Talat Aziz to sing at concerts for more than three decades, and traveled the world with sell out performance. Complete his silver 25 years anniversary with the launch of a special song and album video in 2004 in Mumbai NCP where real World Health Organization, which the music industry were present and those like Hassan Mahdi and Lata Mangeshkar who could not attend sent in has been screened messages on video and a special documentary film on his life. This was stated by Universal Music India and a special commemorative DVD with audio CD pack of two released by Times music.
Discography
Since then he has many albums . He is equally versatile while singing a popular sufi number like "Damadam mast Kalandar" or the soul stirring rendition of "Aaina Mujhse Meri" from the film Daddy. Between 1979 and 1984 he was the top artist recording for Music India Company. In 1984, he joined HMV, the giant recording company.He also worked with Venus Records for a brief period and then released albums with Universal Music India and the latest with Saregama Music.

Some of his famous albums are
1. Jagjit Singh presents Talat Aziz 2. Talat Aziz live ( Double album) 3. Best Of Talat Aziz 4. Images( Double Album) 5. A team Come True 6. Lehren 7. Ehsaas 8. Suroor 9.Saughaat( Double Album) 10.Tasavvur( Double Album) 11.Manzil( Double Album) 12.Storms 13.Dhadkan ( Double CD Pack) 14.Shahkaar 15.Mehboob 16.Talat Aziz sings Qateel Shifai 17.Irshaad ( Double CD pack) 18.Khubsoorat 19.Khushnuma 20.Silver Anniversary Concert( Two CD pack) 21.Silver Anniversary Concert ( DVD Pack) 22. Caravan E Ghazal
Talat Aziz Pictures
| | | | |
| --- | --- | --- | --- |
| Popular ghazal singer … | Popular Ghazal singer … | Ghazals come from the … | |
| … | alat Aziz with his wif … | | … |
| Mohammed Morani Sonu N … | Talat Aziz with wife … | Talat Aziz and Rakshan … | Popular ghazal singer … |
| | | | |
Talat Aziz Videos