MNA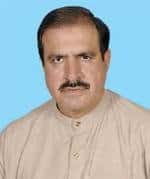 Syed Alla-ud-Din was born on February 02, 1951, in Swat, NWFP. He is politically affiliated with PPPP. He was elected twice as President of District Bar association, Swat during his legal practice. In 1983, he got elected as a Member of District Council in Swat for the first time, and was elected Chairman of the District Council in 1987. He was then elected as MPA in 1993 on a PPP ticket and held the office of Deputy Speaker of NWFP assembly from 1993-1996.
He completed his MSc Physics from Peshawar University in 1974 followed by an LL.B from the same University in 1977.
His hobby includes tourism and he has travelled to North america. He is married and has a daughter and two sons.
Syed Allauddin Pictures
Syed Allauddin Videos