Central Information Secretary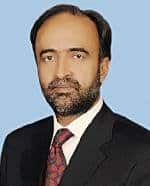 Qamar Zaman Kaira Urdu: January 5, 1960 is a career statesman and philosopher who is the current minister of information and mass-media broadcasting in the Government of Pakistan, formerly led by Yousaf Raza Gillani..
Before heading the ministry of Information, Kaira was the minister of the ministry of Kashmir and Northern Areas and later ascended as acting Governor of Gilgit–Baltistan in 2009.[3] His career in the national politics started in 2002 on a platform of Pakistan Peoples Party and has pioneered many articles on political philosophy while at same time, raised voice for the democracy in the country. After succeeding Sherry Rehman as minister of information in 2009, he lost his ministry in 2011 to Firdous Ashik Avan. However, in 2012, he was again reappointed in the ministry of information after a cabinet reshuffle.
Education
Kaira was born in Lalamusa, one of the most populous and dense areas of Punjab Province of Pakistan, on January 5, 1960.His caste is Gujjar and his family has practiced Sunni principles of Islam. Unlike other prominent politicians, Kaira does not belong to political family, rather coming from a rural and financially struggle family from Lalamusa.
After attending a local high school, Kaira matriculated and passied intermediate college testing examinations. After attending a F.G. Community College at Kharian Military District, Kaira made college transfer to Forman Christian University. At there, Kaira enrolled in the Department of Philosophy and earned BA in Philosophy from Forman Christian University in 1983. Kaira later applied for a Graduate school of the University of Punjab to resume his higher education. In 1985, Kaira wrote his thesis for the double master's degrees and subsequently obtained MA in Philosophy of Politics and MS in Political science from the Punjab University.
Political career
Kaira was elected to the National Assembly and became a minister in the coalition government of PPP, ANP, MQM and JUI-F formed after 2008 elections. He is a senior leader of Pakistan Peoples Party, having won from his local constituency in Gujrat. He was selected to the office of Federal Minister for Kashmir Affairs and Northern Areas on March 31, 2008, and was given the additional office of Federal Minister for Information on March 14, 2009.
In 2009 on Independence Day, Kaira praised the people of Malakand for their struggle against terrorism saying, "I salute your courage. Your spirit is very high and with unity, we would defeat the elements that are against the progress, peace and stability of our beloved country" .
In May 2012, Information Minister Qamar Zaman Kaira has said that no one can challenge the ruling of speaker on the eligibility of Prime Minister Yousuf Raza Gilani
Qamar Zaman Kaira Pictures
| | | | |
| --- | --- | --- | --- |
| Federal Minister for I … | | … | … |
| … | | | |
Qamar Zaman Kaira Videos