Senior Leader PPPP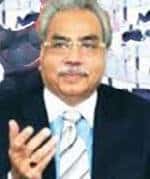 Muhammad Naveed Chaudhry is Senior Politician and belong from PPPP.
The PPP is the largest party of the country with strong roots in the masses and the "tsunami of a turncoat party" cannot cause any damage to it, the President's Punjab Coordinator Naveed Chaudhry has said. He said Imran Khan's PTI was full of turncoats and "it cannot leave any significant impact on the country", adding that Khan and PML-N President Nawaz Sharif's were two sides of the same coin and both had no choice but to seek help from the establishment.
He criticised Nawaz's statement of establishing military courts in Karachi. He said the Sharifs had learnt no lesson from the past. Chaudhry said the PPP was being criticised by "political vultures but they will fail once again". "It seems Nawaz Sharif is returning to his old way of politics and asking for military courts in Karachi," he said. While quoting another statement of Nawaz of joining protests if the government failed to address the gas crisis, Chaudhry said everyone knew what the PML-N had done in Punjab in the recent three and half years.
Muhammad Naveed Chaudhry Pictures
Muhammad Naveed Chaudhry Videos