Care Taker Priminister Pakistan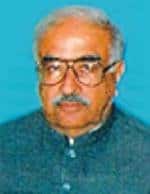 Justice Mir Hazar Khan Khoso is care taker priminister of Pakistan for elections 2013. Mir Hazar Khan Khoso was born in Jaffarabad, Balochistan in 1929. He is 84 years old.
Hazar Khan Khoso completed his graducation from Sind University and LLB from Karachi University. He was a competent lawyer and knowledgeable in the field of law. Hazar Khan Khoso was appointed as the judge of Balochistan High Court in 1977, he served as the chief justice from 1990 to 1991
Hazar Khan Khoso was selected as the care taker primister on 24 March 2013 by the Election Commission of Pakistan (ECP ). His name was amongst the four nominated for the care taker primister. Mir Hazar Khan Khoso has also served as Acting Governor Balochistan twice after retirement.
Mir Hazar Khan Khoso Pictures
| | | | |
| --- | --- | --- | --- |
| Mir Hazar Khan Khoso … | | | |
Mir Hazar Khan Khoso Videos