Masood Akhtar is popular Pakistani singer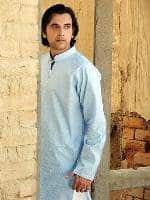 Masood Akhtar is popular Pakistani singer. He has fan base stretching from Khyber Pakhtunkhwa, Pashtun areas of Balochistan (Pakistan) to southern parts of Afghanistan, and has achieved much recognition. Masood sings in several languages: Pashto, Urdu, HindkoMasood was born in Mardan, Khyber Pakhtunkhwa Pakistan. It was here that Masood developed his interest in music. He started singing at the age of 24 on Avt Kyyber.
Career

Hailing from Mardan, the 26-year-old holds a degree in Economics from the University of Peshawar. He also started his career as a model from Peshawar seven years ago while he was a student. "I had always known that I would join showbiz. I wanted to test my talent and so I tried modeling, acting and singing in Urdu, Hindko and Pashto languages. Eventually I became an anchor for the live music countdown show, Khyber Beats on AVT Khyber.
He got his break from the Pashto song, Zama ashna razi written by Pashto poet and drama writer Muhibullah Shauk. The song remained on the programme's top 10 charts for several weeks. Masood is surprised that although he had been singing Urdu songs on PTV and has been acting in tele films and dramas since 1999, he eventually got recognition through a Pashto song on a Pashto channel.
"There is a lot of potential in upcoming Pashto singers as musical trends are changing. Young singers are breaking away from the traditional way of singing and experimenting a great deal," he says. But he says that personally he does not like to experiment much. "I am not in favour of remixes, as is the trend these days. I believe in originality; it is much more difficult and challenging for a singer to deliver something original and leave a long-lasting impression on the listeners."
The growth of artistes had been stunted due to a ban on live music shows and a dearth of good music recording companies in Khyber Pakhtunkhwa, and Masood believes that this has been the reason why many good Pashto singers remain unheard of to date. "Pushto music is rich and it only needs a good market to make a place for itself worldwide." Earlier, classical Pashto singers with rich voices focused more on beautiful lyrics and music. But today, singers have to project their songs through music videos. The concept of music countdown shows and charts has also been introduced recently on Pashto channels. Masood believes that this is a positive change as well, as high quality music videos are being produced that will help Pashto singers access international audiences.
The singer's real passion, however, remains acting and he wants to pursue it seriously as a career: "I have reached this conclusion after testing my potential in various avenues of showbiz." He has worked for PTV producer Ijaz Ahmed Niazi in an Urdu telefilm, Naqsh-i-Wafa and also in another play, Bandh mutthi Mein Suraj, based on the Kashmir issue. "Recently, I also performed in a play for AVT Khyber on the situation after the earthquake, Da Zalay Akhtar." Presently, he is busy with the 13-episode Pashto drama serial, Grewaan, by director Fahmeed Khan.
He admits enjoying playing a TV anchor as well: "It is a real test of sharp-mindedness and live delivery. I got so attached to the show that after I left, I was sad for days." Presently, he is anchoring a talent hunt show and already has big plans for the future. "I am working on my second album and have recorded two songs. I intend to release it soon but only if I find a good releasing company."
He says he has been working under a lot of pressure and recently went to Chitral on a month-long holiday to escape the crank calls by fans. "I couldn't even step out of my house, but my family has been a big support, particularly my father." He says he has taken things in stride now. "Everyone has to pay a price and so have I. But I'm ready to face the problems attached with it because I'm struggling to become a known voice in international music."
Masood Akhtar Pictures
Masood Akhtar Videos