PML Q – Kashmala Tariq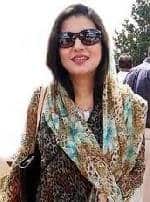 Kashmala Tariq is a member of the National Assembly of Pakistan from the Women Reserve Constituency NA-277 for the province of Punjab. She belongs to the Pakistan Muslim League (Quaid-e-Azam) Group.
History and Education

Kashmala Tariq was born on the 24th January 1972 in Lahore, Pakistan. She graduated from Kinnaird College Lahore, after which she got her LLB from Punjab University in 1996. She was awarded the degree of LLM from the London School of Economics in 1999, during which period she was also the chief organizer of Pakistan Tehrik-e-Insaaf in UK. She has also claimed to be the President of the LSE Sutdents Union between 1998 and 1999[2], although there is some doubt to this claim since the LSE Student Union does not have a Sabbatical Position of President.
Leadership Qualities
Leadership qualities are something innate in her. Throughout her academic career she had been a 'guiding light' for her peers. Her records prove that the name 'Kashmala' always signified confidence and courage. She has been leading from the front, always. Kashmala, confident lass at Kinnaird, finally made it to Punjab University for her LLB, where she won a merit scholarship in 1992. After completing her LLB, she did her LLM from London School of Economics (LSE), UK in 1999. At LSE she remained the President of the LSE Students' Union between 1998 and 1999. Being an active student member at LSE, her leadership abilities blossomed and became more fine and unique. She learnt new ways of dealing with multi-ethnic and multi-cultural groups of people. This gave her a new insight, which is probably unique to her.
Political Career
Ms. Kashmala Tariq's political career did start in her student life, but she joined mainstream politics when she was in UK and became Chief Organizer of PTI. However, her affiliations with Imran Khan could not last long. On her return to Pakistan, she joined PML (Q). As of today, Ms. Kashmala shares her political school of thought with PML (Q). Ms. Kashmala is known as a staunch supporter of General Pervez Musharraf. She was also one of the few legislators, who met President George W Bush on his trip to Pakistan in March, 2007. Ms. Kashmala has also gained the trust of the PML-Q leaders for her unflinching support to the regime of President Pervez Musharraf, on TV talk shows and on the floor of the National Assembly.
Kashmala Tariq was elected to the Parliament in Pakistan on a Women Reserve Seat in the Punjab Province. An ardent advocate of Musharraf's enlightened moderation theory; she feels a dire need of awareness and education for the masses. Her political success has been scandalized, quite a number of times.
Made these events and facts have the darling of the media and speaking in Urdu. Despite all odds, Ms. Kashmala has come a long way in the political journey. Simple obstacles such as these come and go. There are forces that oppose and forces that make you move, but how you manage to just well.Ms. Kashmala has faired well, exploring a new world for herself and the people of her fellow women. Ideas and made ​​realistic and intelligent with a popular figure in the political age.She very young loves to travel and traveled to Europe and the Far East and hobbies UAEHer include horse riding and swimming. Is a brave young lady who loved always shocking and difficult tasks of interest. It's powerful and this is absolutely vital, it can be said, have a core competency.
Kashmala Tariq Pictures
| | | | |
| --- | --- | --- | --- |
| | Kashmala tariq distrib … | Kashmala Tariq Product … | Kashmala with guest … |
| KashmalaTariq talk wit … | | | |
Kashmala Tariq Videos