Kamran Akmal Pakistan Cricket Players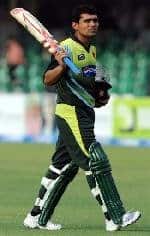 Kamran Akmal was born on 13th January 1982 in Lahore. He is a Pakistani cricketer who has played Tests, ODIs and T20Is for Pakistan.
Kamran Akmal made his first-class debut at the age of 15 as a useful wicketkeeper and a hard-hitting opening batsman. A string of good performances earned him a spot for Pakistan A in 2002, and after impressing against Sri Lanka A he won selection for the Zimbabwe tour in preference to the veteran Moin Khan.
Kamran Akmal is Pakistan's current wicketkeeper and an aggressive right handed batsman who has been utilised both in the middle order and at the top of the order.
Whilst Kamran's batting has been explosive and at times he has been breathtaking with some of his strokeplay, his wicketkeeping has lacked consistency and he at times remains unconvincing behind the stumps. The poor form behind the stumps eventually caught up with him after a poor showing in the Sydney Test match in the 09/10 series to Australia, and many blamed him for the loss. He was subsequently dropped for the first time in his test career.
With Pakistan struggling to find good opening batsmen, Kamran has though found a spot for himself at the top in limited overs cricket. A fluent batsman especially on the off side where he cuts the ball ferociously and has the ability to drive the ball beautifully. His strength through the off-side and his ability to hit over the fielders during the power play has given him success. However with Sarfraz Ahmed vastly improving with his batting, the pressure is on Kamran to improve his keeping and maintain his good form with the bat.
International career
He is a quick-scoring batsman and a wicket-keeper, who has achieved 6 centuries in Test innings. However, his first century was vital – his 109 from the number eight position at Mohali, coming in with Pakistan in a lead of 39 against India in the first Test, ensured that the visitors could draw the match. His form against the touring English in 2005 made him one of the most important players in the team. Naturally, he is a batsman that plays lower down the order but has sometimes opened in both Test and One-day cricket. As an opener he has scored two back to back centuries in ODIs against England. Coming in lower down the order in Test matches, he played one memorable innings. He saved Pakistan from a score of 39/6, scoring a century, to a competitive 245 which helped Pakistan win the match and the series.
His batting was highly productive in early 2006 as he scored seven international hundreds within the space of 6 months. Since his tour of England in Summer 2006 however his batting form dwindled and steadily become worse. His wicket-keeping also worsened and dropped many catches on both the England tour and on a tour to South Africa in early 2007. He then scored an international hundred in the Bangladeshi tour of Pakistan in 2008.
Akmal was dropped for the Asia Cup 2008 as a result of his poor wicket-keeping. He was replaced by Sarfraz Ahmed who performed very well at the domestic level and also because of Sarfraz's strong showing in the U-19 World Cup. Kamran was named in the 30 man probable squad for the 2008 ICC Champions Trophy.
Akmal was part of the Pakistan team that won the T20 World Cup in 2009. He was notable for his quick stumpings, dismissing 4 batsmen in one match against Netherlands.
On 12 November 2008, Akmal hit two consecutive 6s in the last over. As a result Pakistan won the first ODI in Abu Dhabi against West Indies.

Match fixing allegations
In the 2nd test match on the 2009-10 tour of Australia, Akmal dropped four catches in the Australian innings, three of those coming from Michael Hussey. Hussey went on to score 134* and was involved in a massive 9th wicket partnership stand of 133 runs with Peter Siddle. Pakistan eventually went on to lose the match by 36 runs, after being dismissed for just 139 in the second innings. Later it was alleged that he, along with pace bowler Rana Naved-ul-Hasan were involved in match fixing, and were questioned by Pakistan Cricket Board and subsequently dropped for the twenty20 series against England.

Wicket-keeping
Kamran has been criticized consistently completed to save the poor wicket. After a series of other ugly behind the stumps against Sri Lanka in January 2009 journalists and former players and called for his removal from the national team. His wicket-keeping has improved steadily, with very strong results at the World Cup 2009 T20, including the performance of the world record of four stumpings in one match against the Netherlands. But during the second test against Australia in the cricket stadium in Sydney is dropped four catches, including three chances from Michael Hussey in a single session on day 4. Hussey went on to score a match winning century, with the losing team in Pakistan as a result of shock after dominating the first three days of play. Dropped later that in the third test, and was replaced by Sarfraz Ahmed.Personal life
Akmal has two brothers, Adnan Akmal and Umer Akmal, who are also professional cricketers. The former being a keeper-batsman and the latter being a batting all-rounder. He married in 2006 and lives with his wife, Aaiza, and their young daughter. He is a graduate of Beaconhouse School System Garden Town,Lahore.
IPL career
Was signed by Rajasthan Royals to Complete, and played in the inaugural season of the IPL. Played five games in the tournament, as batsman wicket, and senior guard system, including the final match of the tournament against the Chennai Super Kings. Took two catches in the early rounds, but he was run out for six runs during the chase for Royal. Royals went on to win the tournament after an exciting match. He said he will not play in 2009 because he did not allow the Pakistani players to participate as a result of the tense atmosphere after the Mumbai attacks in 2008.

Kamran Akmal Pictures
| | | | |
| --- | --- | --- | --- |
| … | … | … | |
| … | … | … | … |
| Kamran Akmal and Umar … | kamran akmal gautam ga … | … | Kamran-Akmal With Wife … |
| … | Kamran Akmal talks to … | | |
Kamran Akmal Videos