Pakistani film, television and Radio Actor.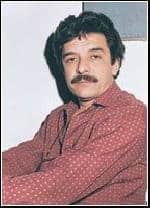 Jamshed Ansari was born in Saharanpur, India, on December 31, 1942. Six-year old Jamshed migrated to Pakistan along with his family members in 1948. Jamshed Ansari played the memorable role of Safdar in the longest run Pakistani Radio program 'Hamid Mian Kay Haan.' That program became the second habit of the Pakistani people for more than four decades.
Jamshed received Bachelors of Arts degree in 1964. The same year he left for London and lived there for four years.
In London, Jamshed successfully completed GCE and television production courses and worked in stage shows. He most notably worked in Shaukat Thanvi's stage play, 'Sunta naheen hoon baat.' He participated in at least three stage dramas. Additionally, he worked for the BBC.
Jamshed Ansari's brother, Tameez Ansari, was equally talented and bright but kept away from show business.
Jamshed Ansari returned from England in 1968. In Pakistan, his first stab at acting was in the Lahore television play, 'Jharokay', which was produced and telecast in 1968.
Jamshed's every little gesture on the small screen showed an actor's understanding of his role.
Jamshed's first television play from Karachi television was 'Ghora ghaas khata hai', written by Agha Nasir. Director Syed Ameer Imam took the genre to another level with an amazing vision.
'Ghora ghaas khata hai' is still fresh in the minds of Pakistani television viewers. They have stories to share with others.
Dwelling on his acting prowess, Jamshed conveys the almost desperate eagerness to please that is part of many performers makeup.
Jamshed's love of acting not only took him irresistibly to the stage and television, but to radio as well. He contributed to numerous radio programs.
Jamshed brightened our world with his brilliant comedy. His character came precariously close to reality in the Karachi television drama serial, 'Zeir zabar pesh.' The ambiguity of the story brought laurels to Jamshed.
Jamshed dubbed as 'Safdar bhai', came up with a performance of high dramatic caliber in the Karachi television drama serial, 'Kiran kahani.' That enormously appealed to the audiences. To his adorers, Jamshed personified the ideal artist.
Perhaps, Jamshed impressed his admirers most in Haseena Moin's 1976 super hit drama serial 'Uncle urfi.' Jamshed portrayed the memorable role of 'Uncle urfi's' 'Hasnat bhai' to the hilt.
One peculiarity of Jamshed was that he could tunnel into his character. In fact, 'Uncle urfi' was written with the brilliance and detail that was synonymous with Haseena Moin. Cast included Shakeel – Qurban Jilani and Azra Sherwani.
Hasnat bhai's repartee 'Chakku hai meray paas' and 'Afsheen, tum samajh naheen rahi ho, chacccha urfi ko pata chal gaya to bari garbar ho jaye gee', are still fresh in the minds of television viewers.
Likewise, one marvels at the spectacle as one watches Jamshed's treasured splendor throughout the drama serials. Particularly, his repetition of 'Zoar kis pay hua' and 'Qatai naheen' in two different drama serials.
Jamshed, a long-established artist of Pakistani television, offered a magnificent performance in the popular drama serial, 'Tanhayian.' Cast included Shehnaz Sheikh, Marina khan, Asif Raza Mir and Behroz Sabswari. Tanhayian' also dealt with the social realities of the day.
Jamshed's way, as one of the most distinguished artists, had come completely into his own.
Quality plays aspire to grandeur and seriousness. In her mega hit drama serial, 'Unkahi', Haseena Moin had crafted a play that stands as a classic in its bittersweet illustration of the unbreakable bond of family.
Reverting to Jamshed, he was full of mirth and fun and never out of place in the story in 'Unkahi', as 'Timmy.' Cast included Shehnaz Sheikh – Saleem Nasir and Qazi Wajid.
One feels nostalgic as one encompasses all those great memories about Jamshed. He showed the same mirth in numerous television programs like 'Half plate'. Cast included Anwar Maqsood – Moin Akhtar and Badar Khalil. Similarly, Jamshed's role in 'Shosha' and 'Silver Jubilee' is highly laudable.
Jamshed's comedic but reality-minded characters created one of Pakistani television's most enduring and beloved personas. He went on to work with luminaries like Shakeel and Humayun Saeed in the drama serial, 'Doosri Aurat.' Jamshed was highly successful as 'Sagheer Ahmed' in 'Doosri Aurat.' Director, Haider Imam Rizvi, penned by Naheed Sultana Akhtar. Cast included Laila Zuberi – Ayesha Khan and Aijaz Aslam.
Jamshed's immense artistic talents were quite evident in the drama serial 'Manzilain.' Cast included Aijaz Aslam – Javeria Jalil – Jehanzeb Khan and Farhan Ali.
Jamshed won over the hearts of his innumerable fans through his acting. That is for sure. We come across public mimicking his dialogues with nostalgic fondness.
Jamshed also made his mark in the drama serial 'Bewafai'. Cast included Aijaz Aslam – Farah Shah and Farhan Agha.
Over the years, Jamshed worked in show business whole-heartedly. More than that, he preserved his sanity with his trust.
Television
Jharokay
Ghora Ghans Khata Hai
Zair Zabar Pesh
Kiran Kahani
Uncle Urfi
Ankahi (1982)
Tanhaiyaan (1985)
Half Plate
Kohar
Film
Saughat (1970)
Pakeeza (Urdu)
Ajj Dian Kurian
Death
Ansari died of a brain tumour on August 24, 2005.Funeral prayers were held at Baitul Mukarram Mosque, Gulshan-e-Iqbal, Karachi followed by burial at Khurshidpura Graveyard in Hub, Balochistan.

Jamshed Ansari Pictures
Jamshed Ansari Videos