Pakistani Film, TV and Stage Artist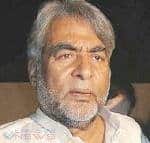 Jamil Fakhri was born in Lahore on December 16, 1944. After graduation, he joined the National Bank of Pakistan and started doing theatre in Lahore, becoming friends with talented actors such as Kamal Ahmed Rizvi, Athar Shah Khan, Ali Ejaz and Rafi Khawar aka Nannah. His ever-popular stage plays to date include Andar Aana Mana Hai, Zuban Daraz, Ulti Seedhi, High Jump and Lahore Bypass.
Renowned TV producer Yawar Hyatt introduced him on television in the late '60s, and throughout the '70s and '80s he worked relentlessly in TV plays such as Aik Mohabbat Sau Afsanay, Tanay Banay, Daldal, Waaris, Teesra Kinara, Bandhan, Aik Haqiqat Aik Fasana, Alif Noon, Zakhira Andozi, Pyaas, Alif Laila, Aaj Ka Khel and Jheel. And then, there was Andhera Ujala.
His role of Inspector Jaffer Hussain in Andhera Ujala became his identity and made him a household name. In fact, whenever the history of television is written in Pakistan, Jaffer Hussain would rank among the top three roles played to perfection by an actor. The burly and oft conflict-riddled policeman was the protagonist of the play along with Irfan Khoosat who played Havaldar Karamdad. Together, they nabbed bad guys and managed to do so while overcoming personal and professional challenges.
In one thought-provoking and immensely touching episode of Andhera Ujala, Jaffer Hussain shoots his son in the leg to stop him from defecting to a life of crime. In another, he loses his father to criminals who shoot him dead while offering prayers. In both episodes, Jamil Fakhri was seen at the pinnacle of his acting talent — delivering dialogues and effectively emoting the pain of losing a loved one through his eyes, a trait that made him a far superior actor from others of his clan.
Every episode of Andhera Ujala threw a new challenge in Jaffer Hussain's way and whenever he felt tempted to veer off the way of the law, there was a severe reprimand in store for him from his superior officer played by Mohammed Qavi Khan: "Jaffer Hussain, yeh sab kya ho raha hai?"
"For me, Jamil Fakhri was more than just a co-star," remembers Qavi. "We had been friends for a long time and always remained in touch. Like most actors, Jamil Fakhri was a sensitive person. He conquered both the mediums of theatre and television but was deeply affected by the recent death of his son. We used to talk about it and he was unable to cope up with the tragedy. It was ironic since he was famous among his friends for his lively jokes and hearty lifestyle."
Jamil Fakhri's Inspector Jaffer was notorious for making bad guys tremble in their shoes when reminded of drawing room (torture chamber) and pulling up his trousers whenever he was about to take a big step like reprimanding a subordinate or leaving the thana to make an arrest. The mannerism became his trademark and when Jamil Fakhri was called to collect his medal for outstanding achievements as an actor in 1989, he repeated it — only to be vastly applauded by the audience at Liaquat Gymnasium in Islamabad.
Qavi Khan recalls the time he spent on the sets of Andhera Ujala with the late actor, "The policemen still respect us for effectively depicting them in the series, and that is the biggest reward for us as actors. Fakhri Saheb's character was so popular that he is still widely known as Jaffer Hussain, which is the ultimate reward for an actor."
Jamil Fakhri was awarded Pride of Performance for his acting in all four mediums — TV, theatre, film and radio. Firdous Jamal adds, "We both worked in all mediums, but his roles were of archival nature. His characters were super-strong and with substance, and I am sure that in the near future they will be presented as examples for budding artistes. He was one of the few actors whose stare is worth a million words. With his death, we have not only lost an actor but also a star who had mastered the performing arts."
For an actor who effectively solved crimes in Andhera Ujala, it is ironic that the murderers of his son have not been brought to justice so far. The death of his young son, Ali Ayaz Fakhri, who died under mysterious circumstances in the US, affected his physical health terribly and after the tragedy he was a changed man.
"He was a sensitive man and I think he died the day he heard about his son's death," says Firdous Jamal. "He was one of those people who used to laugh heartily, but when his son disappeared, and was later found dead, he lost the will to live on. He felt the pain of his fellow actors when they were in trouble, and he used to cry alongside them. He was also very religious. It was his extreme love for his late son that he died soon after."
Renowned theatre, TV and film actor Jamil Fakhri was one such actor who was revered by the masses as long as the spotlight was on him. On June 9, 2011, after being on a ventilator after a paralysis attack, he left for the hereafter.
Jamil Fakhri's final play, Dil Day Boohay, ended last month on PTV whereas his final bow was in Sehra Teri Pyas that was aired from a private channel the day he suffered a brain hemorrhage. With these plays, he bade farewell to his four-decade long association with the performing arts during which he made us laugh and cry with incredible histrionics.
Finally, Qavi Khan recalls, "Jamil Fakhri knew the art of making people laugh, be it on screen or off it. It seems people of our generation are all passing away — Moin Akhtar, Khayyam Sarhadi, Babbu Baral, Mastana and now Fakhri Saheb. All we can do now is pray for them and remember their good work."
Jamil Fakhri and Films
Renowned directors Pervez Malik, Shabab Kiranvi, Nazrul Islam and Javed Fazil also cast him in films and he enjoyed moderate success on the big screen. He was always cast in character roles and managed to make the most of them: Pakeeza, Dehleez, Meherban, Lajawab, Aahat, Deewanay Do, Bhabi Diyan Chooriyan and Direct Havaldaar are his more successful films in which he had the chance to share the screen with actors such as Nadeem, Waheed Murad, Mohammad Ali, Rahat Kazmi and Javed Sheikh. In fact, Direct Havaldar was the film version of Andhera Ujala where the whole cast including Irfan Khoosat (playing the title role), Mohammad Qavi Khan, Abid Butt and Jamil Fakhri reprised their roles brilliantly.
Veteran actor Firdous Jamal was part of Direct Havaldar as Jaffer Hussain's son who turns rogue during the film. He recalls Jamil Fakhri as an excellent co-star with whom he shared a working relationship as well as a friendship that lasted for a long time. "Jamil Fakhri was one of my teachers because when I came over to Lahore from Peshawar, he made me feel as part of his family. I had spent more time with Jamil Fakhri than I had spent with my own brother, and I was shocked to hear about his death. Aam Aadmi to roz paida hota hai, Jamil Fakhri jaisa insaan kabhi kabhi paida hota hai (people are born every day, but a person like Jamil Fakhri is born once in a blue moon).
Jamil Fakhri Pictures
| | | | |
| --- | --- | --- | --- |
| | Jamil Fakhri and qavi … | Renowned artist Jamil … | |
| | | | |
Jamil Fakhri Videos