Pakistani Ambassador to the United States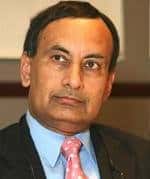 Husain Haqqani was Pakistan's Ambassador to the United States from 2008 to 2011.A trusted advisor of late Pakistani Prime Minister, Ms. Benazir Bhutto, Ambassador Haqqani is known as a Professor at Boston University and Co-Chair of the Hudson Institute's Project on the Future of the Muslim World as well as editor of the journal Current Trends in Islamist Thought published from Washington DC.
Haqqani came to the U.S. in 2002 as a Visiting Scholar at the Carnegie Endowment for International Peace in Washington DC and an adjunct Professor at the School of Advanced International Studies (SAIS) at Johns Hopkins University. He is a leading journalist, diplomat, and former advisor to Pakistani Prime ministers. His syndicated column is published in several newspapers in South Asia and the Middle East, including Oman Tribune, Jang, The Indian Express, Gulf News and The Nation (Pakistan).
Early life, personal and family
Haqqani was born in Karachi and was raised in a conservative but educated middle-class family in Malir outside Karachi.
He began his interest in journalism while in high school. In 1973 he joined Karachi University. He would frequently visit the library at the U.S. consulate, reading volumes of American history. Later, when students wanted to attack the consulate as part of a protest against the United States, Haqqani refused.
Haqqani has an excellent academic record with distinctions at all stages. He received a B.A. degree with distinction in 1977 and an M.A. degree with distinction in international relations in 1980 from the University of Karachi.Then in March 2000, he married to Farahnaz Ispahani, a former producer at CNN and MSNBC and current member of the Pakistani parliament, and the granddaughter of Mirza Abol Hassan Ispahani, Pakistan's first ambassador to Washington. Their official residence in Washington was purchased and donated by her grandfather.
He has lived in the United States since 2002, and has developed a taste for the Boston Red Sox baseball team and news programs.
Pakistan Embassy residence in Washington, D.C.
Government and political career
At the time of his appointment as ambassador on April 3, 2008, Haqqani was viewed as a respected figure on the world stage, coming to the post well versed in the ways of diplomacy and Washington. He succeeded Mahmud Ali Durrani, who became national security adviser to the Gillani government.Prior to his appointment, Haqqani had been critical of the Musharraf regime and past U.S. support to Pakistan's military.[8] In 2007, he told the U.S. Congress that Musharraf's decision to remove Pakistan's chief justice was a grave mistake.
Policy direction
As ambassador, Haqqani has charted a course of increasing predictability in U.S.-Pakistani relations. He links security issues to economic ones, and has commented that the lack of a strategic foundation has plagued U.S.-Pakistani relations since Pakistan's inception. "The U.S.-Pakistan relationship has gone up and down like a yoyo," according to Haqqani, "and the reason why…is because U.S. strategic planners have never looked upon Pakistan in its own right".
He terms the historical bilateral relationship as "erratic", citing U.S. engagement from the early Cold War to the Soviet invasion of Afghanistan, when the U.S. government backed Afghan fighters by funneling support through the Pakistani channels. He is skeptical that completely stabilizing the relationship can be accomplished during the tenure of one ambassador, but seeks to "lay the foundations of a relationship that is multidimensional: political, military, cultural, economic and social".
He believes that—in the wake of the assassination of former Prime Minister Benazir Bhutto — a consensus exists in Pakistan that, to forge a stronger national identity, Pakistani provinces and ethnic groups must continue to unify through democratic processes, but unfortunately democracy in its true sense does not exist at all.
Other experience
Haqqani has been a campaign worker, senior adviser, ambassador, spokesperson and scholar. In 1988, he worked in the political campaign for an alliance led by Nawaz Sharif; In 1990, he was special assistant to Prime Minister Nawaz Sharif; from 1990–92, he was special assistant and spokesman for Prime Minister Sharif; from 1992–93, he became one of Pakistan's youngest ambassadors, serving in Sri Lanka; from 1993–95, he was spokesman to Prime Minister Benazir Bhutto; from 1995–96, he was chairman of the House Building Finance Corporation.
From 2004-08, Haqqani was an associate professor for international relations at Boston University. In addition, he co-chaired the Project on Islam and Democracy at the Hudson Institute in Washington, and was co-editor of the international scholarly journal Current Trends in Islamist Ideology. Among his numerous writing credits are "Pakistan Between Mosque and Military" for the Carnegie Endowment for International Peace; "Islam's Medieval Outposts" for the journal Foreign Policy, and "The Role of Islam in Pakistan's Future" for Washington Quarterly.
Memogate Scandal
Main article: Memogate (Pakistan)
17 November 2011, the American businessman Mansoor Ijaz publicly accused Husain Haqqani of being involved with a secret memo to Admiral Michael Mullen, asked the U.S. intervention in changing agencies and the Pakistani army and intelligence services. However, the Pakistani government has denied any charges of treason against him. Ambassador Haqqani denied the accusation, and to submit his resignation, saying: "I do not want this nonissue of the memorandum by the ordinary person trivial and unreasonable by the consignee, the only way to undermine democracy." In November 22, 2011, he resigned Ambassador Haqqani officially saying that "democracy in Pakistan and Pakistan is far more important than any crisis artificially memorandum trivial by businessman selfish. Has served Pakistan and Pakistani democracy to the best of my ability, and will continue to do so." The Haqqani's wife, Farahnaz Ispahani, she and her husband to explore lawsuits against Mansoor Ijaz in U.S. courts and Pakistani.
Journalism background
Haqqani worked as a full-time journalist from 1980-88. He covered the war in Afghanistan for Voice of America radio; served as the Pakistan and Afghanistan correspondent for Far Eastern Economic Review; and worked in Hong Kong as the East Asian correspondent for the London-based Arabia: the Islamic World Review.
Since that time, he has steadily contributed op-eds and articles to dozens of publications, including the Wall Street Journal, New York Times, Boston Globe, Financial Times in London, International Herald Tribune, South China Morning Post, Toronto Globe and Mail, Gulf News and Le Monde. He has also been a syndicated columnist for the Indian Express and Daily Star in Bangladesh; he has appeared regularly on television news shows for BBC, CNN, NBC, PBS, CBS and ABC, commenting on Pakistan, Afghanistan, South Asian affairs, Islamic politics and radicalism.
Criticism
He is accused of being an american apologist and not promoting pakistan interest. Many jokingly call him 'America's ambassador to the Pakistani embassy in Washington.
Hussain Haqqani Pictures
| | | | |
| --- | --- | --- | --- |
| | … | Hussain Haqqani arrive … | Hussain Haqqani calls … |
| Husain Haqqani Declare … | | | |
Hussain Haqqani Videos