Hina Bayat Pakistani Drama Actresses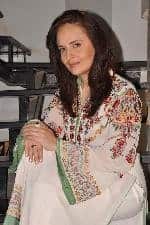 Her hair pulled back and tied neatly into a bun, Hina Khwaja Bayat, with a flick of that confident head supported on a long and slender neck, looks more like a Russian ballerina than the compere I was to interview. On closer inspection, she has a very fair skin and light, greenish eyes. "No they are not lenses," she clears my misconception rather self-consciously. "I have my Kashmiri blood line to thank for the complexion and light eyes," she says smiling.
But Hina Bayat is not just a pretty face. "Actually by profession, what I qualified for is product designing. Designing purses and bags somehow led to my getting into showbiz," she explains. There was a commercial being made by the Export Promotion Bureau, for whom she was working at the time. They needed someone with naturally green eyes and the next thing she knew, she was in that commercial.
Hina Khawaja Bayat: A Source Of Inspiration For Many
Drama Serial Humsafar is now being considered as one of Best Pakistani Drama Serial. Hina Khawaja Bayat played a leading role as Zareena Ajmal in Humsafar.
They say the elegance of woman is reflected in the way she keeps her home, and you don't find a better proof of it than the home of Hina Khawaja Bayat. The ever charming and fascinating personality of Hina Bayat depicts from every nook and corner of her house, and as we sat for an interview with her, the charisma of her captivating persona grasped us more and more. You can't just walk away by describing her as 'beautiful'; it's just the beginning to say the least.
An industrial designer by profession, Hina Bayat now finds herself well known among the masses as a social mentor and a trusted ally for many who search harmony and concordance for their life. Completing her education she herself had never thought of how her life will change but she had all the attributes to transform into one great counselor and motivator. Her journey in media field began with a talk show "Andaz Apna Apna" on PTV World, the show can be termed as the brainchild of Hina as she quenched for many the thirst of creative thinking through its platform. Her next venture with PTV was the show called "Batein Mulaqatein".
The youngest of four sisters, the convent educated Hina initially wanted to either go for law or journalism as a profession. She wanted to pursue criminal law in particular but her father put his foot down on that.
"He said, 'it has to be civil law, corporate law or nothing.' So I said fine, nothing!" Hina laughs at the memory. Her next option was journalism which remained an option only. Artistically inclined, she remembers receiving her best compliment by none other than the famous Sadequain. He had paid the family a visit when Hina was a young schoolgirl. Seeing her painting hanging on a wall, he had inquired about the artist.
"My parents proudly presented me to him and he said to me, 'Beta, don't ever stop painting.' He later told my parents that I possessed an ability to see what others couldn't."
So when a four-year project designing course, a collaboration programme between the governments of Pakistan and Germany came along, she gladly went for it. In 1998, Seema Tahir Khan asked her to work as coordinator on the show Andaz Apna Apna. She said she needed someone who was well organized.
"Being organized was my total credibility for this show." Hina laughs. "Coordinating is the most unglamorous, thankless and difficult of jobs. But I can handle it."
It was a very special show with an aim to paint a very positive image of Pakistani women. It was to introduce to the world women who were achievers in their own fields. But once everyone was lined up, Seema couldn't find a proper anchor. According to her, all the girls who auditioned had some shortcoming. If they were photogenic, then they couldn't speak well in Urdu and if they could speak well in Urdu then they had a problem with English. Getting tired of Seema's constantly finding one fault or another with everyone, Hina exasperatedly asked her one day what exactly she was looking for!
"And she told me, 'someone like you!' and that's what got me into compering. The next thing I knew I was sitting in the middle of the night at Evernew Studios doing interviews. Anything having to do with talking became my forte. I found out I loved to chat with people. It was a good experience. I met a lot of interesting women on the show who I would never have had the chance to meet otherwise."
When Hina interviewed Meera, she was successful in bringing to the surface the true person hiding behind the facade. "By the end of the interview, I was surprised to receive a peck on the cheek along with a hug and a thank you. "She told me that she was sick of giving interviews where people constantly asked her about her favourite colour, food or clothes.
"I had only signed for a quarter for Andaz Apna Apna after which I left for London for three months."
The show's ratings nose-dived during those three months. Hina was asked to rejoin which she did. Again the ratings went up. But then Hina had to leave again. She has to constantly shuffle between London and Karachi as her husband's nature of work keeps him in London most of the time.
Later, hosting Baatein Mulaquatein which is aired every Sunday morning on PTV, she again had topics that were of interest to women, such as education for the poor, learning disorders, marriage bureaus etc. "It is a show carrying a lot of information and awareness," said Hina who has recently joined a new channel.
Hosting shows and talking to people is a strange thing for a girl who was painfully introverted as a child. Hina remembers, "All I would do was look at people and politely smile at them without opening my mouth."
Hina has always felt a strong sense of responsibility while being in front of the camera. "I may wear sleeveless shirts or trousers off camera but I never do it on TV, and I try very hard to say the right thing as well." During her stay in London, expatriates who just wanted to let her know that they appreciated her work would stop Hina even on the escalator in Selfridges. "That's how popular out channels are abroad amongst out people."
Hina Bayat Pictures
| | | | |
| --- | --- | --- | --- |
| Hina Bayat at PFDC Sun … | Hina Bayat in Smilling … | Hina Bayat with guest … | Hina Bayat with Qaiser … |
| | | | |
| | | | |
Hina Bayat Videos