Lieutenant General Hamid Gul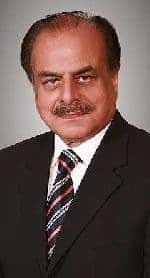 Hamid Gul was born on 20 November 1936 to Muhammad Khan, in the Sargodha District of Punjab in what was then British India but now Pakistan.ISI Ranked third among agencies. He got his early education from a school in his village. He briefly got admission in Government College Lahore, before reporting to Pakistan Military Academy Kakul.
Lieutenant-General Hamid Gul born 20 November 1936 HI(M), SBt, is a retired high-ranking general officer in the Pakistan Army, famous for serving as the Director-General of the Inter-Services Intelligence (ISI), Pakistan's premier intelligence agency, between 1987 and 1989 during the late stages of and post-stages of the Soviet war in Afghanistan.
Gul is widely known and credited for pressing the hard-line policies on India after starting the insurgency in Kashmir against India in 1989 by diverting the Mujahideen who participated in the Soviet war to Indian-held Kashmir. Gul was also instrumental in the establishment of the Taliban and was once known as the "father of the Taliban". Apart from the Kashmir militancy in India and the Taliban insurgency in Afghanistan, Gul is also accused by the United States of having ties to Islamic terrorist organizations such as the Al Qaeda.
Gul's tenure as the director of the ISI coincided with Benazir Bhutto's term as the Prime Minister of Pakistan. Later, Gul established the Islamic Democratic Alliance (IDA), a far-right conservative wing against the secular MQM and the democratic socialists, the Pakistan Peoples Party.
Army career
Cost Hamid Gul in the Pakistan Army in October 1958, with the cycle of PMA 18 in Long Lancer Regiment 19 of the armored corps. The tank commander during the war with India in 1965. During 1972-1976, I worked directly under Gen. Gul Muhammad Zia ul-Haq battalion commander, when he was the regional commander, General Zia ul-Haq, 1 Armored Division commander, and the second difference in Multan. Thus, Gul was already strengthened its relations with General Zia ul-Haq by working under his leadership when he was all of the officers in the armored regiments of the Corps II. Was promoted to Brigadier General Gul in 1978 and steadily rose to be director of martial law and the commander of Bahawalpur Armored Division 1, Multan in 1982, his appointments and his desire explicitly Zia himself.
Saudi influence
Gul then sent to the General Command and the Director General or the General Directorate of Military Intelligence (DGMI) under Gen. Mohammad Zia ul-Haq who then nominated him to be President of the General Intelligence to replace Akhtar Abdul Rahman in March 1987. Was replaced later as commander of the Pakistani intelligence Benazir Bhutto by the PM in May 1989 and Gul was transferred as commander, and the second weapon in Multan. In this capacity, Gul conducted the Zarb-E-insured military in November and December 1989, the largest of the armed forces of Pakistan to show muscle since the India-Pakistan war in 1971.
General Asif Nawaz to take the reins of the Pakistan Army in August 1991, and was Gul transfer such as the Directorate General of Taxila Heavy Industries. Gul refused thousand jobs and menial compared to the status of Gul, and take an assignment, a deed which was retired from the army.
Career as ISI Chief
Execution of failed Jalalabad operation
During his time as head of the ISI and the Soviet war in Afghanistan, Gul was blamed for planning and executing the operation to capture Jalalabad from the Afghan army in the spring of 1989. This switch to conventional warfare was seen as a mistake by some mujahideen leaders who considered that the mujahideen did not have the capacity to capture a major city. But the Pakistani army was intent on installing a fundamentalist-dominated government in Afghanistan, with Jalalabad as their provisional capital, Abdul Rasul Sayyaf as Prime Minister, and Gulbuddin Hekmatyar as Foreign Minister.
Contrary to Pakistani expectations, this battle proved that the Afghan army could fight without Soviet help, and greatly increased the confidence of government supporters. Conversely, the morale of the mujahideen involved in the attack slumped and many local commanders of Hekmatyar and Sayyaf concluded truces with the government. In the words of Brigadier Mohammad Yousef, an officer of the ISI, "the jihad [meaning the plans for Hekmatyar to be installed as prime minister] never recovered from Jalalabad". As a result of this failure, Hamid Gul was sacked by Pakistani Prime Minister Benazir Bhutto and replaced by Shamsur Rahman Kallu, who pursued a more classical policy of support to the militants fighting Afghanistan.
Organization of IJI against PPP
During his tenure as ISI chief in 1988, General Gul successfully gathered right-wing politicians and helped them create Islami Jamhoori Ittehad, a religio-political conservative coalition against the left-leaning liberal Pakistan Peoples Party. He has recently acknowledged this fact in various interviews and for this he was harshly rebuked in one of editorials of a major Pakistani newspaper, which asked the general to apologize first to the PPP for having done the sordid deed and after that, apologizing for lack of wits because the IJI could not maintain its two-thirds majority for long.
Kashmir Insurgency
Indian front
According to B Raman, an Indian strategic analyst, Gul actively backed Khalistani terrorism. "When Bhutto became prime minister in 1988", Raman says, "Gul justified backing these insurgents as the only way of preempting a fresh Indian threat to Pakistan's territorial integrity. When she asked him to stop playing that card, he reportedly told her: Madam, keeping Punjab destabilized is equivalent to the Pakistan army having an extra division at no cost to the taxpayers." "Gul strongly advocated supporting indigenous Kashmiri groups", adds Raman, "but was against infiltrating Pakistani and Afghan mercenaries into Jammu and Kashmir. He believed Pakistan would play into India's hands by doing so."
Iranian front
In Islamabad and asked Gul that Iran should be interpreted with the intention of faith on an agreement signed with India in combating terrorism jointly. According to him, "Iran must come clear on the nature of the agreement with India, but this would lead to the creation of doubts and fears in the Muslim Ummah that Iran helps RAW put out the Kashmir jihad." He added that in case of doubt in the agreement was valid and considered Iran as working with India against the "struggle for freedom of Kashmir," and then conclude that this country also supports the Mossad, the Israeli foreign intelligence service.
Turning against the United States
General Gul worked closely with the CIA during the Soviet occupation of Afghanistan when he was the ISI chief. But, he became passionately anti-American after the United States turned its back on Afghanistan following the 1989 Soviet withdrawal, as the United States had promised to help build a prosperous Afghanistan. He was further disconcerted when the USA began punishing Pakistan with economic and military sanctions for its secret nuclear program. General Gul then went on to declare that "the Muslim world must stand united to confront the U.S. in its so-called War on Terrorism, which is in reality a war against Muslims. Let's destroy America wherever its troops are trapped."
General Gul personally met Osama Bin Laden in 1993 and refused to label him a terrorist unless and until irrefutable evidence was provided linking him to alleged acts of terrorism.
Accusation of US and Israel behind 9/11
Only days after the September 11 attacks he stated that they were clearly an inside job. That interview was not published by newspapers.
Post-Army career
Solidarity with Osama bin Laden
According to Zahid Hussain, in his book Frontline Pakistan, Lt. Gen. Hamid Gul and former Army chief General Mirza Aslam Beg were part of the 9 January 2001 Darul Uloom Haqqania Islamic conference held near Peshawar, which was also attended by 300 leaders representing various Islamic groups. The meeting declared it a religious duty of Muslims all over the world to protect the Taliban government, and the Saudi dissident Osama bin Laden it was hosting, whom they considered as a 'great Muslim warrior.'
Support for Chief Justice Iftikhar Chaudhry
On 12 March 2007, Gul marched shoulder-to-shoulder with activists from the liberal democratic parties and retired former senior military officers against General Pervez Musharraf. General Gul faced down riot police when they tried to arrest him at a rally outside the Supreme Court in Islamabad protesting against attempts to dismiss Chief Justice Iftikhar Muhammad Chaudhry.He turned against the restored Supreme Court chief justice after a bench allowed Musharraf to contest the elections in uniform.This is first report said.
Accusation by Benazir Bhutto
Days after the 2007 Karachi bombings, Benazir Bhutto in a letter to President Musharaf written on 16 October 2007 named Hamid Gul as one of the four persons including the current Intelligence Bureau (IB) Chief Ijaz Shah, the then chief minister of Punjab Chaudhry Pervaiz Elahi, then chief minister of Sindh Arbab Ghulam Rahim, she suspected were behind the attacks.Gul responded furiously to these claims. He was arrested on 4 November by the Military police in Islamabad during President Pervez Musharraf's declared state of emergency.
Terrorism charges
He has acknowledged being a member of banned militant organization Ummah Tameer-e-Nau.The United States government has included Hamid Gul's name in a list of 4 former ISI officers for inclusion in the list of international terrorists that was sent to UN Secretary General, but China refused.
Gul has been informed by a senior official in Pakistan's Foreign Ministry that he had been placed on a U.S. watch list of global terrorists, along with several others. He was shown a U.S. document that detailed several charges against him, including allegations that he had ties to al-Qaeda and the Taliban.
On 14 December 2008 President of Pakistan Asif Ali Zardari in an interview with Newsweek described Hamid Gul as a political ideologue of terror.
In July 2010, Wikileaks released over 92,000 documents related to the war in Afghanistan between 2004 and the end of 2009. In those documents Gul was accused of backing Taliban Insurgency against western forces to disrupt the U.S. occupation of Afghanistan.
Gen. Hamid Gul Pictures
Gen. Hamid Gul Videos