Pakistani Singer Fariha Pervez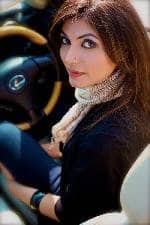 Fariha Pervez is a well known Pakistani artist.She is well known for his melodies songs.One of his popular album is Jhumka
Some of the popular tracks from his hit album Jhumka are:
Tracks:
Ankh Macholi
Badnamian
Bailia
Bhool Jane Ka
Chori Chori
Dil Dharke
Dil Gaya
Jhumka
Kab Kaha Hai
Late Ho Gayee
Mitti Diya Bawaya
Mola
Same Game
Tere Pyar Ne
Interview
Fariha Pervaiz has the ability to touch mysterious components of the soul with grace and panache. She is indubitably one singer whose voice holds one captive and then does not let go. Her latest album, Piya, reinforces this fact. She is capable of singing Punjabi, folk, ghazal and pop songs with equal ease and proves so throughout the album.
The party beings with Haniya, a Punjabi song packed with plenty of passion. The lyrics coalesce well with the upbeat?
composition, filling one with an urge to hit the rewind button. A mellower track, Gal muk gayee, goes a step further. Next, Fariha hooks the listener while paying tribute to the late Nazia Hassan by singing Aankhain churanay walay. This is just the beginning of her parade of tribute as she goes on to pay homage to four more people! The title tracks of two drama serials and two extremely catchy songs, Aaye zindagi and Zara thehr jao, follow.Good poetry and soothing compositions make one relax and relish. Add to that Fariha's haunting vocals and you have the standouts of the album. With Akailay na jaana, Fariha gets to pay he reverence to Masroor Anwar, Sohail Rana and Waheed Murad simultaneously.
On the other side starts with the last tribute, Chand USS de main, to the poet Parveen Shakir. And the placement of melody and singing babe turned into a piece outstanding. Ur gorgeous two sides of the largely forgotten while more than anything less than inspiring, so let's leave it at that.
Tairiyaan yaadan is the best song in the album because of her exceptionally stirring and composition. Kokla chapaki is a popular song that will not appeal to everyone. Song title brings an abrupt end to the album. Words of the spot, and won the fun and addictive vocals Freiha and ensure that one keeps coming back to the album.Pia has enough material to meet the needs and linking the masses of both sexes or different age groups. Offers a variety of songs for a variety of moods, it may turn into a mere aficionado Freiha you if you are not one.Fariha Pervez returned with a big bang. Single Baaz Sajna Patang her from her latest album took the "Naughty and Nice" has a reputation for. But after all structures of gulls, the fans came to think of her as a one hit wonder. Her new album "Jhumka" proves otherwise. Fariha voice in the crystal dance playfully Masti the atmosphere of music. The album takes a dip with "Gayee is late." The song begins with guitar work and excellent words that follow do not bring
Smile on the face of one. But it's not something one wants to hear again and again. "Jhumka", the title song, is by far the best that Freiha produced than ever before. It combines Punjabi, reggae, dance and music in the style of the club. Today we are having an interview with Freiha.
Born on February 2, Aquarius, Freiha describes herself as "very modest, very simple, very easy going." Allegedly presenter said my friend, cousin, Freiha, and Asha Bhosley source of inspiration to them. "I was to monitor the presenter said it did" riaaz ', and will listen to the talented of age, which gave me a copy of the huge group of great songs to listen and learn. "Fariha's family did not object to her career choice:
"Inherited this passion for singing from my father who wants to be a singer but his family objected, and when expressed my interest in music, and I do not face any odds." Fariha started by singing songs and host the show singing children. Flirting briefly with acting, she soon realized acting was not the home of her:
"I have offered a role is difficult for the girl anomaly in Laurel, Guliyan, Raastay by our Fadel Javed. I went to Talaat my friend khala to draw lessons, and if I asked her to cry, she quiver eyebrows and tears would well up in her eyes, and when I had to cry and laughter without the will of my own, I felt and I do not cut-out representation. you can do whatever you want, but if you do not have talent, which is unfair to yourself, and both decided to public. since I could sing better, to focus on singing. "In 1995, she joined Maestro Feroz generation and `Mr. Ghulam Hussain Shaggan belong to the" leishmaniasis Garrana" for training purposes. Freiha focused on singing "khayals' in slowing tempos. Sees it "I got trained in the classics. You can attract people of a certain age only in pop. Her case numbers velvety smooth vocals and" spinning ", and said it plans to excel in singing induction in the end." My classical training helps me to sing both the pop and soft. I am aware of to ensure the success of a temporary pop. In the end, I remembered a singer of songs pensive him or her. "
While the songs she sang, she met once Sattar Khan, one of advertisers who succored Freiha to issue his debut album in 1996. After the success of Patang Baaz Sajna, there was no looking back. Since then, released four albums are completely, and the last of which Waila Yad Ka p.Fariha made her debut in singing in the films with the difficult Chairman Javed Sheikh. The arrest of her gentle singing in the hearts of her fans immediately. Although Mr. Nour has also offered her the lead in the Sangam, I decided not to pursue film. "In the film industry we have, and there is little risk takers," he explains. "If a particular singer, song, or story was a hit, and everyone starts to copy.
No one wants to try something new or unconventional. Since I am selective, people approach me if there was something different they want to try. Jawad Ahmed, and composing music to Moses in Shan State, approached me recently for the song. I am selective and gave me the privilege of working with Zulfiqar Ali, Attrary relevance, Arshad Mohammed, Amjad Bobby, who are the pillars of our film industry. "
Although she was looking forward to a degree in psychology, and the fate of her singing career as an option otherwise. "I've always wanted to be famous as I am when I was a kid, used to write my name everywhere. My mother says people who have a desire for fame do that."Fariha listens to Pakistani music, "I am a big fan of Sajjad Ali and Mehnaz," she stresses. She believes that people prefer to hear melodious folk music. "No matter how modern we or our music becomes, we have to prefer folk music. Junoon revisited their roots when they made 'sufi' music; Hadiqa did it too with Manay Dee Mauj and Buhay Barian."
Between two releases, Fariha does concerts and performs at weekly radio shows with live orchestra. She prefers to sing live too, "I like live performances the most. In live performances, the audience tells you immediately if they like your music and it helps to shape your music."
She is not happy with the way people treat singers, "If I could, I would change the approach of people towards music. Although we have become more receptive, we still need to change our perspective. We need more awareness towards music."
Showbiz, according to her, also needs some surgery. "I would like to change the attitude of artists towards one
another. I want us to be more integrated as artists anywhere else. I am not against jealousy as long as it serves to improve our performances. If someone is ahead of me, it is because he or she deserves to be. you ask me about any singer, you would find me liking his or her music. But when it comes to leg pulling and disparaging remarks, count me out!" When I asked her about her idea of romantic evening, she blushed like a schoolgirl briefly then:
"You just have to be with the person you care for." She likes to read poetry and especially Amjad Islam Amjad's poetry a lot. Since Fariha is herself unpretentious, she dislikes conceited people. "I take easily to people who are well mannered and humble and I dislike people who are snobs."
Fariha has released six videos so far. She plans to air a video of her new album. "I am a Pakistani and I will always remain an abiding citizen. Whatever I do, wherever I go, Pakistan will remain my identity." She affirms. "I want to make my country proud by doing some work internationally. I hope I will achieve it someday."With her absolutely divine looks and that college girl hairstyle Fariha Pervaiz carries herself with a star's confidence. If she were to don those new mercury shades, clad herself in Levis and Tees and munch on a peppermint, she could easily pass for a hip teen, catapulting her way into the hearts of millions of idol-hungry youngsters.But she prefers to stick to her lady-like image concentrating on her work rather than appearance for she knows that that is where the key to success lies. Fariha started her career at much tender age in the show Bulbuley- a kid's song contest program. From there, she oscillated between plays and music shows trying to do justice to both these vehicles of the expressive arts.
Somewhere along the line, she decided that in order to perform adroitly she needed to get herself acquainted with the basics of the art forms. Since she regarded music to be, my first preference- because of a heavy family influence as she got herself enrolled with Master Feroz Gill- a practitioner of the classical Indian Music. And it's been almost three years now that she is learning the intricacies of music from him.
Fariha came into the public's eye- in the true sense of the phrase- with her video Patang Baaz Sajna that made its way into the charts soon after its release. The video's airing coincided with Basant and it attained the hit-status in virtually no time at all. Patang Baaz Sajna is actually one of the tracks featured on Fariha's debut album Nice and Naughty. With the creative mind of Sattar Khan (Ever new concepts) behind this musical endeavor, it is not surprising to find the album a most innovative piece of work starting right from its title to lyrics all the way down to composition and singing. Nice and Naughty basically refers to the program of the album.
One side is labeled Nice featuring the more traditional forms of music while the flip side Naughty giving the more contemporary style of singing. The album is well rounded off by Fariha's crisp and clear voice, adapting to both forms of singing with amazing ease.
Apart from her exploration of the pop scene, Fariha is also engaged in stretching her vocal chords as a playback singer for Lollywood flicks. So far, her voice has been featured on the soundtracks of Chief Saab, Salaib, Ghoonghat, and Sangam.
Fariha Pervez Pictures
| | | | |
| --- | --- | --- | --- |
| … | … | … | … |
| … | … | … | … |
| … | … | … | … |
| … | … | … | … |
| … | … | … | … |
| … | … | | |
Fariha Pervez Videos