Farhan Ali Agha Best Actor and Model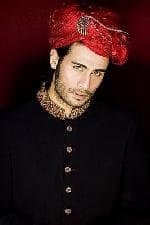 Farhan Ali Agha is a complete package – looks, talent, brains. And so it should not surprise anyone if he's been ruling the roost for the last many years as an actor/model.
Farhan Ali Agha started acting around 1995-96 and got an acting offer for a soap of 100 episodes, and since then he took acting as his career. He was then offred different opportunities for a number of production houses and channel.
Interview
It's been more than a decade since he first started acting. It was during this time that he met his better half, a musician then, and before we knew it they had tied the knot.
Farhan may have always been inclined towards religion but it was after getting married that it came to the fore. Not only did we see him hosting a unique religious programme, but his better-half also underwent a transformation – from a sassily-dressed girl to a conservatively dressed housewife.
Recently Farhan, too, has had a make-over and here, he shares with our readers his style preferences.
What's your style code?
Depends on my mood.
What do you wear on off-days?
Casuals and formals depending on a situation. It's my freedom actually what I wear on my off-days.
Who's your style inspiration?
It's my wife actually but don't forget please that people like me make a fashion statement when they want to and the rest of the crowd just follows.
What's your formal going-out look?
A suit or a tuxedo.
What's your fave hair style?
The one that I have right now but it keeps on changing. Doesn't stay the same.
Are you high maintenance?
Yes, I have become that thanks to our industry.
What's your one beauty/style essential?
My physique. Beautiful as well as stylish.
Do you have a signature scent?
No, I go for whatever smells good on me.
How do you keep your body buff?
Working hard, working out smartly and eating smartly.
Any style blunders you want to reveal?
Not changing my style earlier. Keeping the same style for too long.
What's the most expensive item in your wardrobe?
My suit and my shoes.
Which item from your wardrobe do you love the most?
My shirts and ties.
Farhan Ali Agha Pictures
Farhan Ali Agha Videos