Aziz Mian Pakistani qawali Singer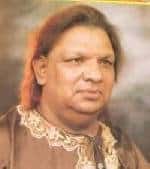 Aziz Mian Qawwal (April 17, 1942 – December 6, 2000) was one of Pakistan's leading traditional qawwals and also famous for singing ghazals in a unique style of qawwali. Aziz is still one of the most popular qawwals of South Asia. He is responsible for the longest commercially released qawwali, Hashr Ke Roz Yeh Poochhunga, which runs slightly over 115 minutes.
Early life and background
Aziz Mian was born as Abdul Aziz in Delhi, British India. The exclamation Mian, which he often used in his qawwalis, became part of his stage name. He began to introduce himself as Aziz Mian Mairthi. The word Mairthi refers to Meerut, a city in northern India, from which he migrated to Pakistan in 1947.
At the age of ten, he began learning the art of Qawwali under the tutelage of Ustad Abdul Wahid Khan. He received sixteen years of training at the Data Ganj Baksh School of Lahore, and obtained a degree in Urdu literature,A degree in Arabic and another degree in Persian from the University of Punjab, Lahore.
Career

Aziz Mian was one of the more traditional Pakistani Qawwals. His voice was raspy and powerful. Aziz Mian was the only prominent qawwal[citation needed] to write his own lyrics (though, like others, he also performed songs written by other poets).
His break-out performance was in 1966, when he performed before the Shah of Iran, Mohammad Reza Pahlavi. He won first prize and a gold medal from the Shah of Iran. In the early days of his career, he was nicknamed Fauji Qawwal (meaning "Military Qawwal") because most of his early stage-performances were in military barracks for army personnel. He was known for a "more recitative, more dramatic diction" and inclined toward qawwali's religious rather than entertainment qualities, though he also enjoyed success in more romantic qawwals.
For his service in philosophy and music, the Government of Pakistan awarded him the Pride of Performance medal in 1989.
He was fond of discussing religious and Sufi paradoxes in his qawwalis. He directly addressed Allah and complained about the misery of man (the greatest creation of the Almighty). In addition to his own poetry, Aziz Mian performed poetry by Allama Iqbal, and a number of contemporary Urdu poets, including Sadiq and Qateel Shifai.
Selected Lyrics
Question book-new.svg This unreferenced section requires citations to ensure verifiability.
The aim of these extracts to give a flavor of Aziz Mian's hair. Note the tone of irreverent dealt with spiritual matters. As is traditional in qawwali Aziz Mian also wrote songs in praise of the joys of drink. These songs embody a metaphor extended, where the "wine" is a "divine knowledge" and "Saki" (saaqi) is God or spiritual guide, and "bar" is where metaphorical terms may be of the spirit (or may not) be lucky enough to achieve spiritual enlightenment. Similarly, the songs are romantic spirit, and abandoned in this world through this cruel beloved, Persia, and God, and singing from the scourge of separation, and depth of the yearning for reunion.
A qawwali show traditionally begins and ends with devotional songs but in between there is scope for improvisation and here Aziz Mian comes into his own. No simple praise-singer, he explores contradictions and dilemmas -'v hen you hear that staccato rap and see his finger dart back and forth from side to side, again and again, he is asking "which way shall I go?" He is a sophisticated philosopher versed in Arabic and Persian as well as Urdu, who challenges preconceptions and orthodoxy. He sings Hindu as well as Muslim songs and ferociously demolishes sectarianism. Insan azim hai -'man is great' -is his motto. He is a demolisher of walls, a voice of humanism.
Aziz Mian's first big break-in performance~ came in 1966 when he performed. before the Shah of Iran ,Raza Shah Pehlvl. He won 1st Prize In Iran and Gold Medal from the King of Persia. Aziz Mian does not reference books while performing and has complete command of the Urdu language and Urdu Literature.
For his service in Philosophy, Music and Qawwali, the Government of Pakistan awarded him the highest honour in such categories, the "Pride of Performance" in 1989. He has won almost every award in the field of Qawwali in Pakistan and India. Aziz Mian is not only a great Qawwal but also a devoted Sufi, beautiful poet, philosopher, writer of Serat, Scholar of scripture and a great researcher.
Aziz Mian Pictures
| | | | |
| --- | --- | --- | --- |
| Allah Hi Jane Koun Bas … | | Aziz Mian-Meri Arzoo H … | |
Aziz Mian Videos