Attaullah Essahalvi Pakistani Folk Singers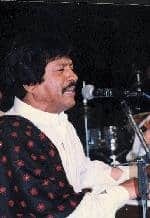 Atta Ullah Khan Essa Khailvi was born on 19 August 1951 in Isa khel. He belongs to the famous Niazi Pathan tribe, therefore he was named in his childhood as Atta Ullah Khan Niazi. Right from his childhood he had inner leaning towards music and used to practise singing He did first name for himself to the extent that he was invited to do a show on Radio Pakistan Bahawalpur in 1972. He did a stage show as well in Mianwali the same year. These events increased his popularity. He then appeared on Pakistan Television in a very famous TV Programme called Nilam Ghar from Karachi. These performances projected him as an icon in music field. His Saraiki style of singing especially appealed to young and old alike. His followers were spread all over the world and demands were growing for him to be heard. Therefore his first foreign concert was organised and presented in England in 1980. After 20 years ruling of the hearts of Pakistanis and Saraiki speaking people all over the world.Attaullah Khan Esakhelvi is a well known folk singer of Pakistan. He has the world record for the highest number of audio albums ever released by a singer. He is traditionally considered a Seraiki artist but mostly he has recorded albums in Punjabi and Urdu. . His voice has a healing effect and is considered one of the best folk singers Pakistan has ever produced.He has released smash hits such as Qameez Teri Kaali, Raatan, and Mahi Wasey Mera. He has become one of the most well known singers in Pakistan
UK LIFETIME ACHIEVEMENT
AWARD
FOR
ATAULLAH ISAKHELVI
Ataullah Isakhelvi becomes the first Pakistani singer to receive the UK Lifetime Achievement award for his entertaining services to the Pakistani community in UK.The ceremony took place on 25th March at Leicester with Foreign Secretary David Miliband as the chief guest .
Popular Folk Singers And Their Songs
Esakhelvi Attaullah Khan is known folk singer and poet from Pakistan. Has the world record for the largest number of audio albums released than ever before by the singer. Traditionally it is a Seraiki artist but mostly he has recorded albums in Punjabi, Urdu, which in 2006 was an amazing 402 albums that have been listed in the Guinness Book of World Records. The reason behind the stunning success is that it sings only for the poor, desperate and afflicted. His voice has a healing effect, and is considered one of the best folk singers Pakistan has produced ever. He dominated the popular music scene of Pakistan for more than forty years. He gathers thousands in the audience whenever and wherever he performs. Attaullah Khan's performance was all over the world, even in countries such as Japan.
SONGS of Attahullah :
Idhar Zindagi Ka Jinaza Uthe ga
Kameez Teri Kaali
Main Sharabi Hoon
Chun Kitha Guzare Raat
Dooro Dooro Sanu Tarsande o
Across the border
Ataullah Khan (as he is commonly known in India) became very famous in India following the use of the lyrics of his songs in the Indian movie Bewafa Sanam, by T Series. Sonu Nigam sang his music where he went to become a huge singer. Ataullah khan is not based story of Hindi movie bewafa sanam
Personal life
After becoming a singer Atta was settled in Lahore. He married a famous Film Actress "Bazigha". The name of his elder son is "Sanwal Atta" and daughter "Laraib Atta" and younger son "Bilaval atta".
After many years of his life in Lahore, he moved back to his hometown i.e. Eisa Khel. He constructed a beautiful House on Forty Canals and a Masjid namely "Laraib Masjid".
Atta Ullah Khan Esa Khelvi Pictures
| | | | |
| --- | --- | --- | --- |
| Attaullah khan with nu … | | With Sona Khan Bewas … | With Saira Naseem … |
| With Inahait Hussain B … | Vicky Chudhary With La … | | Lala G Coke Studio … |
| | | | |
Atta Ullah Khan Esa Khelvi Videos