Asma Jahangir Pakistan Lawyer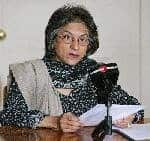 Asma Jilani Jahangir born January 27, 1952 in Lahore is a leading Pakistani lawyer, advocate of the Supreme Court of Pakistan, President Supreme Court Bar Association of Pakistan and human rights activist, who works both in Pakistan and internationally to prevent the persecution of religious minorities, women, and exploitation of children.
The UN Special Rapporteur on freedom of religion or belief from August 2004 to July 2010 (Annex I to the former Human Rights Commission, and now to the Human Rights Council). Previously, she served as Special Rapporteur of the United Nations on executions, extrajudicial and arbitrary executions without trial. It is also the Chairperson of the Human Rights Commission of Pakistan.
Early life
Jahangir was born into a prosperous and politically active family with a history of activism and human rights work. Her father, Malik Ghulam Jilani, was a civil servant, who entered politics upon retirement and spent years in jail and under house arrest for opposing military dictatorships. Her father was imprisoned on several occasions for his outspoken views, which included denouncing the Pakistani government for genocide during their military action in what is now Bangladesh. Her mother, educated at a co-ed college at a time, when few Muslim women even received higher education – also fought the traditional system, pioneering her own clothes business, when the family's lands were confiscated in 1967 as a result of her husband's opinions and detention.
Work
She has spent her career defending the human and women rights, rights of religious minorities and children in Pakistan. Jahangir was and remains a staunch critic of the Hudood Ordinance and blasphemy laws of Pakistan put in place as part of General Muhammad Zia-ul-Haq's Islamization program in Pakistan. She is a founding member of the Human Rights Commission of Pakistan, and has served as Secretary-General and later Chairperson of the organization.
In 1980, Jahangir and her sister, Hina Jilani, got together with fellow activists and lawyers to form the first law firm established by women in Pakistan.Asma learned the business of law and politics at an early age. Her father spent much of his life in and out of prison for his political views which included open criticism of actions of Pakistani military in Bangladesh. Asma was eighteen when she filed her first petition to have her father released from jail and started working with lawyers on his defense.
Asma Jahangir and her sister
In 1980, Asma Jahangir and her sister, Hina Jilani, got together with few fellow activists and lawyers and formed the first law firm established by women in Pakistan. They also helped form the Women's Action Forum (WAF) in the same year. The first WAF demonstration was in 1983 when some 25-50 women took to the streets protesting the famous Safia Bibi case. Safia, a young blind girl, had been raped yet had ended up in jail on the charge of zina. "We (their law firm) had been given a lot of cases by the advocate general and the moment this demonstration came to light, the cases were taken away from us." Asma recalls. (Dawn-The Reviewer, April 2, 1998, "A ray of hope")
Asma has been a staunch critic of the Hudood ordinance and blasphemy laws of Pakistan. These laws were introduced in the Pakistani constitution during the 10-year dictatorship of General Zia-ul-Haq. According to the of the Hudood ordinance, a person accused of adultery or zina can be sentenced to death and according to the blasphemy law, a person accused of speaking or acting against Islam can also be sentenced to death. Whatever the initial intents of these laws might have been, the result has been false imprisonment of hundreds of innocent men and women. Women who dare to report a rape are often accused of zina and locked up in prison while their offenders walk free and are never questioned or brought to justice. The blasphemy law has also resulted in false imprisonment and even death of many Pakistani Christians, Hindus, and even some Muslims.
In her article for Dawn, published October 2, 2000, titled "Whither are We!" Asma demands that the government of General Musharraf work to improve the record of human rights domestically. Citing examples of human rights abuses, she wrote, "A Hindu income tax inspector gets lynched in the presence of the army personnel for allegedly having made a remark on the beard of a trader. Promptly, the unfortunate Hindu government servant is booked for having committed blasphemy, while the traders and the Lashkar-e-Tayaba activists were offered tea over parleys. A seventy-year-old Mukhtaran Bibi and her pregnant daughter Samina are languishing in Sheikhupura jail on trumped-up charges of blasphemy."
In 1995, Asma Jahangir received several death threats for her defense of Salamat Masih, a 14-year-old boy Christian sentenced to death for allegedly writing blasphemous words against Islam on the wall of a mosque. In 1999, and the names and her sister, Hina Jilani, a lawyer and a fellow activist, and again subject to death threats after representing Samia bracelet, a woman (32 years), who was asking for a divorce from her abusive husband. The sublime has turned to her family for help but they refused to help them achieve a divorce. When Samia continued to seek a divorce, the family of Semitic killed her in broad daylight in the offices of attorneys for the very highest and Hina. Apparently, it is believed that the family of Semitic actions were dishonorable to the family.
Asma Jahangir has built a reputation as a courageous defender of the rights of the poor. During 1980 declined invitations from the then Prime Minister Bhutto, Minister Bhutto to occupy the seat for women in the National Assembly, and to become the first female judge in the Supreme Court of Pakistan.
She is a mother of two daughters and a son. Sulema Jahangir, her daughter, is a lawyer as well.
Asma Jahangir has always been leading from the front. Her contributions for the uplift and emancipation of the women folk are commendable.
Asma Jilani Jahangir Pictures
| | | | |
| --- | --- | --- | --- |
| Asma Jahangir A Saffro … | Asma Jahangir urges ci … | | |
| UN rep Asma Jahangir w … | | | |
Asma Jilani Jahangir Videos