First Actress in Pakistani films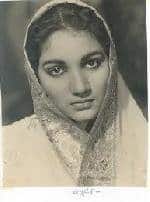 Asha Posley was the daughter of music composer Inayat Ali Nath and the sister of singer Kausar Perveen. She made her debut as an actress in the Hindi film Champa (1945), filmed, shot and made in India. After the Partition of India in 1947, she migrated with her family to the newly-created Pakistan.
She was the heroine of the first ever released film in Pakistan, which was the Urdu film Teri Yaad (1948). She played the female lead opposite Nasir Khan, famous Indian actor Dilip Kumar's brother, who played the male lead. However, the film flopped.
She did not succeed as a heroine and appeared in many of B-grade films in the 1950s, playing B-grade roles. Later in her career she was stereotyped in mostly vamp roles. Her last film was the Urdu film Insaaf (1986). She died in Pakistan in 1998 after 12 years retirement.

Asha Posley Pictures
Asha Posley Videos