Senior Advocate, Supreme Court of Pakistan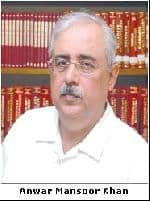 Joined the Pakistan Army in 1969, Passed out in 1971, participated in the 71 war in then East Pakistan. Resigned from Army in 1974 and completed my law. Eventually in 1999 was elevated as a Judge of the High Court aof Sindh and then resigned in 2000. Joined as the Advocate General of Sindh in 2002 and remained as such till 2007. Now working in my own office Mansoor Ahmad Khan and Co. Advocates and Legal Consultants, principally at Karachi.
Mr. Anwar Mansoor Khan Advocate Supreme Court of Pakistan, a retired judge of the High Court, has been associated in the drafting of the Companies Ordinance 1984, the establishment of the Islamic Banking Systems in Pakistan, in drawing up various documentation of the Banking System, the establishment of Lease financing in Pakistan, drafting of the Recovery Laws for Banks. Mr. A. M. Khan has delivered series of lectures on Banking Systems, Corporate matters, Leasing Laws, Taxation Laws, matters relating to Mercantile Laws and other allied subject. Whilst a judge of the High Court of Sindh, Mr. A.M. Khan has delivered numerous judgments on banking practice in Pakistan, Company Law, Trade Marks, Patents and designs, Specific Relief, Rent matters and other subjects of Civil Law. Mr. A.M. Khan has been involved in international negotiation and drawing of various agreements in consequence thereof. He has advised on takeovers, acquisitions and buyouts of various companies and has and continues to conduct various merger proceedings.
Anwar Mansoor Khan Pictures
Anwar Mansoor Khan Videos