Director Af-Pak at Optimus Technology & Telecom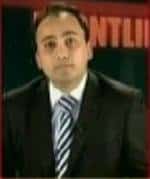 I had been around and although writing, bringing stories on security affairs had been my passion; my day time job being an independent journalist is managing IT distribution services taking care of it's Operations, relations and sales as it's Director in Pakistan-Afghanistan (Af-Pak Region).
As someone whose been around in Pakistan and Afghanistan, I had penned down two books (Jihadi Godzilla & Pakistani Establishment and Journey of Life, the Story of MQM) and had written countless of articles and taken explosive interviews which had impacted a lot of lives.
Specialties
Af-Pak Region, National Security & Intelligence Networks, Jihadi Organizations and NATO/ISAF Relations.
Experience
Director Af-Pak
Optimus Technology & Telecom
Privately Held; 11-50 employees; Information Technology and Services industry
May 2010 – Present (1 year 9 months) Karachi
Running one of the biggest IT distribution company based in Middle East as it's Director for Pakistan and Afghanistan Operations.
National Security Correspondent & Security Expert
Friday Times, Military.com, Daily Times, Foreign Policy Magazine, South Asia Magazine etc
Privately Held; Myself Only; Writing and Editing industry
2009 – Present (3 years)
Education
Georgetown University
Phd, International Terrorism
2010 – 2012 (expected)
The University of Birmingham
LLB, Law
2002 – 2005
Additional Information

Ali Chishti Pictures
Ali Chishti Videos