Rambo Pakistani TV Actor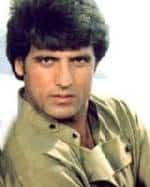 Afzal Khan a.k.a John Rambo is a Pakistani TV, film and stage actor and comedian. He rose to fame by playing a roll of a janitor nicknamed John Rambo in PTV's famous comedy show Guest House. He later assumed John Rambo as his unofficial screen name taken from the Sylvester Stallone character John Rambo. Most movies refer to him as Rambo in movie credits.
Career
Afzal Khan began his acting career from stage dramas in Islamabad. He acted in a few plays produced by PTV. Those plays were aired only in Islamabad and Peshawar.
The breakthrough he was cast as John Rambo (a janitor) in PTV's comedy drama series Guest House in 1991. It was an instant hit and Rambo became the most popular character of the series.
After his success as John Rambo in Guest House he began to get offers from movies. In 1992, he signed his first movie and became a mainstream Lollywood actor. However, his image of comedy actor from Guest House earned him mostly comedy characters. He tried to do some serious movies but wasn't as successful.
He is successfully married to fellow Lollywood actress Sahiba.
These days he appears as judge on a talent show as well as a dancing show and he is born in Havalian Hazara

Interview
Tell us something about your journey from Afzal Khan to Rambo?
I started my acting career from stage plays in Islamabad. After that, I started visiting PTV regularly. I acted in a few plays that were aired only in Peshawar and Rawalpindi. In 1991, I became famous as "Rambo" from the serial Guest House. After that I was cast in my first movie in 1992, and people have known me as Rambo ever since.
Did you expect your role An Guest House to become era famous as it did?
I knew from the very beginning that I would become a film actor. I was just waiting for a TV serial to reach the big screen. So, Guest House served as a channel to success and fame. I had many expectations from it and it lived up to all of them, or should I say that I lived up to all my expectations through Guest House.
It is said that a person's name is his identity. Didn't you want to be known by your real name by the whole country?
The name, Rambo overshadowed Afzal Khan back in 1991. The popularity and fame that I got as Rambo overpowered my identity as Afzal Khan. People started calling me Rambo, and in my first film, the director entered the name "Rambo" in the credits. After that Afzal Khan never came in front of the camera; Rambo did.
In the beginning of your career you were signed in every second movie. Didn't it occur to you that the public might get bored of you?
I now realize that I made a big mistake. As I was new in the industry, I signed every movie that I was offered. I have acted in 97 movies up till now. However, I do understand that going for quantity was not a wise step.
I'm now back to square one, and am struggling for a position that I once had and have now lost. And while fm at this, I must accentuate that people are not tired of watching my movies. I'm just not getting enough work these days.
My fans do ask me why fm nowhere in the hit scene of Lollywood, and I just tell them that I have probably turned the film makers against me by using my more bizarre brand of humor! Also,
I'm still doing stage plays and the theater is fully packed with my fans whenever I make an appearance. I have the security and confidence that my fans are still by my side.
The public has always rewarded you for your work in films but you have never been awarded by the film industry. You have not received any award up till now. Why?
It's a pity that in Lollywood if an actor is able to act well in a comic role, he is considered to be a comedian. I don't know why they don't understand that if an actor is playing the lead role, and is prominent in the whole movie, he is pre dominantly the hero of the film, even if he's cracking a few jokes here and there.
All my movies from "Hero" to "Chor Machaye Shor" were awarded in all departments. Everyone form the set designer to director received an award, except me. Maybe that's because they don't consider me an actor at all.
They just think fm a comedian. I will keep on trying though. There is no restrictions on hopes, is there? So, I'll keep on working until these people recognize me as an actor and give me the Best Actor award. At that time, however, I will just say everything that has been in my heart since all these years, and will
refuse to receive the award. Why didn't you start signing the films that would have given you a bigger acting margin?
That's just my tough luck, I guess. I had a good role, not of the so called comedian, as the leading figures of Lollywood might like to call it, in Devar Deewanay, Raju Ban Gaya Gentleman and Najayaz. All three of these films didn't quite hit it off at the box office. If only these movies had been properly publicized, they would have been blockbusters because the subjects were good, the directors were experienced, and I had done the best of my performance.
Too bad they slumped at the box office, and so did any chance I had left to rid myself of the comedian image and let the actor inside me surface. But as I said earlier, I will keep on struggling.
I think faith is all it takes to reach the top and to get what you want. I have faith in God and myself. I know I can do it and I will. I'll prove myself; all I need is a little time.
Are you satisfied with the work you have done up till now?
Not at all! I have just been offered one sort of role. I have always played the guy next door who has no money. I want to do a lot of different roles. I think I can play much better roles than that of a poor boy who has a rich sense of humor.
Are you confident that if you are cast as a solo hero in a movie, it will be a hit?
I'm totally, completely, 100% confident. If a director presents me as an actor and not as a comedian, fm sure that the film would do great business. By saying actor, I mean that my acting skills should be put to test in addition to employing my ability of tickling peoples' funny bones, although I know that fm pretty good at the latter.
You have worked in films, television and theater. Which of these plays the most important role in your life?
On television, everything appears half its original size. In films, the size factor is 'doubles. Everything appears to be larger than life. Theater is the only department 'where an actor really faces the audience.
He appears to them, the way he is minus the camera and the director. In an odd way, I have always related theater to war. You're on your own. The captain is not around. You've got to know your every move. It's just you and the world with a thin veil of stage in between.
Theater is my favorite of all three. While I'm on stage I don't think fm functioning in the realm of reality. It's like another place, another country, a different world altogether. As far as TV is concerned, well, I got my name from it. People started knowing me through television.
It's where my journey towards success began. I usually think of it as my school. The film industry has given me everything I have got today. Before joining the film industry, I was a nobody.
An unemployed bachelor. So, I owe a lot to the film industry. From the time you began acting in films almost everyone knew that you had something going on with Sahiba, who is your wife today. You kept on denying
The fact until you finally married her. What was the reason of your initial denial?
Well, I did believe that I would marry her from the very beginning. Even Sahiba didn't think it was possible. We were cast together in a lot of movies in order to fulfill the demand of the cinegoers.
And contrary to popular belief, Sahiba and I did not have a fling going on before our marriage. There was likeness, alright, but nothing called an affair. She hardly socialized with anyone offset. She never thought that we would get married one day. But I had faith, and well we're married with one kid now.
Was it love at first sight?
It was love even before I met her in person. I saw her picture somewhere, and I just knew at that time that I would marry her one day.
Whom do you think has supported you through all these years?
I consider myself a self made man. Throughout the time I've been in this industry, I have had zilch support from the people of Lollywood. Only my fans, my parents and my wife have supported me. They have helped me reach the point in life where I stand today.
Afzal Khan Rambo Pictures
| | | | |
| --- | --- | --- | --- |
| … | | | Sahiba and Rambo with … |
| … | … | … | … |
| Pakistani film actor A … | | Sahiba Pakistani Actre … | |
Afzal Khan Rambo Videos