Aamir Saleem Pakistani Pop Singers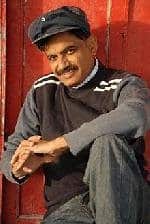 Aamir Saleem is a Pakistani singer. He has numerous hits in the early 1990s such as "Woh Taron Bhhari" & "C.B. Chali Ana". He also had a big hit later in 1993 with "Ajnabi". Apart from music Aamir is also into TV productions. He has directed many videos and road shows with famous anchor Ali Salman on MTV Pakistan with the name of Bad Company. He is also hosting a live show on PTV National and on FM 107. Aamir Saleem released his 6th Album which is still his last under title of "Dil Da Quater". This album mainly features Punjabi songs.
History
Aamir Saleem started singing when he was in school and he bought his first guittar after working in a hotel as a receptionist in summer holidays. He formed his first music band with the name "Image",his best friend naveed mugees was on guittar and alim arshid was on keyboard .After that he moved to Karachi in 1987. He used to sing with different bands to make money and record his first solo album that took three years to complete.
The first solo album "The Traveler" a blow in 1991 among all age groups. Hit song, "Ooh Taron Bhari" and the album sold well. It was released by a company registered Shalimar, but unfortunately Aamir Saleem, can not receive financial benefits from the best-selling album.
Albums
* Musafir – 1991
* Ajnabi – 1993
* Humsafar – 1995
* Mohabbat – 1997
* Khwaab – 2001
* Dil Da Quater – 2006

Aamir Saleem Pictures
| | | | |
| --- | --- | --- | --- |
| | | Aamir Saleem and Hassa … | Aamir Saleem and his s … |
| Aamir Saleem at Home … | Amir Saleem pakistani … | Aamir Saleem with Jia … | Aamir Saleem Behind Ca … |
| Aamir Saleem Cycle Sty … | Aamir Saleem with Dr S … | | |
Aamir Saleem Videos