Former Ambassador,Member (CEC) PPPP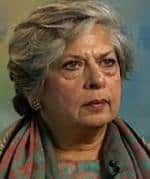 Syeda Abida Hussainis a Pakistani politician. She is a former National Assembly member from Jhang, Punjab.
Hussain is married to Syed Fakhar Imam also prominent Pakistani politician, who was the Speaker of the National Assembly in 1985-86. A prominent member of the Shia sect, she is also the daughter of Syed Abid Hussain, the youngest elected member of the 1946 All-India Constituent Assembly and a descendant of Pir Shah Jewana, a saint of the Naqshbandiya order. She is also the granddaughter of the industrialist, Sir Syed Maratib Ali. Citation needed
Hussain is a member of Pakistan Peoples Party since 2006. having rejoined after leaving in the 1970s. In the meantime, she served under PPP rivals, Zia-ul Haq and Nawaz Sharif. She also ran unsuccessfully in the 2002 parliamentary elections on Pervez Musharraf's ticket.
She joined politics in 1967 and been part of many Governments handling different ministries from time to time. She has been minister for Information, Education, Science and Technology in 1996, minister for Food and Agriculture in 1997, the Minister for Population Welfare and minister for Environment and Urban Affairs in 1999. In addition, she also served as Ambassador of Pakistan to the United States of America between 1991-1993.
Syeda Abida Hussain Pictures
| | | | |
| --- | --- | --- | --- |
| … | … | | |
Syeda Abida Hussain Videos