MPA,Senior Advisor to the Chief Minister Punjab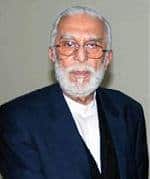 Sirdar Zulfiqar Ali Khan Khosa born on 20th October 1935 at Bahadurgarh, Dera Ghazi Khan, the head quarters of Khosa tribe all over., He became the Tumandar Chief of the Khosa tribe in 1941 after the sad demise of his father Sirdar Dost Muhammad Khan Khosa (the then Tumandar Chief).
Family
Father of Hissam Uddin Khan Khosa, Saif Uddin Khan Khosa Dost Muhammad Khosa (Former Chief Minister of Punjab).
Political Career
Sirdar Zulfiqar Ali Khan Khosa was first elected to the West Pakistan Assembly in 1962 thereafter was re elected to the Punjab assembly eight more times including 2008.He was the Governor of the Punjab from 17 August, 1999 to 21 October, 1999.On 26 June 2008 he won the PP-243 seat of the Punjab assembly after defeating the Leghari candidate of the Leghari family group 3rd time.

Served As
Finance Minister
Education Minister
C W Minister
Local Govt Minister
Planning Development Irrigation Minister Power Minister
Senior Advisor to the Chief Minister Punjab (Presently)
President PML (N) Punjab
Presently he is President Pakistan Muslim League (N) Punjab.
Family Politics status
His two sons Saif Uddin Khan Khosa ( MNA ) and Dost Muhammad Khosa ( MPA )are in politics while the eldest son (Crown Prince Heir to Tribe) Hissam Uddin Khan Khosa looks after the tribe is an agriculturist a businessman.
He is the Tumandar Chief Leader of the Khosa Tribe in Pakistan.
Sirdar Zulfiqar Ali Khan Khosa Pictures
| | | | |
| --- | --- | --- | --- |
| Institute of Biochemis … | Sirdar Zulfiqar Ali Kh … | Zulfiqar Khosa presidi … | |
Sirdar Zulfiqar Ali Khan Khosa Videos