President ANP (Sindh)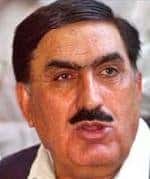 Shahi Sayed or Shahi Syed (Urdu: ???? ???) is the president of Awami National Party Sindh chapter , Pakistan. Shahi Sayed is the chairman of the Pakhtun Action Committee or Pakhtun Loya Jirga of Karachi[1]
Shahi Sayed is originally from Babozai Village in the district of Mardan , Khyber Pakhtunkhwa province. Shahi Sayed owned CNG gas stations in Karachi before becoming involved in politics. Shahi Syed also lovingly called as "Shahjee" shifted to Karachi in the decade of 1970s after doing matric. Initially, he worked on petty jobs in textile mills for quite some time and later started small business in Karachi. Though, he started small but thought very big which he practically proved in his multiple business ventures at Karachi, the largest city and business as well as financial hub of the country. He was somewhat enterprizing person right from his beginning as informed by his friends who had set very high goals for himself. He worked very hard for achieving these goals. Soon he became well off and became a popular elder in the city especially Pakhtuns his own people. Now a time had come to bring an altogether change in his life style, for which he shifted to a gorgeous house in the posh area of wealthy people, DHA. He purposely named his house "Mardan House" after the district he belongs.There he took a huge turn of his career and started mixing with the members of the elite class of the city with a high sucess and comfort. His style was really unique which worked well as he never aspired for seeking any favour from others rather he initiated to oblige others within his own resources. This was something new in the city of Karachi which is otherwise notorious for its materilistic approach in the country.
Despite nominal education coupled with moderate rural background, Shahjee enjoys highest level of confidence. He has a large circle of loving friends almost in every walk of life. Shahjee is known for his superb hospitality and it is very very rare that he may not be hosting a couple of his friends almost every evening in his large beautifully decorated drawing room. Dining without friends in the evening is somewhat unusual for this ever-smiling first generation popular Pakhtun politician of Karachi. The very art of much needed public relationing and dealings in politics is God-gifted to this person. He knows the art how to befriend others and also knows the very value and true spirit of friendship at a later stage. Temporemntally, he is courteous, good and helping to the people and public in large.
Later, on achieving high success in his fast growing business of petrol pumps and CNG stations he also owned a large textile spinning unit in Karachi for a very short period which he soon disposed off due to some unavoidable reasons. It was the period when well off Shahjee started thinking joining the political arena of the country. He had earned almost every thing in life he had fantasised but was still lacking the political popularity and public force behind for which he had been dreaming perhaps for quite some time. For joining practical politics he had enormous consultations with his best friends mostly from the interior Sind in the civil bureaucracy as well as business. They were mostly unanimous for feeling a visible vacuum in the ANP leadership in Sind as Haji Sher Khan – the former provincial president of ANP had become too old and shifted to his ancestral village while humble Qaimus Gul Khattak, another former party head setlled in interior Sind was almost unable to go for the party in a big way with his limited resources, temperament and old age.
It is a fact that majority of Pakhtuns settled in Karachi and affiliated with ANP mostly belong to lower or lower middle class and they were unable to contribute financillay towards part affairs as they were passing a life from hand to mouth. Party in Sind especially in Karachi was in the desperate need of fundings for running petty party affairs as no political party in the country can run without spendings. Joining of a generous rich person like Shahjee was indeed a blessing for this party of the poors as historically the road is always open for a moneyed man. Spending for party or funding party affairs could never be a problem for this man with a big heart and large resources. Someone has rightly quoted for such like occasion that "Luck is what happens when preparation meets opportunity" and this was hundred percent true in case of a potential politician but not yet explored Shahjee.
Lady Luck waiting for this person lucky from unknown Babozai village in the valley of Katlang border with Mardan district Bunair area on the other side of the high mountain range. ANP joined in a big way but in a strong way and took the party chief of the province with all the support from the central leadership. Very high rise from the party celebrated really entering a very resourceful person in the folds of the party for the first time and gave a completely new life to this party but is less popular in Sindh, especially in Karachi. Through his leadership of the party entered the Sindh Assembly for the first time to win two seats unprecedented and that was shocking to the city's powerful competitors.
Soon, he proved his worth in practice a bold stand for the cause of Pakhtun in the city against the MQM who have targeted for some time. He had a vision for this challenge Display seat and ran a successful manner. This has got great fame and popularity in the country, especially among Pashtuns in Karachi. Was very scared Pashtuns and are disposed in a systematic way. Came Shahjee to forward to their rescue. Now, you may become Shahjee household name among them who took him as their resort recent suffering faced by all in the city.
Shahi Syed Pictures
Shahi Syed Videos