Former Federal Minister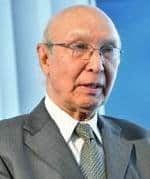 Sartaj Aziz (born February 7, 1929) is a world recognized Pakistani economist and politician currently serving as a Senator from the province of Khyber Pakhtunkhwa. A member of the Pakistan Muslim League (N), Aziz served as the Finance Minister (1990–93, 1997–98) and Foreign Minister of Pakistan (1998–99) in the government of former Pakistani Prime Minister Nawaz Sharif. He is currently serving as the Vice-Chancellor of the Beaconhouse National University as well as the professor of economics and management sciences.
Early life and career
Sartaj Aziz was born in the Kakahel family in the Northwest Frontier Province (now Khyber Pakhtunkhwa) in British India.[1] In the 1940s, Aziz was a young activist in the Muslim League-led Pakistan movement.[1] Aziz was educated at Islamia College, Lahore and then obtained a Bachelor degree in commerce and economics from the Punjab University in 1949. Aziz proceeded to join the civil service of the state of Pakistan in 1950. Later, he traveled to the United States and earned a master's degree in public administration from Harvard University by 1962, and a doctorate in Economic development in 1964.[1] Returning to work in the government, he attained the position of joint secretary in the Planning Commission of Pakistan in 1967. Aziz later worked in the United Nations Food and Agriculture Organization from 1971 to 1975, and the International Fund for Agricultural Development from 1978 to 1984.
Academia
Since 1998, Aziz remained associated with Quaid-e-Azam University where he occasionally lectured on Economics and philosophy where he also lectured on Pakistan's Foreign policy. Since 1990, Aziz authored four international books on economics and philosophy. In which, the most publicly known is the "Between dreams and realities: some milestones in Pakistan's history", which was published in 2009 by the University press.
Sartaj Aziz was forcefully quiet by his peers during the wave of 1999 military coup d'état which started and ended the massive arrests of his colleagues and government ministers of Nawaz Sharif. Since then, Aziz remained quiet and dedicated his life to work on economical issues. In 2001, Aziz joined the Department of Social Sciences of the Beaconhouse National University and served there as a professor of Economics. In 2009, Aziz was appointed and is currently tenuring as the Vice-Chancellor of the Beaconhouse National University in Lahore.
Political career
Sartaj Aziz joined the Military Government of President and Chief of Army Staff General Zia-ul-Haq in 1984 as Minister of state for food, agriculture and cooperatives. He was elected to the Senate of Pakistan from Khyber Pakhtunkhwa in 1985 and again in 1994.[1] From 1988 to 1994, he served as senator from the capital territory of Islamabad in 1988. Having joined the Pakistan Muslim League (N), Aziz was appointed the minister of finance, planning and economic affairs in the first Nawaz Sharif ministry from 1990 to 1993. In 1993, he was appointed the secretary general of the party.
After the PML (N)'s landslide victory in the 1997 election, Aziz was re-appointed Finance Minister, to lead the Ministry of Finance, by Prime minister Nawaz Sharif. Following India's Pokhran-II — codename of series of nuclear tests in May 1998, Sartaj Aziz was the only senior minister in Pakistan's government who counseled against Pakistan carrying out its own nuclear tests — codename Chagai-I and Chagai-II, on grounds of the possible devastating impact of any subsequent international sanctions on Pakistan owing to the prevailing economic recession and low foreign exchange reserves.[2][3] However, Aziz later publicly supported the government's stance on conducting the tests. Following a cabinet reshuffle in 1998, Aziz was appointed foreign minister. During the 1999 Kargil War with India, Aziz travelled to the People's Republic of China to solicit support for Pakistan.[4] He also travelled to India to hold talks with his counterpart, the Minister of External Affairs Jaswant Singh, but the talks were regarded as a failure and unsuccessful in stemming the conflict.[5] Aziz claimed India had "overreacted", while India demanded that Pakistan stop the incursion into Indian-administered Kashmir.[6] Aziz also represented Pakistan at the Organisation of the Islamic Conference in Burkina Faso, held during the Kargil conflict.[7] Aziz later claimed in the media that Pakistan had achieved its aims in the Kargil conflict by "forcing the Kashmir dispute to the top of the global agenda."[8] His term ended abruptly after the Nawaz Sharif government was overthrown in a military coup by Chairman of Joint Chiefs of Staff Committee and Chief of Army Staff General Pervez Musharraf.
Foreign minister
Following a cabinet reshuffle in 1998, Aziz was appointed foreign minister but his term was cut short. During the 1999 Kargil War with India, Aziz traveled to the People's Republic of China to solicit support for Pakistan.He also traveled to India to hold talks with his counterpart, the Minister of External Affairs Jaswant Singh, but the talks were regarded as a failure and unsuccessful in stemming the conflict. Aziz claimed India had "overreacted", while India demanded that Pakistan stop the incursion into Indian-administered Kashmir.Aziz also represented Pakistan at the Organisation of the Islamic Conference in Burkina Faso, held during the Kargil conflict. Aziz later claimed in the media that Pakistan had achieved its aims in the Kargil conflict by "forcing the Kashmir dispute to the top of the global agenda.
Later life
Sartaj Aziz serves as vice-chancellor of the Beaconhouse National University in Lahore. Aziz authored Between dreams and realities: some milestones in Pakistan's history, which was published in 2009.
Awards
For his participation in the Pakistan movement, Aziz is the holder of the Sanad, Muiahid-e-Pakistan. In 1959, he was awarded the Tamgha-e-Pakistan and the Sitara-e-Khidmat in 1967 for his work in central planning and economic development
Sartaj Aziz Pictures
Sartaj Aziz Videos