Saleem Raza Pakistani Film Singers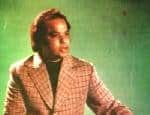 Saleem Raza March 4, 1932 – November 25, 1983 was a Pakistani playback singer. He started his singing career from Lahore film industry and quickly gained popularity. Raza was a classically trained singer and was more famous for singing sad songs. Saleem Raza's career suffered due to the rise of the singer Ahmed Rushdi in the late 1950s. He left playback singing in 1966 as he lost his popularity with the composers and shifted to Canada where he died a few years later.
Career

Salim Raza was born Noel Dias also in Amritsar in India in a Christian family. After partition, Pakistan and immigrated to and settled in Lahore. Changed his name to Reza Selim, and began singing in a radio station of Lahore. Hamid Reza Mohni friends with popular artist at that time. and is often seen and Hamid Reza Salim Mohni together for long periods of time. In addition, Salim Raza learned music from the famous music composers in those days, including AD. Sadiq Ali, Hussain and Ustaad Aashiq. Half was Salim Raza in Naukar Director Mr. Atta Ullah Hashmi film in 1955. Salim Raza lent his voice to a tragic degree, Taqdeer Kay Zara owner deikh injustice Kia Hai (Duet, Saleem Raza – Kausar Perveen). But it was a famous film Qatil run as a singer in 1955. Breakthrough came in his life, his super hit song Yaaro rakho muaaf Moggi, nashey Home Main Hoon (Saat Laakh – 1957). Song said many super hit songs in big films such as PAA Aas, you rastey, Haboo, Hamsafar, Seema and many more. The latest film to a large pail jhunkar (1966).
Downfall
Saleem Raza remained a dominating singer in the late 1950s due to his popularity in singing tragic songs. In 1961, music director Khalil Ahmed recorded a sad song Kisi chaman main raho tum bahaar bun kay raho in Raza's voice for film Anchal but was not satisfied with his expressions. Initially, he decided to re-record the same song in Mehdi Hassan's voice but changed his mind because Mehdi Hassan was facing difficulty with high notes as the composition had variations. Khalil finally invited the famous singer Ahmed Rushdi to sing the same song and Rushdi not only satisfied Khalil but also the song was a super hit. Apart from Ahmed Rushdi, Saleem Raza was in direct competition with highly talented singers like Mehdi Hassan, Masood Rana, Mujeeb Aalam and Bashir Ahmad. Moreover his voice was best suited on Syed Musa Raza (Santosh Kumar) and his brother Darpan. They also lost their popularity in the mid 1960s. These were the basic factors which affected his fame. Later, with the change in the recording devices, Raza found it difficult to adjust to the new equipment, resulting in a setback to his career.
He left behind three sons and a beautiful wife, Maud Dias. Honesty and his daughters Jill Diaz Azra, and his son, Dave Dias. Secretariat of the generation of children, and Alysha, Adam, and Aaron wish to have had the opportunity to meet their grandfather's mothers. It remains to this day cherish and awards obtained recordings in the current home in Brantford, Ontario.
Death
Salim Raza was in the grip of a serious financial crisis in the 1970s. Got his wife, Maud, the source of their livelihood and support. Immigrated to Vancouver, Canada, in 1975, and established a music school. For eight years from 1975 to 1983, and taught music to sound Reza many music students. Also began to perform concerts. Saleem Raza had suffered from an abnormality in the kidneys, which claimed his life in the November 25, 1983. He was 51 years of age.
Urdu and Punjabi films music
Here are the names of some Urdu and Punjabi famous films for which Salim Raza sang songs which even today make a large number of fans nostalgic.
Saat laakh, Ishq-e-Laila, Bedari, Saheli, Rehguzar, Salma, Gulfaam, Saperan, Azra, Mousiqaar, Aanchal, Qaidi, Ik tera sahara, Tauba, Chingari, Pail ki jhankar Noor E Islam, Chann mahi, Kartar Singh, Mouj mela, Dil dian lagiyan
Some famous songs of Salim Raza
1. Bedard zamanay walon nay kab dard kisi ka jaana hai (Aas paas 1957)
2. Shah-e-Madina (saw), Yasrib kay wali (Noor-e-Islam 1957)Poet Was Naeem Hashmi
3. Ae nazneen tujh sa koi haseen ham nay kabhi (Shama 1959)
4. Zindgi mein ek pal bhi chain aye na, iss jahan main kash koi dil lagaey na (Hamsafar 1960)
5. Bana kay mera nasheman (Do rastay 1961)
6. Tujh ko maalum nahin, tujh ko bhala kya maalum (Anchal 1961)
7. Jan-e-baharan, rashke-e-chaman, ghuncha dahan, shireen badan (Azra 1962)
8. Tum jug jug goe maharaj ray, hum teree nagarya main aaey (Mousiqar 1962)
9. Ae dil kisi ki yaad mein hota hay beqarar kyun, jiss nay bhula dia tujhay us ka hai intezar kyun(Ik tera sahara 1963)
10. Na milta gar yeh tauba ka sahara hum kahan jatay (Tauba 1964)
Saleem Raza Pictures
| | | | |
| --- | --- | --- | --- |
| Saleem Raza. The singe … | | | |
Saleem Raza Videos