Najia Ashar Newscaster Geo News TV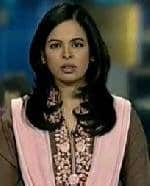 Najia Ashar is a newscaster/anchor on the Geo news channel in Pakistan. She started her career as reading the sports news but graduated to co-read the hour-long mainstream news program. She is married to a fellow colleague Ashar Ali, who also worked for Geo, and now he is working with ARY One World, in 2006 and then started working at the Karachi station.
Since then she had been hosting a famous program "Yeh Hai Pakistan", a one hour bulletin focusing news and significant events from the four provinces of Pakistan, and a program "NAZIM HAZIR HO", interviews of city, district and town nazims, and sporadically reading the sports news. Najia is now doing main stream news bulletins daily on Geo News.
Lines written above, express the general happenings around the media and to the persons associated with it, but when we cast our eyes towards women working in the media especially in the electronic media, we will be much astonished to read that how they manage their health, house, job and relationships; which are essential articles for any person to live with but not everybody found success in doing so. That is why "Giving Life" has decided to interview on such celebrity and discus with her how she manages all these things, and yet emerged fortunate.
Interview
Najia Ashar, a famous face of broadcast media. She began her career as a sports news reader and now she is doing main stream news bulletins.
We interviewed Najia as to how being a mother and working woman she manages her life.
GL: Tell us something about yourself? When did you start your career?
Najia: After finishing my Masters in International Relations in 2004, I did some assignments for PTV. Thereafter in the same year I joined Geo News.
GL: When did you get married and how many children do you have?
Najia: I got married in 2005 with Ashar Ali who was also working for the same channel at that time. I have one daughter Aliha Ali (4 Years) and Aahil Ali (2 Years).
GL: Was it a love marriage or arranged?
Najia: It was love in the beginning but arranged in the last.
GL: How many brother & sisters do you have?
Najia: We are 4 sisters and 3 brothers.
GL: Being a working woman how do you manage your family and job?
Najia: I am managing my things since the beginning, I feel lucky that I am living in a joint family. My mother-in-law is very much supportive. She looks after my kids when I am not at home. We have seen that many working mothers keep their kids under maid's supervision but by doing this their children don't get full attention. In my case, I do not feel much concerned when I am at office as I know that my mother-in-law is at home to look after my kids.
GL: After returning home how do you spend your time?
Najia: I usually work in day shifts and I must say that my organisation is very much supportive in this regard, and it is their supportive environment that I am working till now. After returning home from office I enjoy a lot with my children.
GL: Who is more strict towards children?
Najia: I think I am more strict on them as Ashar's behavior towards them is very loving and polite while my father and mother-in-law also love them very much. Therefore one of us has to be strict in order to groom the children accordingly.
GL: How much important you think that joint family system is?
Najia: Very important, especially for a working woman it is an ideal situation because then she would not has to be worried about her children, as she knows that her mother-in-law is there to take care of them. Not only in taking-care but joint family system also plays a major role in family support, children training, their schooling and many other things.
GL: Whose choice you prefer while going for an outing?
Najia: We try to prefer children's choice while sometimes we need to go out without children and in that case we try to drop them at a place where they also feel comfortable like at their grandmother's (Nani) home. However most of the time we try to go to outing with children.
GL: Do you like to cook?
Najia: I know how to cook but usually I don't, due to shortage of time therefore here also my mother-in-law becomes my helping hand and performs this task.
GL: Your hobbies?
Najia: I like watching television programs and apart from news channels, I also watch entertainment programs and movies as well.
GL: What message do you want to give to housewives?
Najia: We have seen that many working women leave job or take a break either after marriage or after the birth of first child but there are some women who still continue to work. I would advise those females who leave job after marriage that though it is indeed difficult to go on with job but they shouldn't lose hope; work harder and resume their jobs because the experience which you will get while doing a job would be helpful in your children's upbringing.
GL: How is it different to work for a media organisation other than any? Is it difficult?
Najia: Yes it is difficult to work in media in the sense of work-timings; because in a 9-to-5 job your timings are fixed and a woman can easily sets routine of her life. But in the media, job-timings changes frequently therefore we have to change our routine accordingly which is sometimes becomes very difficult to cope with.
GL: Now reading the news for so many years, do you still want to remain an anchor in the future?
Najia: Currently I am enjoying reading news, but yes I want to become a host in near future.
Najia Ashar Pictures
| | | | |
| --- | --- | --- | --- |
| najira-ashar … | | Najia Ashar 31 dec 201 … | Najia Ashar is newscas … |
| | | | |
Najia Ashar Videos